The singer posts that she's been battling a mysterious illness for three weeks that has made it painful and "difficult to breathe" while performing.
Ariana Grande has announced that she has to cancel her Sunday night performance in Lexington, KY while dealing with a mysterious sinus ailment.
Currently on tour, the "thank u next" singer took to social media to reveal that she's been battling a mysterious illness for the past three weeks that has been painful and, perhaps more frightening, made it "difficult to breathe" while performing.
Yeah, that should be enough of a warning sign to seek medical care and maybe not perform until things are better. And it looks like that's just what she'll be doing.
We're sure Ariana's fans would rather her be feeling better than risk her health or her voice by trying to overextend herself to hit these concert dates. Health matters and everyone is human, and we already know she would reschedule in a heartbeat. So really, this is a no-brainer.
After revealing that she was on IV drips and talking with a doctor, Ariana finally revealed on Sunday that after waking up and feeling "ten times worse," she has no choice but to cancel her upcoming show. She said that it now hurts to swallow and she still isn't sure what's going on.
Sniffling and visibly upset, Ariana assured her fans there would be a full refund for the show and promised that she would update them as soon as possible. Thus far, she'd been doing a great job of keeping them informed with the heads up that this may happen, and even a lighter moment shared with some of her friends.
She had written that she wanted to give her fans a heads up in the event the show does get canceled, but assured them she is doing everything in her power to prevent that from happening. "I'm on all the meds," she wrote. "Getting IV drips, doing everything I possibly can to pull through. Mom and friends are taking good care of me."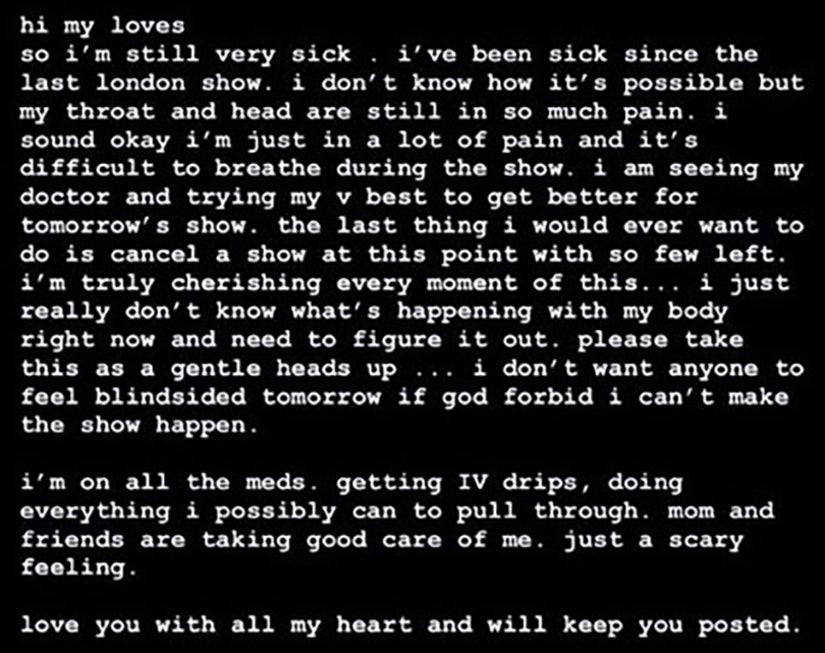 Instagram
And she meant it, too, as Ariana followed up that message with video of two of those friends absolutely inundating her with random items that may or may not have anything to do with fixing whatever is wrong with her, including one item they advised her not to drink and admitted they had no idea if it would be helpful or not, but it was pretty cool.
As of now, it's still unclear exactly what ailment has knocked Ariana out for the night, and future shows on her "Sweetener" tour have question marks hanging over them. But one thing is clear, Ariana will be the first to tell her fans what's going on.