The former "Dancing with the Stars" pro shares a post-surgery video via his Instagram proving that his drugged-out self still has moves.
Derek Hough had to undergo emergency surgery on Saturday, but the dancer and "World of Dance" judge proved via a post-op video that he is fine and recovering and clearly enjoying whatever drug concoction doctors had him on.
The former "Dancing with the Stars" pro showed off some leg rolls and moves while lifting his hospital gown in his Instagram video revealing the surprise attack of appendicitis that upended his weekend. But it's his bleary expression that really sells the moment. We're just glad to see that he's already up and moving (and grooving) so quickly after such a harrowing experience.
"Woke up at 3am with a severe and a sharp pain in my abdomen. Knew something wasn't right," he wrote in the caption to his playful video. "This is me immediately after [surgery], still a little(a lot) medicated, giving @hayley.erbert a (sexy) little dance."
We wish he would have recorded the conversation he transcribed into the comments as we would have loved to hear Hayley's tone as she answered his question, "Is this doing it for you babe?"
Waiting for your permission to load the Instagram Media.
"So hot," she apparently said in return, and we can just hear it now and how not she meant.
On his Instagram Stories, Hough recorded himself pre-surgery detailing how he returned from South korea only to wake up to sharp pain in his abdomen, ultimatley localized on the right side. After looking it up, he and girlfriend Hayley quickly made their way to the hospital where he had surgery, and she had way too much fun with cats (more on that in a sec).
Hopefully Hough is on the mend already as he has to prepare for the big premiere of his new holiday special with sister Julianne. "Holidays with the Houghs" is a classic-style variety show (because those have done so well these past few decades) that hopes to trade on the brother-sister dance duo's growing popularity in the NBC family.
Both "DWTS" alums, Derek has been a judge on Jennifer Lopez's "World of Dance" since its inception, while Julianne Hough was one of the fresh face judges on "America's Got Talent" this past summer. No air date or further details have been announced, but we imagine plenty of guests and a full night of dancing and fun -- maybe Derek can convince his boss J.Lo to swing by!
Oh, and we didn't forget about Hayley and those cats. How could we? While it's gone now from both of their IG Stories, thanks to the power of the internet we can forever enjoy the boredom and sleep deprivation that must have been behind her creation of this image of Derek laid up in the hospital, but surrounded by lots of furry friends: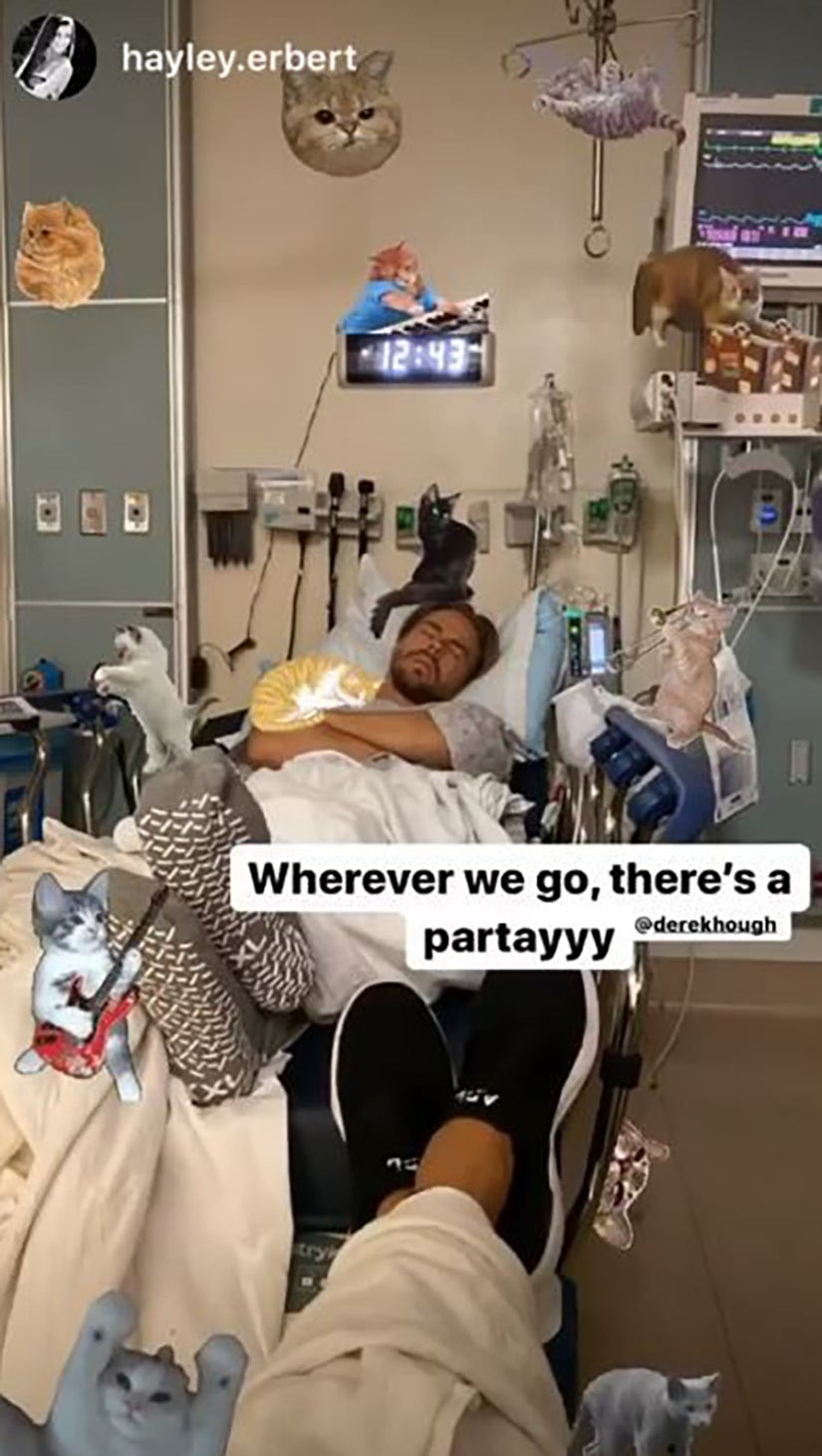 Instagram