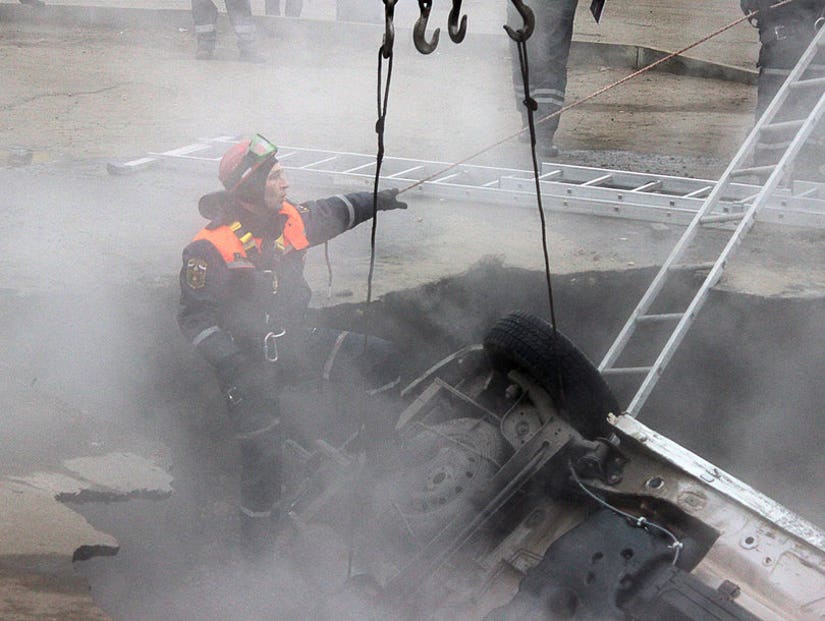 Getty
The sinkhole opened above a pipe carrying scalding hot water.
Two men were boiled to death in Russia after a sinkhole collapsed onto a hot water pipe.
The men died when their car was filled with scalding hot water almost 170°F after it was swallowed by the gaping hole in the middle of a car park in Penza.
Emergency workers were scrambled to pull the car out, but nothing could be done for the two victims who were killed almost instantly.
Shocking photos from the scene show a crane hauling the Lada Largus out of the ground with steam still billowing from it, the two bodies still trapped inside.
"A car fell as a result of the ground collapsing. Sadly people were killed," the local Ministry of Emergencies said, per Metro.
Local media claimed another driver had driven over the same spot just moments earlier, but had noticed the steam and quickly drove off.
The two men obliviously parked there shortly afterward, right before the asphalt collapsed.
Boiling hot water is piped to business and residences in Russia, where average winter temperatures in most cities is minus double digits.