Says Ray J now: "We have another baby coming in and these are not the things we're supposed to do."
UPDATE 11/21/19 at 3:00pm PT: Ray J has addressed the situation on Instagram, posting a video for "all the media outlets out there that's putting out these stories about me." He went on to say he's "dedicated" his life to his family and "to insinuate I would do anything to harm my daughter is just sad, man."
Ray added that he didn't understand how his wife could claim she was "stranded," claiming he was still nearby. "To take this to social media and create this crazy story about me leaving my baby in harm's way is not cool," he continued, seemingly addressing Princess Love directly. "If we get into something big or small, we should be able to hug each other, love each other and listen to each other and understand what we need to do to make it right."
"I apologize for everything that's happened, we supposed to be at the tightest and at the strongest," he added. "We have another baby coming in and these are not the things we're supposed to do. The devil's working, but he's not working hard enough and he will never work hard enough because my family is something I will always die for."
Waiting for your permission to load the Instagram Media.
UPDATE 11/20/19 at 2:20pm PT: Ray J blocked Princess Love on Instagram, as she commented on the move with, "Somebody tell Scooty boy he's only hurting himself. This is so funny to me," with three crying-laughing emojis.
Ray J's pregnant wife, Princess Love, claims the rapper left her and their 18-month-old daughter Melody "stranded" in Las Vegas over the weekend.
The drama began when Ray J posted a since-deleted family photo from BET's Soul Train Awards in Las Vegas on Sunday. "Thank you @bet. #SoulTrainAwards @princesslove @melodylovenorwood," he captioned the snap of him posing with Princess and Melody.
Princess left a comment on the pic saying, "Left me and Melody stranded in Vegas and blocked me from calling ... now you wanna post family photos." The former model added, "#ByeUgly" and a laughing-crying emoji.
Princess took to her social media accounts to add details to the drama in a since-deleted post. "Yes I can fly home ... I have my own money," she wrote. "But my car is here and I don't want to drive back alone with my daughter because I'm over 8 months pregnant and I don't even want to have to stop for gas or go into labor with all of this human trafficking going on... "
At 7:14am on Wednesday, Princess tweeted, "Time to let go..."
Ray J and Princess Love got married in August 2016, and welcomed Melody Love Norwood in May 2018. Their relationship has had its ups and downs well documented on VH1's ""Love & Hip Hop."
TooFab has reached out to both Ray J and Princess Love for comment.

Instagram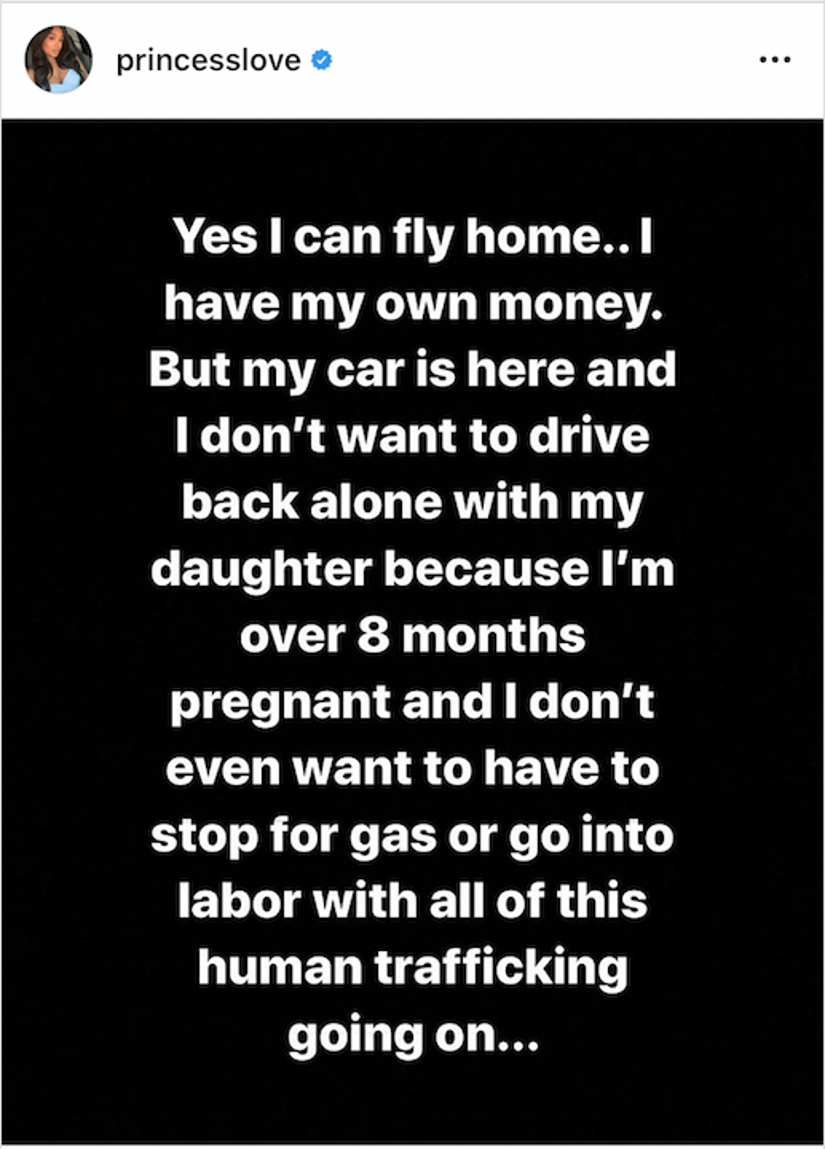 Instagram