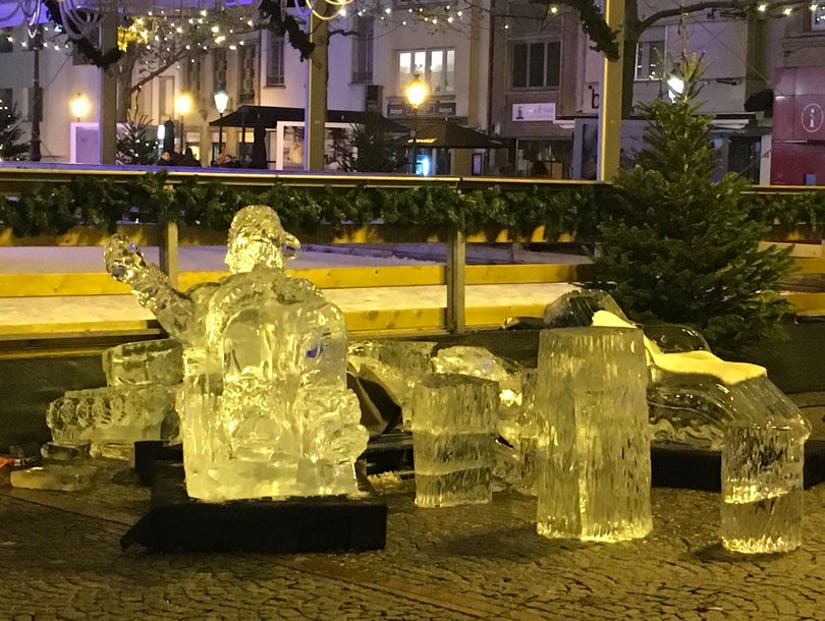 Grand Ducal Police
The two-year-old died after being struck by one of the falling pieces.
A two-year-old boy has been killed by an ice sculpture that collapsed at a Christmas market in Luxembourg.
The toddler was visiting the Palace Guillaume II market with his family on Sunday evening when he was struck by one of the falling pieces. He died at the scene.
The statue, depicting Santa Claus and the front of a log cabin, had just been completed an hour earlier, according to Le Quotidien.
Photos from the scene show the heavy pieces of the artwork lying in ruin, cordoned off by police.
It is not clear what caused the sculpture to fall apart. Authorities have opened an manslaughter investigation, and have appealed for witnesses.
The distraught sculptor, who worked for the company Ice & Art, told RTL it was the first time one of his works ever collapsed.
"We are all shocked, me first and foremost," he said. "This does not happen, such a thing could not occur again."
He insisted the sculpture was built using "only pure water, without air, so that it is completely transparent and we would see the slightest defect".
He said it was "impossible" for the work to fall apart on its own.
RTL freelancer Loïc Juchem was visiting the market with his girlfriend when the tragedy struck.
He said he heard the screams and saw the boy's father throwing himself against the ice rink in desperation.
"An image that I cannot get out of my head is the shoe of the boy, that they later retrieved from the ice sculpture," he said.
Juchem said he feared the worst when the ambulance did not immediately rush the child to hospital.
He said there were rumors children had been climbing on the ice sculpture beforehand, but could not confirm this himself. He did however confirm that the area around the sculpture was not secured.
"Seeing the ice sculpture now, it's hard to imagine that it could collapse this quickly," he said.
Meanwhile on Saturday night a man was crushed to death by a roller coaster car at a Christmas market in Germany.
Berlin Fire Department said the man, believed to be a ride attendant, died on the scene. The family who were riding in the car received psychological treatment.