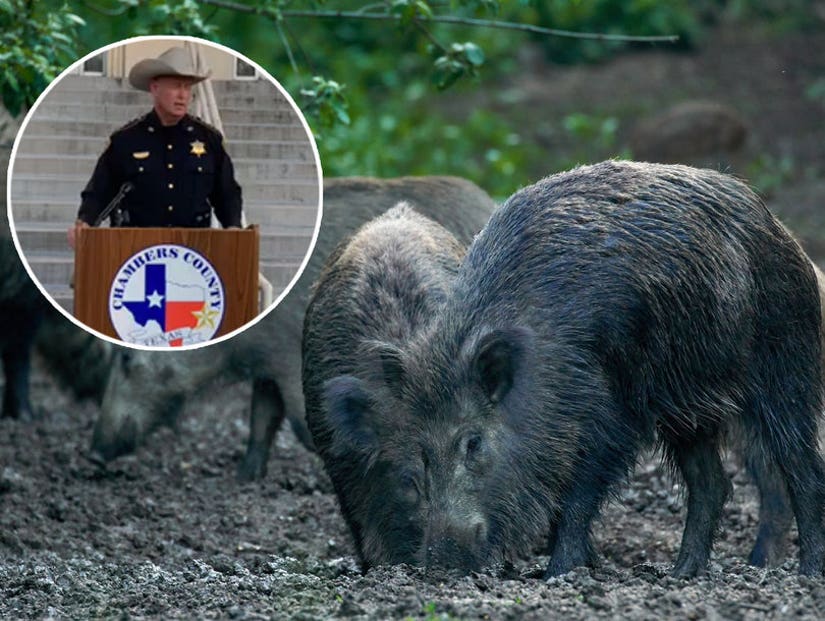 Getty
"In my 35 years, I will tell you, it's one of the worst things I've ever seen," the Sheriff said.
A Texas woman has been killed in a feral hog attack on her way to work.
Christine Rollins, 59, was found mauled to death in the driveway of a home in Anahuac, about 40 miles east of Houston, where she worked as a caretaker.
Her mutilated body was discovered on Sunday morning by the 84-year-old woman who had been waiting for Rollins to arrive.
Police said she had arrived at around 6AM while it was still dark, and had locked her car, but had been attacked before she made it to the house.
After an autopsy on Monday afternoon, Pathologist Dr Selly Rivers officially ruled the death as "sanguination due to feral hog assault."
Chambers County Sheriff Brian Hawthorne said investigators initially believed it was a crime scene, but quickly realized it was an animal attack due to the bites.
While dogs were the obvious suspect, Sheriff Hawthorne said "a lot of things didn't add up"; detectives suspected a hog attack but didn't want to announce it until the grim news had been confirmed by the medical examiner.
Waiting for your permission to load the Facebook Video.
"Unbelievably tragic... this is a very rare incident," he said, adding that less than six had ever been reported in the United States.
"I don't know how many we've had in Texas; I hope we never have another one in Chambers County."
According to reporters at the press conference, one of the homeowner's neighbors was convinced the culprits were a pack of dogs that had been hassling his livestock; he had questioned why the hogs hadn't "devoured their prey", as they usually would after an attack.
"Well he didn't see the crime scene that I did — or what we thought may have been a crime scene, that is not," the Sheriff explained. "It is clearly an assault, but it will be ruled an accident because it was not a human so it's not a homicide."
"There is no question in the medical examiner's mind that this was feral hogs that caused her death," he said, adding there was no doubt there were multiple animals involved, from the different sizes of the bites.
When asked about the extent of her injuries, he refused to divulge any further out of respect to the families; "But, in my 35 years, I will tell you, it's one of the worst things I've ever seen," he added.
The body may have been in even worse condition, but police suspect the hogs were run off by dogs — albeit too late.
Wild hogs are a problem across the state of Texas, as they damage land and attack livestock. Police frequently assist farmers and ranchers in trapping the pests, Sheriff Hawthorne said.