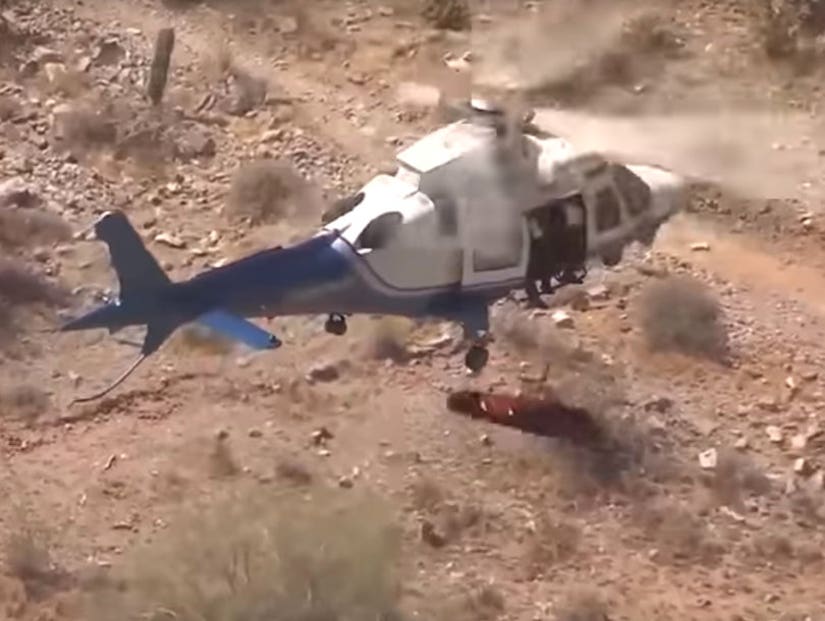 ABC15
Apparently, she suffered more than just a dizzy spell.
The Arizona hiker who went viral in a spinning helicopter rescue video is suing her rescuers.
Katalin Metro became internet famous back in June when a nauseating video of her being twirled rapidly beneath a rescue chopper was watched millions of times.
The woman had reportedly fallen while walking a trail on Piestewa Peak in Phoenix, and had to be airlifted to safety.
After wrapping her up and strapping her into the Stokes basket, the helicopter lifted her off the ground; but the basket began to rotate, slowly at first, and then faster and faster, until she appeared to be spinning as fast as the blades themselves.
The chopper couldn't put her back down while the stretcher was spinning nor could it continue the flight to hospital, so the rescuers had to helplessly wait and watch while she spun almost 200 times in the space of 60 seconds.
"She suffered no ill effect from that spin other than being a little bit dizzy," Captain Bobby Dubnow of the Phoenix Fire Department said immediately after the rescue.
But that's not entirely accurate, at least according to the notice of claim filed against the City of Phoenix this week.
According to the documents, Metro told her rescuers she didn't want to be flown off the trail, and suffered physical, emotional and psychological injuries as a result of her being ignored.
On top of the broken nose suffered in the initial fall, her injuries included soft tissue swelling over parts of the skull, blood in her external auditory canals, swelling and bruising of her eyes, and a spinal cord injury that required surgery, she said.
"Katalin Metro's injuries were caused or contributed to by the negligence, negligence per se, gross negligence, carelessness and/or other fault on the part of the City of Phoenix," the notice of claim read, according to Fox10 Phoenix.
Her medical expenses racked up to almost $300,000. She is suing for $2million.