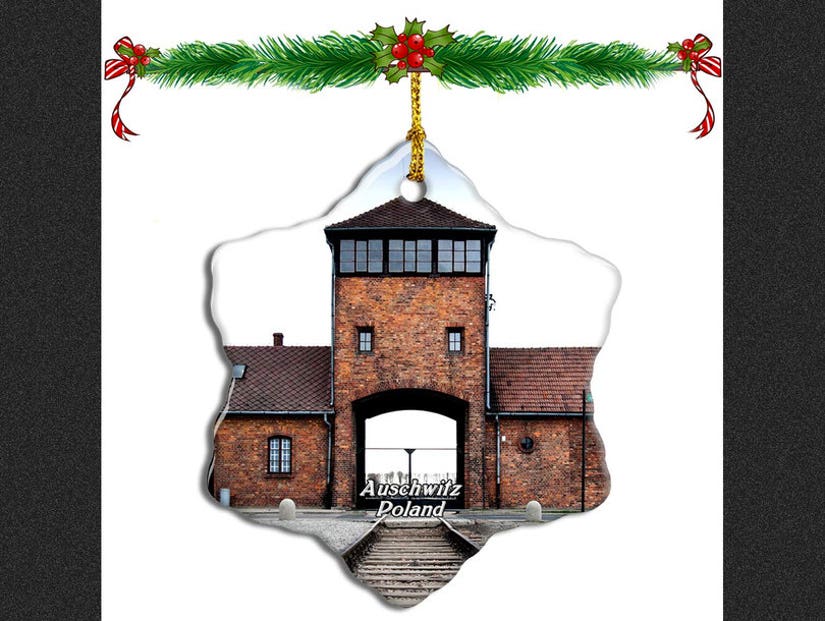 Amazon
"Auschwitz on a bottle opener is rather disturbing and disrespectful."
Amazon has pulled Auschwitz Christmas decorations from its site.
Ornaments depicting the infamous Nazi extermination camp were spotted by the Auschwitz Memorial and Museum, who called the internet giant out on Twitter.
"Selling 'Christmas ornaments' with images of Auschwitz does not seem appropriate," it wrote. "Auschwitz on a bottle opener is rather disturbing and disrespectful."
"We ask @amazon to remove the items of those suppliers."
By Sunday night, the online retailer had removed the particular items; however the seller itself remained in operation.
The online store offers a range of Polish tourist and beauty spots on ceramic ornaments in yuletide shapes such as bells and snowflakes.
The site of the World War II concentration camp remains open today as a museum and memorial to the estimated 1.1million people who were murdered there, the vast majority of whom were Jews.
The snowflake shaped ornament in particular, which shares an outline with the Star of David, made for a particularly distasteful trinket when coupled with images of the Auschwitz-Birkenau Memorial and Museum.
An Amazon spokesperson told the New York Times that the products had been removed and that "all sellers must follow our selling guidelines and those who do not will be subject to action, including potential removal of their account."
Amazon's policy on offensive and controversial materials prohibits products "related to human tragedies"; however this does not include books, music, videos or DVDs.
The Auschwitz Memorial Twitter account also tracked down a "Massacre Auschwitcz Birkenau Jewish Death" mousepad — depicting the barbed wire and guard towers surrounding the camp — for sale elsewhere on Amazon, which was also subsequently removed.
However it pointed out that many similar products were still available on Wish.com, and asked them to follow suit.