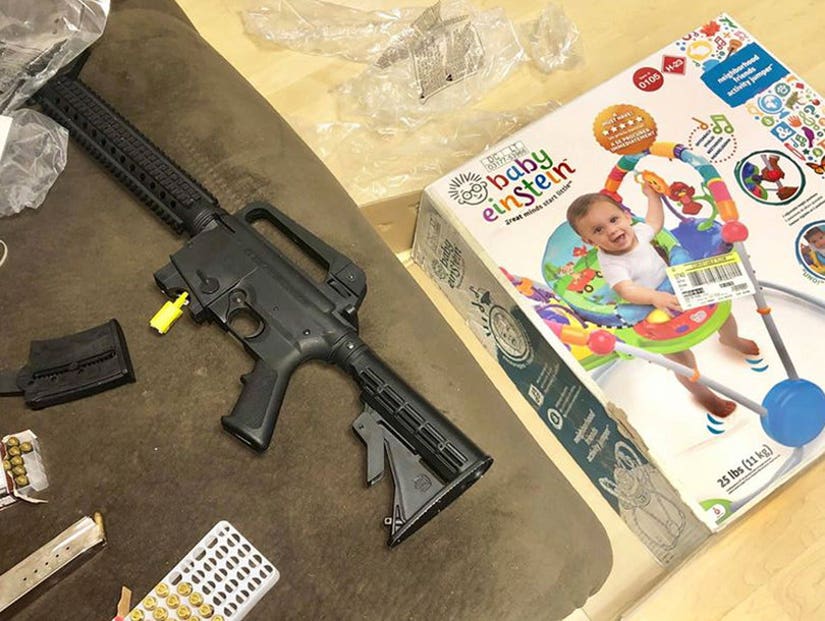 Facebook
"The gun now belongs to Baby Jonathan," she said.
A Florida woman got an unexpected bonus when she purchased a baby bouncer: a loaded semi-automatic rifle.
Veronica Alvarez-Rodriguez thought she bought an unopened baby shower gift from a Goodwill store in Valparaiso on Sunday, but didn't discover what was really inside the box until she got home and opened it up.
She shared the shocking image of the Baby Einstein box, lying beside the firearm, complete with magazine and boxes of ammo.
"When you go to the Goodwill for a baby shower gift thinking you got a good deal on a bouncer ($10) not even opened and you end up opening a MOSSBERG 715T Semi-Auto Rifle," she wrote.
She reported the incident to police; they told her that the serial number was clean and that she could "do what you want with it".
Waiting for your permission to load the Facebook Post.
Indeed she even uploaded pictures of a police officer examining the weapon as proof.
"The gun now belongs to Baby Jonathan who is due to enter this world any day now," Alvarez-Rodriguez (hopefully) joked, adding the hashtag #wegiftedhimhisfirstgun.
Some on Facebook questioned the validity of the story, claiming the ammunition pictured was for a pistol, and that the rifle couldn't fit in the box. Veronica later updated the post with a video proving that it did indeed fit perfectly.
She also added that Crestview Police were going to hold onto the gun for 90 days.
Sadly, Veronica confirmed in the Facebook comments that the box did not contain any baby bouncers.
TooFab has reached out to Goodwill for comment.