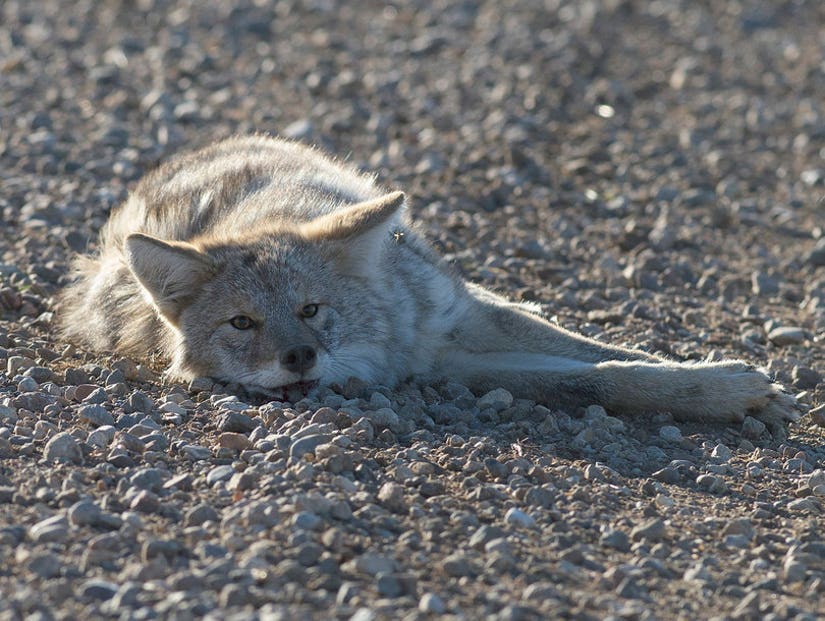 Getty (Stock Image)
"It is amazing how docile it was. I was petting it," explained the man.
A Canadian man got quite the surprise while he was driving to work late Wednesday night after he hit what he thought was a dog running across the road.
"It is amazing how docile it was. I was petting it," explained Eli Boroditsky to CBC after he pulled over and found the animal lying stunned in a ditch by his car.
But when Boroditsky placed it in the back seat of his Hyundai and drove to his job at Bothwell Cheese, a co-worker came out to survey the situation and pointed out that the animal was actually a coyote.
"I thought it was a German shepherd or a husky," Boroditsky confessed. "I didn't think it was a wild animal."
"I was hesitant to leave it lying there because -- thinking that it was a dog and there might be wild animals around — it might get hurt," he added, acknowledging the irony.
Though he wanted to get the coyote medical assistance immediately, Boroditsky had to wait until the morning for an animal rescue officer to arrive. The coyote -- whom co-workers deemed female -- stayed in the Hyundai for the next 11 hours, keeping calm without defecating or urinating.
"The only time she really acted up is when the wildlife officer put the loop around her to get her out of the car," explained Boroditsky, adding the coyote is now recovering at the Wildlife Haven Rehabilitation Centre.
Zoé Nakata -- director of the Centre -- said the animal suffered head trauma and cuts to her face, but was "getting stronger everyday" and is expected to fully recover, with a release back into the wild within a few weeks.
Nakata also advised against picking up a wild animal whatever the case may be.
"If an animal is large and is a predator -- if their behavior and natural behaviors are aggressive -- then we always always ask people to be cautious and to call people to help," she explained.
"If you're not sure, just give us a call and sometimes we do tell people just put a towel around it, put it in a box and drive it to the centre."