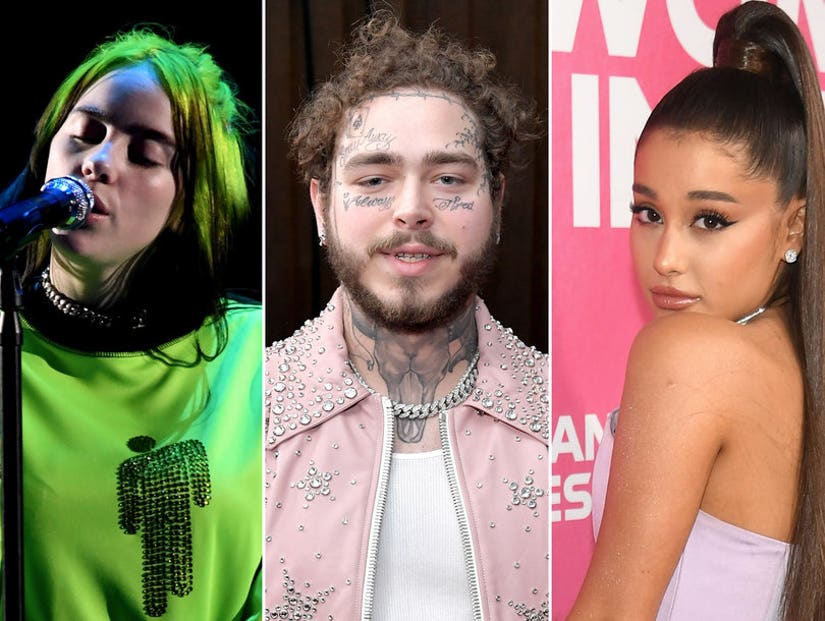 Getty
Basically the Grammys, but on an app.
The year 2019 had its ups and downs: TikTok went viral worldwide, Miley and Liam broke up, Meghan and Harry welcomed baby Archie. But nothing captures the zeitgeist of 2019 quite like what we listened to across the world.
In case you haven't heard, music streaming service Spotify does annual roundups of the most-streamed artists, songs and albums of the year, plus personalized roundups showing who you've been loving in 2019.
But Spotify's also lumped in a bonus this time around. This year's roundup happens to be on the eve of the roaring twenties, which means that you also get to see who's topped the Spotify charts for this decade.
Spotify has over 248 million active users monthly across 79 countries according to its investor relations website, making this a pretty good picture of what the world listens to. Here's what Spotify's data shows:
Top Streamed Artist for 2019
Post Malone, a man of Beerbongs, Bentleys and now, Spotify immortality, tops this list for the first time. This comes just 12 weeks after the release of his third album, "Hollywood's Bleeding". Honorable mentions go to breakout star Billie Eilish and Ariana Grande, who came second and third respectively after the success of their albums "WHEN WE ALL FALL ASLEEP, WHERE DO WE GO?" and "thank u, next."
Top-Streamed Album of 2019
Let's all think about the fact that Billie Eilish is 17 years old and has two Grammy nominations and a RIAA-certified 2x Platinum album to her name. To add to her list of accolades, "WHEN WE ALL FALL ASLEEP, WHERE DO WE GO?" also took the title for the top-streamed album of 2019.
Top-Streamed Songs for 2019
Congratulations to Shawn Mendes and Camila Cabello for taking over the radio (and our hearts) with their steamy collaboration "Señorita." The song has over one billion (yes, with a b) streams on Spotify, meaning that literally one-seventh of the world has listened to it.
Billie Eilish and Post Malone take second and third spots with "bad guy" and Swae Lee collab "Sunflower" respectively.
Lil Nas X, Lizzo and Lunay share this award this year for storming the scenes with their work on "Old Town Road," "Juice" and "Épico" respectively.
The genre for the year was comedy, and the three most-streamed podcasts were "The Joe Budden Podcast with Rory & Mal," "My Favorite Murder with Karen Kilgariff and Georgia Hardstark," and "Gemischtes Hack."
The Five Most Streamed Songs From 2010 - 2019
We apologize in advance for getting these songs stuck in your head all over again.
I Want My Personalized Roundup! How Do I Do That?
Open up your Spotify app, hit the home button, and it should be at the top of your screen! If you're on your computer, go to this link to find your personalized Spotify Wrapped list when you hit the "2019 Wrapped" image.