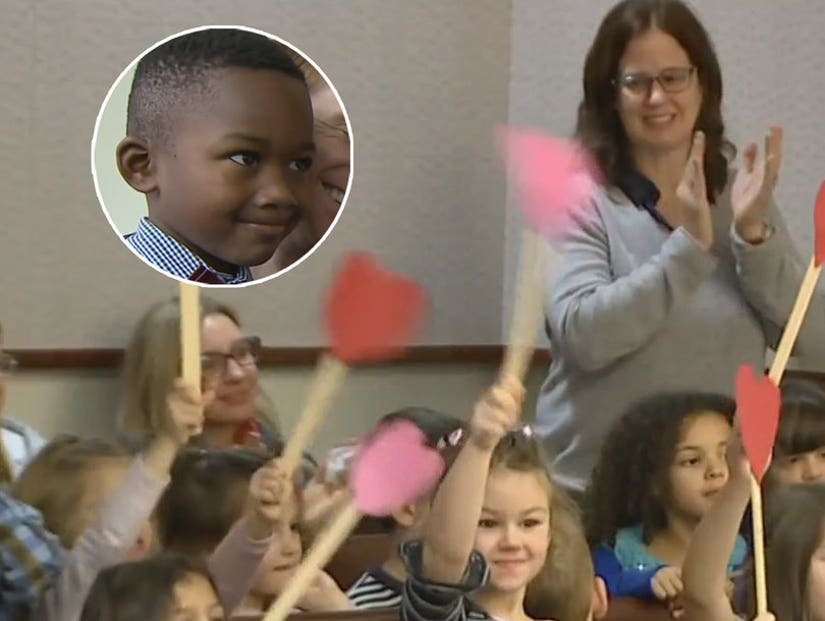 NBC Nightly News
His teacher organized the field trip.
A boy in Kent County, Michigan, went to the local courthouse Thursday to be legally adopted by his foster parents, and there to support him was his entire kindergarten class.
It was Adoption Day in family court, where all 37 foster children -- including Michael Clark, Jr. -- were united with their forever families.
As the judge made the union official, Mrs. McKee's kindergarten class from Wealthy Elementary School sat in the spectator area and waved in the air the red and pink hearts they had mounted onto wooden sticks.
Michael's adoptive father later told NBC Nightly News that Michael said to him, "The class is kind of my family," as his adoptive mother explained she and her husband of almost a decade decided to "build" their family through adoption.
"And there's so many options, right, for building a family these days," she told the camera, as Michael interrupted to lovingly shout into the mic, "I love my mommy!"
Michael's father told CNN his favorite part of the entire hearing was when the judge asked everyone in the room to share what Michael meant to them.
He said the children offered the most touching answers, including "I love Michael" and "Michael's my best friend." He added that the judge said it was the first time she'd ever had a whole kindergarten class present for a hearing in her courtroom.
Michael's mother told CNN that it was Mrs. McKee's idea to take her class to attend the hearing. She was touched and thought it would be the best way to make Michael's day even more memorable. From there, Mrs. McKee organized the field trip, procured a school bus and gave her students a day to remember.
Michael had been living with his adoptive parents as a foster child since last Thanksgiving. He is their first and only child.