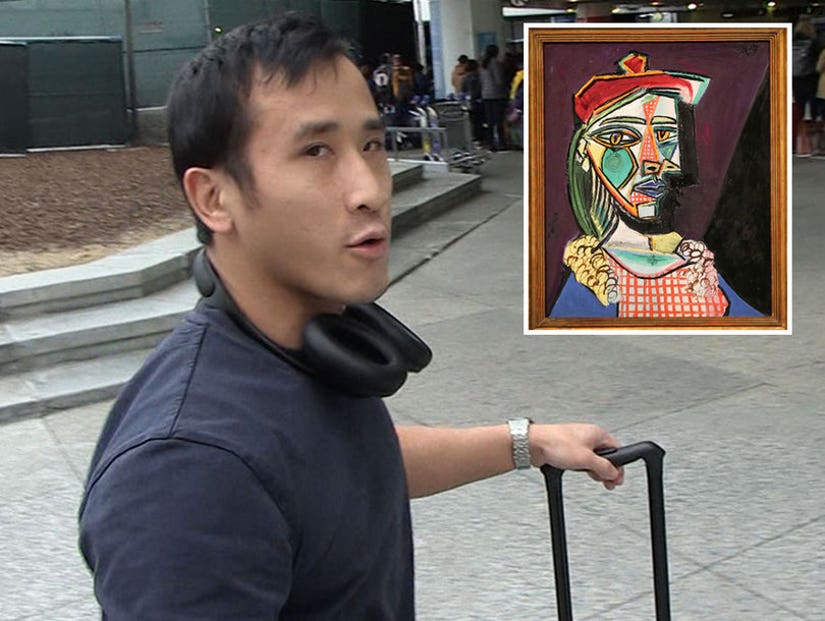 TooFab/Getty
Pablo Picasso's family are warning would-be thieves not to bother robbing their home — they only have fakes.
Florian Picasso, great grandson of the legendary Spanish painter, revealed that while he keeps lots of his grandad's works on the walls, none of them are real.
"Yeah, we just put fakes at home. At home it's all fake," he said. "So, don't come rob us!"
The 29-year-old French-Vietnamese DJ was reacting to the recent decision by the French courts to uphold a conviction against 80-year-old Pierre Le Guennec, who was found guilty of possessing stolen works by the artist.
In September 2010 the retired electrician, who used to install burglar alarms for Picasso in the 1970s, reached out to the painter's family to ask them to appraise some 271 artworks they claim had been gifted to them.
The undocumented, never-before seen works, which included lithographs, portraits, watercolors and sketches, as well as nine Cubist collages, had sat in his garage for 40 years.
When the pieces — estimated to be worth at least $80million — were verified, the family sued Le Guennec alleging they were obtained illegally, and a police investigation was launched.
Le Guennec and his 76-year-old wife Danielle were both given a two-year suspended jail sentence.
As Florian summarized the decade-long saga: "That's a crazy story."
Pablo Picasso, one of the founders of the cubist movement, died in 1973, aged 91. The fact that he was one of the most prolific famed artists did not dilute the value of his work; several of his pieces have sold for more than $100million apiece.
Florian, himself a record producer who has collaborated with Martin Garrix and Steve Aoki, said his great grandfather's artistry "always" influences his, despite the different fields.
"I try to write outside of the box, you know?" he said.