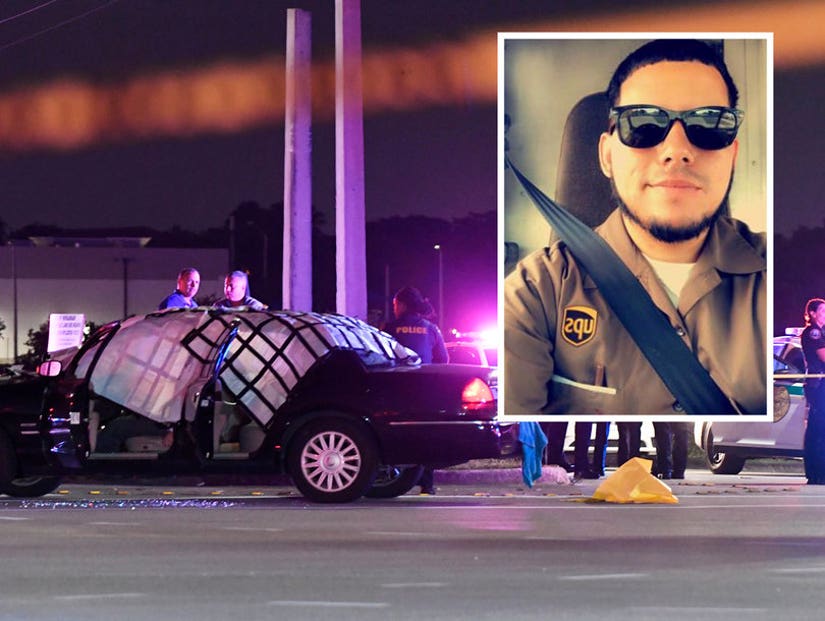 Getty/Facebook
Frank Ordonez was one of four people killed in a wild police shootout in Florida on Thursday.
The stepdad of the UPS driver who was killed after being taken hostage during a wild chase has blamed police for his death.
Frank Ordonez was shot dead, along with another innocent bystander and two suspects, in a shootout in the middle of a freeway in Florida on Thursday afternoon.
According to Frank's stepdad Joe Merino, the 27-year-old was "murdered" by the police.
"How can this happen in today's day and age. The police [were] negligent," he told Local10. "Where was protocol? Where was SWAT? Where was the hostage negotiator? Where was the sniper?"
The incident began when two armed men held up a jewelry store in Coral Gables; police responded minutes later after a silent alarm was tripped.
The robbers fled, hijacking Ordonez's UPS truck, and leading police on a dangerous high speed chase, mounting footpaths, pulling u-turns and swerving around other vehicles.
Today I lost my brother, because of the fucking negligence and stupidity of the police. Instead of negotiating with a hostage situation they just shot everyone. (Including my brother) please retweet this so everyone can be aware how stupid these cops are. pic.twitter.com/DyFN2ZUoAX

@geneviemerino
But when they got trapped in traffic, the fatal shoot-out broke out, with news cameras capturing the horrific footage.
While it has yet to be confirmed whose bullets struck Ordonez, his stepfather is in no doubt.
"My son was on the ground, he had his hands open. There was no gun," he said, claiming that the video shows his son was clearly identifiable because of his uniform and was behind the suspect who was shooting away from him at the police — and the police were the only ones returning fire back at them.
"The truck on one side is riddled with 30 - 40 bullets. There's bullets everywhere. This is a war zone," he said.
"Look at the videos. The videos don't lie. It was a wild west shooting. They had no regard for rush hour, for other people."
"They shot him dead!" he said. "This was unnecessary. This was avoidable. This should have never happened. Police acted wrongly."
Tragically, Joe revealed Frank was covering for another driver who had called off on the day he was killed.
"He was a great dad. Frank was 27 years old but he was a kid at heart," he said. "Christmas to him with the girls and the family was everything. And now there's no more Christmas."
"The police went home that night to their families, to their daughters and sons and wives. Frank's never coming back."
"They are here to protect us. They didn't protect my son. They protected themselves."
Frank's sister Genny shared similar sentiments on Twitter.
Coral Gables Police Chief Ed Hudak said in the aftermath of the shootout: "This is what dangerous people do to get away."
"If people give up and are held accountable for their crimes, then we wouldn't put these many people in danger."
In a statement, UPS said it ""We are deeply saddened to learn a UPS service provider was a victim of this senseless act of violence. We extend our condolences to the family and friends of our employee and the other victims involved in this incident."
"We appreciate law enforcement's service and will cooperate with the authorities as they continue the investigation."