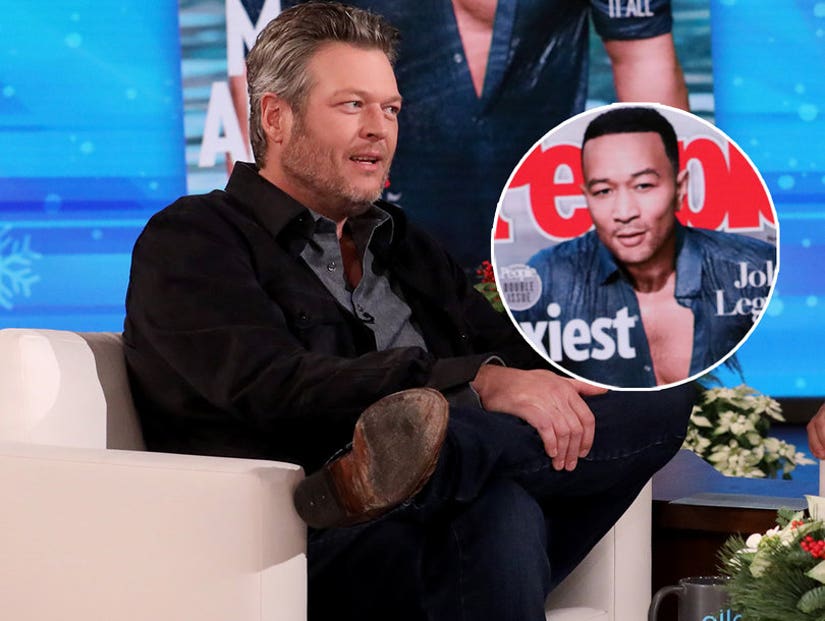 Michael Rozman/Warner Bros./PEOPLE
Shelton says Legend must be living in a "parallel universe."
People Magazine's Sexiest Man Alive for 2017 Blake Shelton isn't fully on board with this year's winner, John Legend.
The country singer, who is a coach on "The Voice" with his successor, immediately called out Ellen DeGeneres on Friday's episode of her show, after she claimed John was the sexiest star of the singing competition series now.
"You already got it wrong ... You said I'm not the sexiest coach on the Voice. You talkin' about that magazine?" he said right off the back. "I just had to put out a new issue. I'm still the sexiest coach on the frickin' Voice."
"I'm very confused because People Magazine has John Legend on the cover," Ellen said.
"I love People Magazine. Everybody has the right to be wrong, sometimes," Shelton responded, joking that Legend lives in a "parallel universe" from everyone else, one where he believes he won the honor.
Waiting for your permission to load the Instagram Media.
Shelton, was actually the one who revealed the new cover earlier this year.
The singer presented Legend with a pair of bedazzled cutoff shorts that read 'VEGOTSMA,' explaining "You already came into this show as an EGOT. Then you won 'The Voice' so it became a VEGOT. Now you have a ''VEGOTSMA.' You're the only one."
Revisit that crowning moment below: