At least the two appear to have a sense of humor about their falling out.
Lisa Vanderpump recently joked to a TMZ Celebrity Tour guide that the worst Christmas present she'd ever received was from Kyle Richards. When asked what it was, she kept the shade train going by saying she never even opened it, before flashing a thumbs up.
Proving she also has a sense of humor about everything that transpired between them, Kyle responded to Lisa's remark in the Instagram comments for the video.
"Well, it wasn't a bottle of Vanderpump rosé," Richards quipped, adding an emoji of a girl shrugging her shoulders.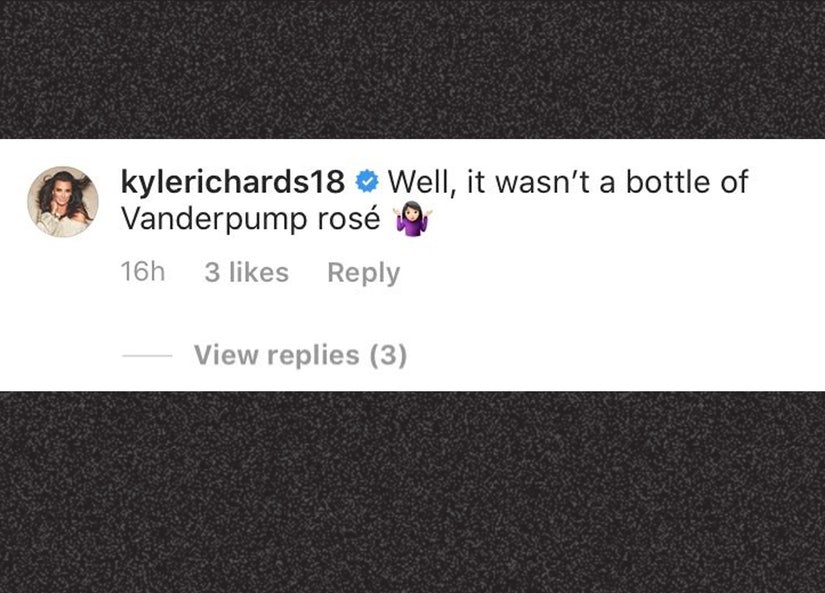 Instagram
The once-best friends had a falling out earlier this year while filming Season 9 of the Bravo series. The other cast members felt Lisa may have planted a story to make Dorit Kemsley look bad, and when Kyle confronted her about the allegations -- which Vanderpump vehemently denied -- she and husband Ken Todd kicked Richards out of their home and out of their lives. Soon after the explosive fight, LVP quit before the reunion was even filmed.
When asked how she planned to spend the holidays this year, the 59-year-old restaurant mogul lamented that she doesn't usually get much downtime.
"There's no holidays for us women, are there?" noted the "Vanderpump Rules" matriarch. "It's just all work, work, work!"
Last month, Lisa and Ken told TooFab about a run-in they had had with Kyle and her husband, Mauricio Umansky, at the first annual BravoCon in New York.
"She actually came to our table, but on her way to her table," Lisa explained. "She stopped and said hello, and I said hello. I was with friends and having dinner. Mauricio hugged us and we exchanged, and that was it."
"Listen, just a hello is no effort for me, but that's all she was gonna get," she added before giggling as she quoted her husband. "Goodbye, Kyle!" When we asked if there was any hope for reconciliation, Lisa replied, "I have no idea."
Vanderpump is overjoyed to have put "RHOBH" behind her, as Todd told us she couldn't be happier.
"Oh, she's a different person! Oh, yeah. She's got eight bitches off her back," he said, adding that he's had no contact "at all" with any of his wife's former co-stars.
As for Lisa, she said she was "focusing on the dogs [now], not the bitches."
"There's so much going on in my life with other things I've been doing," she explained, adding that she hadn't been "paying much attention" to her former co-stars or the show. "'Vanderpump Rules' is a big show, we've opened up Vanderpump Cocktail Garden, we've been working with the rescue, we're opening next door to TomTom, I'm talking about other projects, so it's a lot. I'm doing something else for Caesars [Palace], so there's a lot going on. I haven't really given it the attention that maybe other people think it deserves."
When we asked Lisa if she managed to find the time to sleep, she chuckled and said, "Not very much, I have to say. I don't sleep as much as I should, but if I'm passionate about something..."