"I'd rather lack hair than lack morals, values, integrity, brain cells an education and a daughter."
The "Real Housewives of Orange County" stars have been at odds on and off camera for the last year, but after Kelly spotted some snarky remarks Tamra recently made to fans, she took the feud to a whole new level -- by bringing up the sensitive topic of Tamra not having a relationship with her daughter.
"Tamra leave me alone? A constant attack about my Receding hairline? Good 1 Tamra," Dodd wrote in a since-deleted tweet Thursday night. "I'd rather lack hair than lack morals, values, integrity, brain cells an education and a daughter. I have more hair than u right."
She added the hashtags #uniboob #nobellybutton #rat #eyes.
Along with the message, Kelly also posted two screenshots of the comments section of Tamra's Instagram page. One fan wrote, "Get rid of Kelly bring back #fancypants [a reference to Heather Dubrow]," which Tamra responded to with a hands-up emoji.
The second comment Judge replied to was from a fan who wrote, "Kelly shouldn't talk about people's hair with that receding hairline of hers," by dropping a simple, "combover."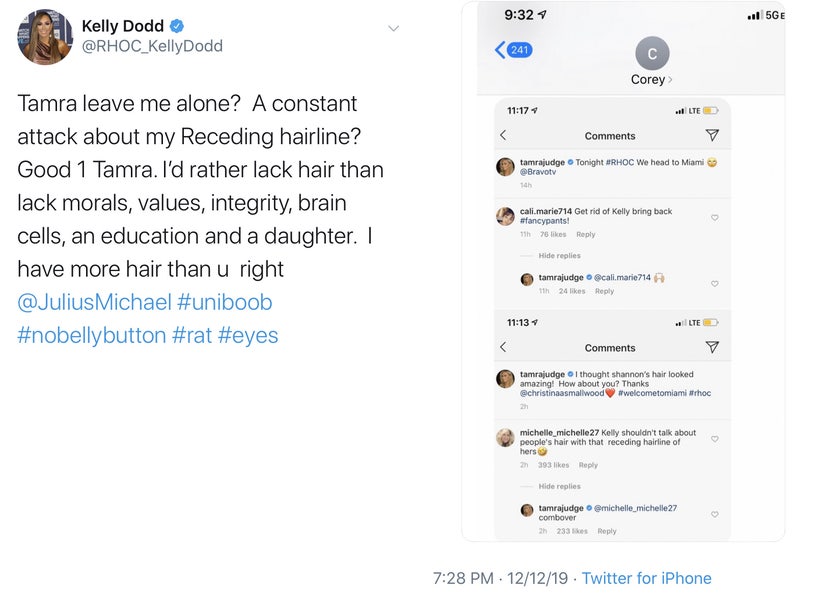 Twitter
Her issues with Vicki stem from the fact that Vicki set up Kelly's ex-husband with a friend of hers, which upset Kelly, prompting her to do things like send nasty animated pig videos via text. In retaliation, Gunvalson claimed Dodd was a cocaine addict who participated in a sex train and was banned from her daughter's school -- all of which Dodd has vehemently and repeatedly denied.
As for Shannon and Tamra, Kelly's beefing with them simply because they're Vicki's best friends. When Dodd felt wronged by Judge and Beador, she contacted Jim Bellino -- who was suing them for defamation -- in an effort to bring them down.
Then there was that bop with a mallet she made on Shannon's head that landed Beador in the ER. Kelly still jokes about it to this day. Can't wait for the reunion, ladies!
"The Real Housewives of Orange County" Season 14 finale airs Tuesday, Dec. 17 at 9 p.m. on Bravo.