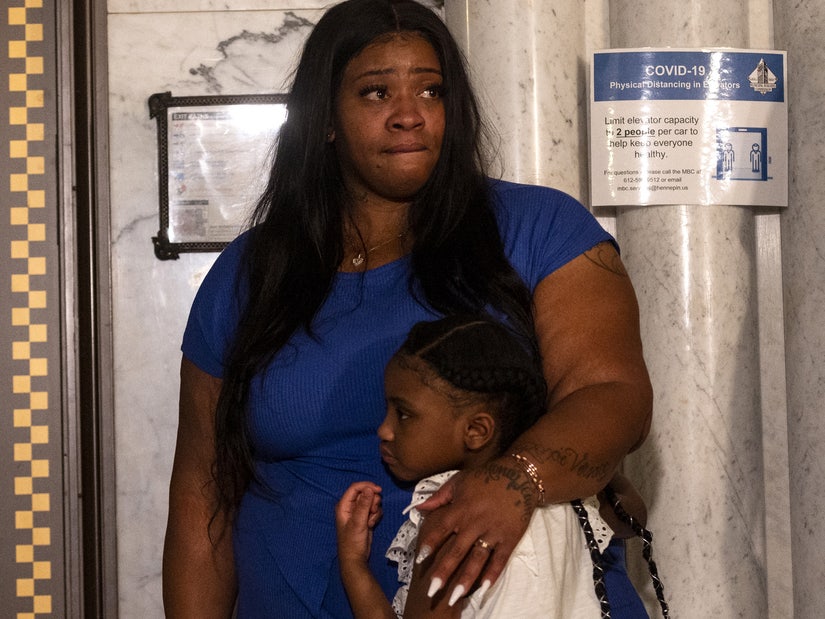 Getty
"She said, 'I hear them saying my daddy's name,'" says his daughter's mother.
George Floyd's daughter, Gianna, and her mother, Roxie Washington, appeared on "Good Morning America" on Wednesday to speak about his death.
"What do you want people to know?" ABC News' Eva Pilgrim asked the six-year-old this morning. "I miss him," said Gianna, who also recalled how much he played with her. When asked what she wanted to be when she grows up, she said "a doctor," so she could "take care of people."
At 6, Gianna doesn't fully grasp the circumstances around her father's death. He was killed after a white police officer kneeled on his neck for several minutes in Minneapolis, Minnesota. According to Washington, Gianna knows people are talking about her dad.
"She said, 'I hear them saying my daddy's name,'" she explained. "She doesn't know what happened, I told her her dad died because he couldn't breathe."
Roxie only watched the video of Floyd's death "for a moment." She told GMA, "I couldn't believe someone was doing him like that. I wish I could have been there to help him."
"They took her Dad," she added. "My heart is broke for my baby. It's broke."
Video captured police officer Derek Chauvin with his knee on Floyd's neck for more than eight minutes during Floyd's arrest for allegedly passing a counterfeit $20 bill. Floyd was unresponsive when paramedics arrived and was later pronounced dead.
Chauvin was arrested last Friday and faces 3rd-degree murder and manslaughter charges. He and three other officers were fired in connection with Floyd's death.