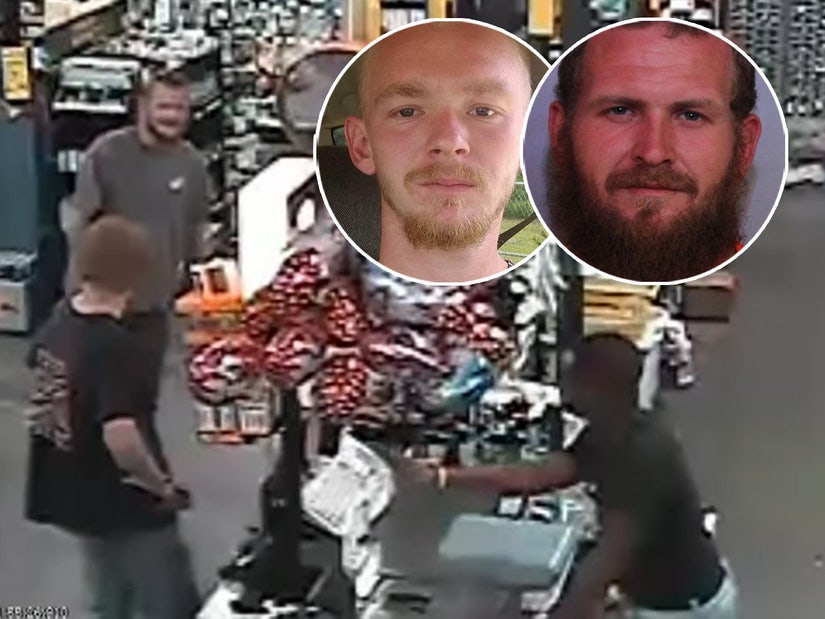 Polk County Sheriff's Office/Facebook
Within ten minutes of this video, all three friends were brutally murdered.
Polk County Sheriff's Office have released the chilling CCTV footage from the Dollar General store on the night of the killing.
As Sheriff Grady Judd described, it shows suspect Tony "TJ" Wiggins nonchalantly chatting with victim Damion Tillman while standing behind him in the queue.
After leaving the store, TJ would trail Damion to where he met his two friends, and — less than ten minutes after this video was shot — will have brutally murdered all three, Judd alleges.
update 7/22/2020 10:29 am
Two men and a woman have been arrested in connection to the murder of three best friends in Florida.
Tony "TJ" Wiggins, 26, his girlfriend Mary Whittemore, 27, and his 21-year-old brother William "Robert" Wiggins are accused in the triple homicide that rocked the quiet town of Frostproof on July 17.
TJ, identified as the shooter by Sheriff Grady Judd at a press conference Wednesday morning, has been charged with first degree murder, tampering with evidence, possession of a firearm by a convicted felon, and possession of ammunition by a convicted felon.
Robert was charged with tampering with evidence, and accessory after the fact of capital felony; while Whittemore was also charged with accessory after the fact.
Explaining the timeline of the night of the attack, Sheriff Judd said one of the victims — Damion Tillman — encountered the trio at a Dollar General store, less than ten minutes before the fatal ambush.
The clerk said she overheard Tillman talking about the fishing trip; surveillance footage shows Damion having a conversation with TJ, who was behind him in the queue; while there is no audio, Sheriff Judd said body language showed it was "not violent or animated, just a normal conversation."
Waiting for your permission to load the Facebook Video.
The clerk confirmed that TJ snapped to attention when he heard another of the victims, Keven Springfield, would be in the fishing party.
"When they left the store, TJ directed Robert (who was driving) to turn onto a particular road, instead of going home," the Sheriff's Office statement read.
"Two trucks, occupied by the three victims, passed Robert on that road, at which time TJ told Robert to make a U-turn and follow the trucks."
They followed the friends until their two trucks stopped near the lake, at which point TJ jumped out and allegedly pulled a gun on Brandon and Damion, demanding to know where Keven was, who was in the other truck.
Running to Keven's vehicle, he pointed the gun at him and demanded: "Where's my truck?", accusing him of selling the engine out of his truck, Sheriff Judd said.
After telling TJ that he didn't know what he was talking about, Sheriff Judd said TJ started punching Keven, before opening fire on all three friends.
Robert, who told detectives he never left the truck and watched the whole thing, said his brother then called him out to help him put Damion's body in the back of one of the trucks, according to law enforcement.
They then drove away, stripped down the gun and threw it away, Sheriff Judd said.
Afterwards, they drove to McDonald's and ordered ten double cheeseburgers and two McChicken sandwiches, before going home to eat.
Sheriff Judd said the three accused lied and contradicted each other frequently in their stories in an attempt to protect one another, but that their McDonald's order was the only thing consistent in all three.
After receiving several tip-offs, police served search warrants on a strip of land where all three suspects were living in trailers "off the grid", with no running water or electricity.
They found ammunition casings which forensic testing showed was from the same gun fired on the night of the killings.
Whittemore admitted purchasing the ammunition the week before, and to being with the brothers on the night of the murder, before she became uncooperative with detectives, Judd said.
While she had a completely clean criminal record and Robert had only one misdemeanor arrest to his name, TJ had 230 felonies with 15 convictions, and 2 trips to state prison, including several armed burglary charges, weapons charges, and assault and battery charges, some of which were on elderly people and police officers.
"230 felonies. I didn't stutter," Sheriff Judd exclaimed, expressing his own shock at TJ's record, which listed a first arrest at 12 years old.
"He's a thug. He's a criminal. He's pure evil in the flesh. He's wild and he's out of control," he said, revealing that at the time of the murder, TJ was actually out on bond after breaking someone's arm with a crowbar.
Judd also expressed his exasperation at the senselessness of the crime, pointing out that the usual motives of drugs, alcohol, money, or domestic incidents were not involved.
"The only information we have is TJ was allegedly mad over some kind of truck deal that happened some period of time ago," he said, adding that investigators hadn't even had a chance to look into that.
Original story 7/20/2020 1:21 PM
Three best friends have been brutally murdered during a fishing trip in Florida.
Keven Springfield, 30, Brandon Rollins, 27, and Damion Tillman, 23, (above, top to bottom) were all found beaten and shot to death on Friday night near a remote lake in Frostproof.
According to police, shortly after 10 p.m. Brandon's father Cyril received a call from his son, who managed to say "help".
Knowing Brandon had gone fishing with his pals, he rushed to the spot and found his son barely clinging to life, and his two friends dead.
In his panic to get there, Cyril had left his cellphone at his house. He fled to the nearest gas station to call 911; a short time later his son, too, was dead.
"When first responders arrived, all three men were deceased. They appear to have been beaten and shot," Polk County Sheriff's Office said.
"According to the families, the three men have been best friends for years and were fishing Friday night."
Waiting for your permission to load the Facebook Video.
Sheriff Grady Judd revealed that before he died, Brandon managed to tell his dad some information about the attackers — but it was not being publicly released at this time.
"When I got there I was looking for my son. It was a mess," Cyril told WFLA8. "I found my son. I was holding him he was telling me what happened but I was too shocked to know what was going on."
Speaking to reporters, Sheriff Judd indicated he did not believe the attack was random.
"You don't just stumble upon somebody out here," he said. "This is a dirt road, a clay dirt road, way out in the middle of what we call God's country, on the way to a nice little fishing lake. It's not like there's a lot of people around here."
He said investigators believed Damion arrived first and was set upon; when his two friends arrived on the scene, they too were murdered.
"I've been to a lot of murder scenes in my life, and this ranks among the worst I've been to," he said.
Giving an update on Monday, the Sheriff said the friends may have been boxed in in the horrific ambush.
"We don't know at this point... if someone flagged them down and boxed them up in the middle of the road," he told WPCV.
"We don't know what happened...whether or not they met up with some suspects who didn't like the fact that they were talking in the road."
He urged the public to contact the Sheriff's Office, or even Crimestoppers anonymously, to provide information to lead to the arrest, before the killers struck again.
"At this point in time, what do they have to lose?" he said. "They've already killed three."