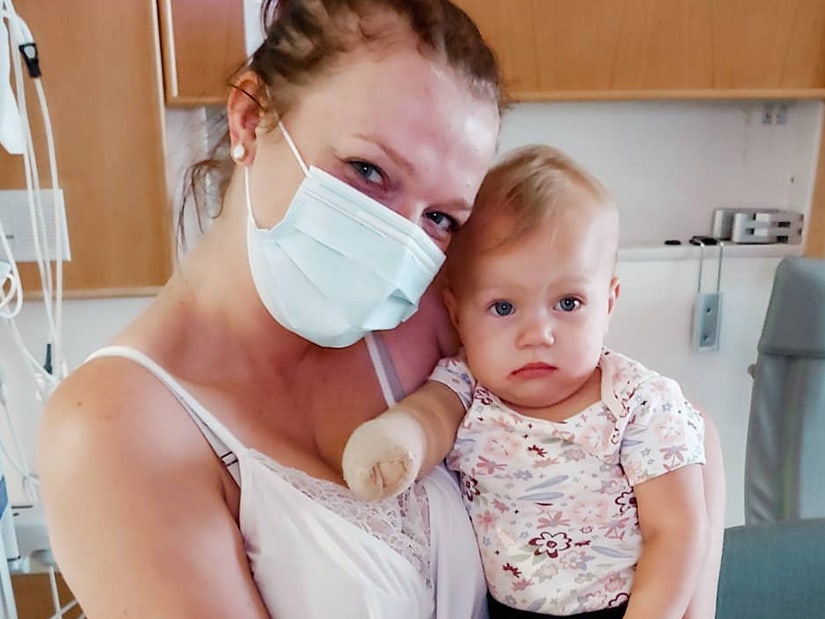 Instagram
Her daughter was diagnosed with a rare genetic condition and had a surgery performed on her hand as well.
"Sister Wives" star Maddie Brown Brush revealed her one-year-old daughter underwent an amputation surgery recently.
Brush, 24, took to her Instagram on Monday, posting a picture of her baby girl, Evangalynn Kodi, with bandages on her left foot and right arm.
"Evie received some major gifts for her 1st birthday," Brush captioned the post. "Her surgeon laid the groundwork for her new foot and mobility it will bring, by way of a boyd amputation. Another gave her some extra mobility in her hand, by clipping her webbing she had in her right hand."
Waiting for your permission to load the Instagram Media.
Evie was born with a rare genetic condition called fibular aplasia, tibial campomelia, and oligosyndactyly (FATCO) syndrome, which affects bone formation.
"She is home and is recovering beautifully. 💛🌼," added Brush.
In October 2019, Brush revealed the diagnosis on social media, saying it didn't come as a surprise to her and her husband, Caleb Brush, after they had an intense visit to the hospital.
"We knew something was wrong when we went in for a routine anatomy ultrasound at 26 weeks and what should have taken 45 minutes, ended up lasting a nerve-wracking two hours," she explained.
Waiting for your permission to load the Instagram Media.
"Caleb and I found out our precious little girl was missing more than just one finger," she continued. "She was missing three fingers, a toe and her fibula. She also had a bowed tibia, a shortened forearm and some fusing in her fingers."
Brush -- the daughter of "Sister Wives" stars Kody and Janelle Brown -- explained why she and Caleb decided to be open about the diagnosis in the Instagram post.
"She is healthy in every other way aside from the missing bones," she wrote. "As a family, we have decided to be open as we walk through this journey. We want Evie to always feel pride in who she is, and all that God gave her!"