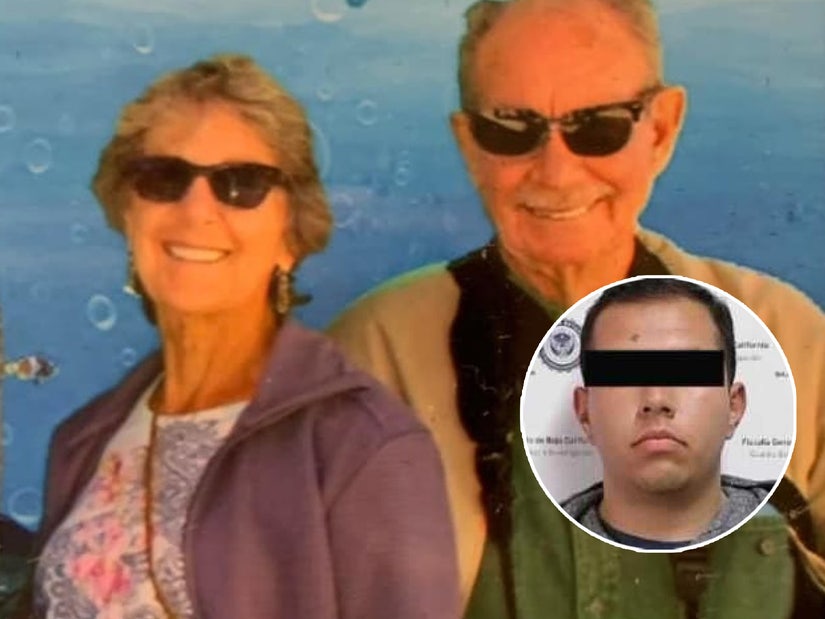 Facebook/Baja California Prosecutor's Office
It wasn't as random as originally believed — the victims knew the suspected killer.
Police in Mexico have made an arrest five months after the US couple were found at the bottom of a well.
Emmanuel N (identified by first name and initial, as is customary in Mexico) is accused of murdering 78-year-old Ian Hirschohn and Kathy Harvey, 73, in August of last year.
The suspect is the son of the wealthy rancher who owns the land on which Hirschohn's vacation home of 35 years is built, where the couple would visit every year.
Investigators believe the suspect stabbed the San Diego retirees while they were sleeping in their beds in the tiny beach town of El Socorrito, about 200 miles south of the US border.
It is believed he then wrapped their bodies in their bed clothes, bundled them into Hirschohn's Toyota Land Cruiser, and drove four miles to the well in a remote area and dumped their remains.
It is still unknown when exactly they were killed; they were reported missing on September 2, but weren't found until three days after that.
The motive has yet to be revealed; but when the bodies were first discovered, police said the killer was likely a drug addict who broke into the home, believing it empty.
Hirschsohn's daughter Ava Setzer told the San Diego Union-Tribune that her father knew the family that owned the ranch well — including the suspected killer.
"Finally," she said of the arrest. "The past couple of months, this whole process, I can't even describe how difficult it's been."
Harvey's son Robert told the paper there was "comfort in knowing he's going to have to pay for it, that he's not going to get away with it."
The slain pair, who had been dating for a couple of years, were very spry despite their advancing years and travelled often; Harvey, a retired Physical therapist, played soccer well into her 70s, while Setzer described her dad as "more active than anybody half his age... He lived the most full life, probably three times over."
Original story 9/8/2020 9:06 AM
The bodies of a missing US couple have been found at the bottom of a well in Mexico.
Ian Hirschsohn, 78 and his 73-year-old partner Kathy Harvey had been missing since August 31, when they were supposed to return home to San Diego from a trip across the border.
Their abandoned car was found in Ensenada, just 90 minutes from the US border, last week.
Investigators then made the grim discovery on Thursday in an unpopulated area just south of the tourist hotspot.
The bodies were recovered over the weekend; San Diego police confirmed their identities, CBS8 reported.
Family members said the couple had been staying at a rented house in El Socorrito, about 200 miles south of the border, a town they frequented over the past 35 years.
Kathy texted her son Robert on August 28 to say they were going to either explore a gold mine or visit a beach; however the family lost contact with them on August 31.
After reporting them missing, the Consulate General in Tijuana finally informed the family the couple's Toyota Land Cruiser had been found in Ensenada.
"She was really enjoying retirement and had multiple groups of friends," Robert told the site. "She loved walking and traveling. She had a huge bucket list of where she wanted to go."
An investigation is now underway. The cause of deaths has not been revealed, nor has a motive, but investigators suspect foul play.