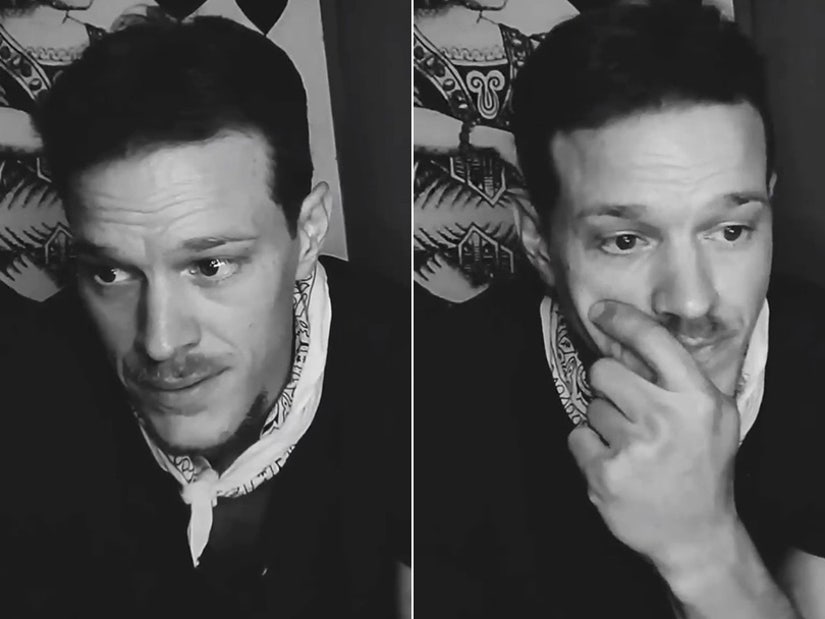 Instagram
Ryan says it was son Josey who asked Nickayla to move in and "live with us forever," because "she's now the closest thing he has to a mom."
Ryan Dorsey got emotional about the "assumptions" being made and the "false narrative" he says is being created about his relationship with Naya Rivera's sister Nickayla, while confirming that she has moved in to help care for his five-year-old son with the late "Glee" star, Josey.
In a lengthy video posted to his Instagram page on Tuesday, Ryan took aim at people "who think it's okay to spew hatred ... especially when they make statements about a family who are dealing with a tragedy that I hope is so unimaginable that you or anyone that is close to you ever has to go through."
He opened up about his own grief, revealing that he's lost more than 20 pounds since Naya's death by accidental drowning in July, but so much of his message was about how Josey is processing this huge loss in his life.
Waiting for your permission to load the Instagram Media.
"He's so smart and you know he witnessed a nightmare right before his eyes," said Ryan, sharing that when he finally had to tell Josey that Naya was in heaven now, his son responded, "Well, I want to go there. How do I get there?"
"I wouldn't wish that upon any of your ears to have to hear those words come out of the sweetest soul you know," he said.
As for Nickayla, Ryan said that Josey told him, "I want Titi [Nickayla] to live with us forever," adding that she is "the closest thing he has to a mom."
He said that he made the decision to invite Nickayla to move in because he decided to "let [Josey] get what he wants, what he asks for, and what he needs right now, which is his family. Even though you know it's temporary and it's not forever. It's a temporary situation."
"After all that he's had to go through how could you deny him that? Because of what?" Ryan continued. "What some strangers might think or say, or spew some hatred based on some ill-advised, ill-logical, misinformed tabloid?"
He had nothing but praise for Nickayla, whom he said uprooted her own life to step up and help, while also admitting that her being there has helped them through their shared grief.
"You don't always have to be alone with your thoughts and you don't have to be sad any day or night wondering when does it get better," he said. "At least you have someone there with you to talk to or just sit in silence and be sad with. You don't have to deal with being completely alone."
As for those speculating that he and Nickayla have sparked something more than family coming together in their grief for a child, he calls it "absurd," and a narrative pushed by tabloids.
"I wish I was worried about a relationship right now," he said. "Not thinking about this and living with this every day."
He then called for all those leaving nasty comments on various posts on both his and Nickayla's Instagram pages to "think twice before they go insert their opinion and jump to conclusions. Think about sending people DM's wishing death upon strangers who are dealing with so much that they know absolutely zero about."
ORIGINAL STORY 9/29/2020 2:55 AM
Naya Rivera's sister Nickayla has alluded to reports that she moved in with Naya's ex Ryan Dorsey in order to help raise her nephew Josey after her sister's tragic drowning death.
Still clearly grieving her family's tremendous loss, Nickayla posted to her Instagram Stories, "In the darkest time of my life, the only thing that is important is my friends and family. Showing up for my nephew, even though I can't show up for myself."
That last statement could be seen as confirmation of the reports that she and Ryan have agreed to work together in helping raise Naya's five-year-old son with Ryan, Josey Dorsey.
"I'm not concerned with the way things look because no one can see each agonizing moment we all endure," Nickayla continued, possibly referring to an awareness of the reports that began circulating on Monday.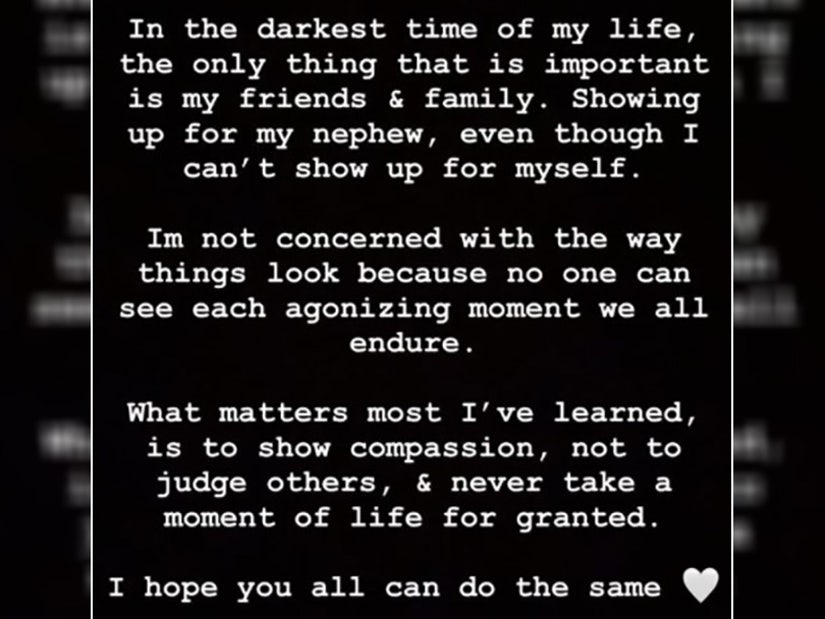 Instagram
She may also be aware that there is a contingency of people out there who believe that this is more than just a situation where Nickayla is helping Ryan with Josey, suggesting the two have struck up a romance.
Her next statement could be a direct response to a litany of vile and nasty comments on all of her most recent posts on Instagram from people making this assumption and then judging her horribly over it.
"What matters most I've learned, is to show compassion, not to judge others, and never take a moment of life for granted. I hope you all can do the same," she wrote. Clearly, at least to this point, they cannot.
Nickayla's comments come on the heels of The Daily Mail reporting that she and Ryan were living together now in a three-bedroom home, seen shopping together for household goods at a nearby department store.
The 25-year-old model has not posted to her Instagram page since July when she posted back-to-back tributes to her older sister Naya.
Based on the nastiness of the comments showing up even in those posts, we don't imagine she's in any hurry to return there no matter what may or may not be happening in her personal life.
Ryan's Instagram page has been equally quiet since he posted a tribute to Naya on July 25, with his followers attacking him on that post -- and others -- just as viciously. Ryan has not posted anything in response to the reports, or this backlash.
The reality is that no one knows definitively what is going on, and even The Daily Mail's report referred to them coming together as family to be there for Josey. Any other spin appears to be coming from the fans themselves.
Got a story or tip for us? Email TooFab editors at tips@toofab.com.