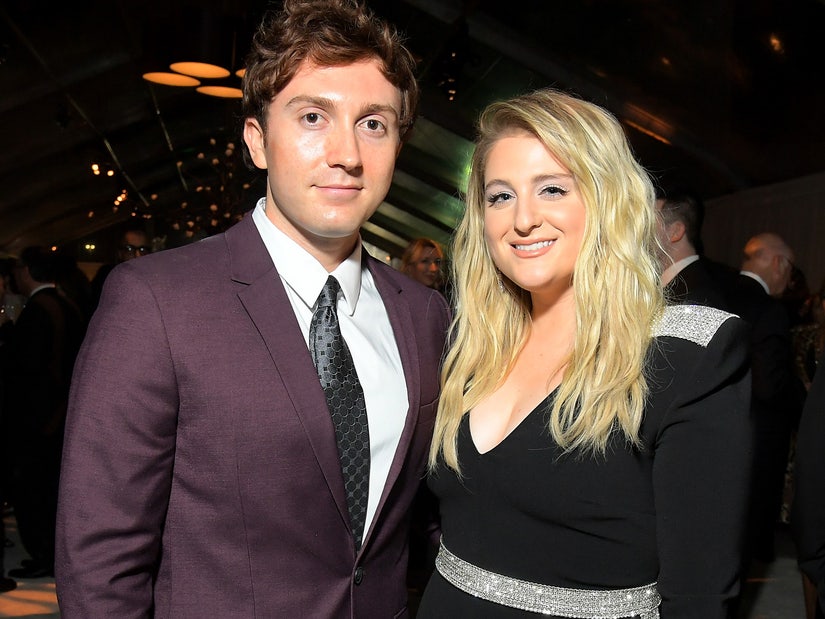 Getty
"Mentally I can't have sex while our son is in between us."
Meghan Trainor says sex with her husband is off the table during her pregnancy.
While speaking with "TODAY" earlier this week, the pregnant singer, who is reportedly due early next year, explained why she and her husband Daryl Sabara won't be getting busy in the bedroom anytime soon.
"Maybe this is weird, but mentally I can't have sex while our son is in between us," revealed Trainor, 26. "All my pregnancy apps say it feels really good. But all I can think about is that there's a little boy in my belly."
Although Trainor and Sabara, 28, aren't having sex for the time being, the "All About That Bass" singer said their marriage has been better than ever.
"Our relationship really messes with my girlfriends' minds. They're all like, 'How the hell am I going to find a Daryl?'" Trainor said. "He's so good. He's unbelievable."
During a virtual appearance on the "Today with Hoda and Jenna" last month, the Grammy winner and Sabara revealed they're expecting their first child.
The couple, who were both wearing matching Hoda Kotb sweatshirts, announced the exciting news while surrounded by holiday decorations, including a large Christmas tree.
"I'm very good as you can tell -- it's all Christmas here," Trainor told Kotb and host Jenna Bush Hager. "But there's other news that I'm dying to tell you and my heart's pounding out of my chest."
"Hit it, Daryl," she added, before Sabara came into the frame and exclaimed, "We're pregnant!"
Waiting for your permission to load the Instagram Media.
"We're so excited we couldn't sleep," Trainor continued. "We've been waiting for so long. I was thinking about who do we tell first and I've told Hoda since I was 19, going to the 'TODAY' show, 'I will have the most babies in the world.'"
"Every time I see you, I'm like, it's going to happen -- and it finally happened!" she added, "And we're so excited!"
The "Me Too" singer also announced the news on Instagram, posting a photo of a sonogram placed on a Christmas tree.
"You all know how long I've wanted this!!!!😭🥰 " she captioned the pic. "@darylsabara and I are so beyond happy and excited to meet this little cutie early next year! WE'RE PREGNANTTTTT!!! 🎁😍🥳"
Sabara shared the same photo, writing, "I love you @meghan_trainor and I can't wait to start a family with you."
A few weeks later, Trainor revealed the gender of their baby while appearing on "The Kelly Clarkson Show," admitting that she thought she was having a girl. However, the pop star announced that she and Sabara are expecting a boy.
Trainor and Sabara tied the knot in December 2018.