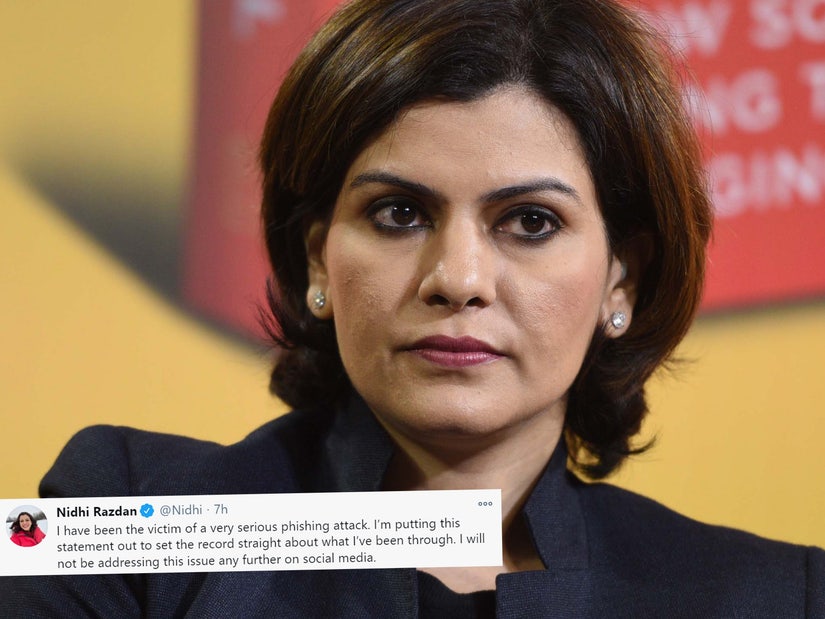 Getty/Twitter
"I am very shaken by this and keep kicking myself for being such an idiot."
Razdan has explained how she was duped into throwing "away 21-year career in TV."
In a lengthy blogpost, she described the eight month "elaborate and sophisticated phishing attack" that allowed the fraudsters to access her bank account, personal data, emails, medical records, passport and even her devices including her computer and phone.
"In November of 2019, I was invited to speak at an event organised by the Harvard Kennedy School in early 2020," she wrote. "One of the apparent organisers of this event contacted me separately to say there was a vacancy for a teaching position and would I be interested. I submitted my CV, thinking I had nothing to lose by trying. I never really expected anything to come of it."
A few weeks later, Razdan said she even underwent an interview online that lasted 90 minutes.
"It all seemed legitimate, the questions were thorough and professional," she recalled.
While some have since pointed out that Harvard doesn't even have a school of journalism, and the irony of a journalist not doing enough research to realize this, Razdan claimed she did a "basic Google search" and found that there was journalism degree programme being offered by the Harvard Extension School, called the Master of Liberal Arts; and that a number of the faculty there are actual working journalists. "I believed I fit this profile," she wrote.
In January 2020, she said she got an email from an alleged Harvard Human Resources person from what appeared to be an official Harvard email ID, with an offer letter and agreement. The paperwork seemed to have a genuine lettterhead with insignia, and contained the "signatures" of senior Harvard University officials who actually do hold those positions, even today.
They even emailed her colleagues at NDTV seeking recommendation letters. "They too did not think anything was amiss," she pointed out.
Over the next few months, several emails were exchanged with the "Harvard staff" in which they sought her personal information for a "work visa". When her "official" invitation to attend a faculty orientation in March 2020 was cancelled due to Covid, she did not think any more of it.
"In June 2020, I quit NDTV and announced my decision to move to Harvard. Based on all the communication thus far, I had no doubts about the genuineness of the exercise," she wrote. "I was sent class schedules; details of the subjects I would be teaching; a detailed break up of my class."
But the timing of the pandemic continuously helped mask the deception. Classes were supposed to start online in September 2020 but were delayed due to the pandemic till October, and then again till January. Her work visa she was told was ready but wouldn't be issued until she actually needed to travel.
"However, I had started to get frustrated with the administrative processes and expressed the same repeatedly on email," she continued. "I was also told my salary would be paid irrespective from September 2020 but no money ever came. It was all blamed on chaos due to COVID or IT failures. At one point they even sent me a bank transfer slip even though no money ever came."
"By now I realised something wasn't right. I still didn't imagine this was a massive fraud but thought it was lack of coordination between university departments."
It wasn't until December did she write to Harvard HR — but never heard back. In January she wrote to the office of the Dean of the Graduate School of Arts and Sciences.
"It was only earlier this week that I heard back from them telling me there was no record of my appointment and that the people claiming to be their HR staff do not exist!" she wrote.
She immediately informed the college what had happened, as well as every organization she was tied to, before filing a police complaint.
"My lawyer read all the emails and realised that this was a massive phishing exercise, in all likelihood aimed at stealing my money and taking my personal data to misuse it," she wrote.
"This was a gross criminal act. I am very shaken by this and keep kicking myself for being such an idiot. With the benefit of hindsight, could I have done more due diligence? Absolutely, yes. But these scams succeed because they look so real. What these scamsters put together was good enough for me to throw away a 21-year career in TV."
"In hindsight, I guess I never saw any cause for alarm because of the pandemic and the chaos and disruption it had caused the world over. Also, because no one ever asked me for money, this was a very sophisticated attack. And that there is a lesson for me and for us all - never trust anything online.
She concluded: "I am angry, disappointed and upset but also relieved that I found out what was going on and alerted authorities including Harvard before any serious damage was done. If after all this the only thing I can be accused of is being stupid, then I'll take it on the chin, learn from it and move on."
original story 1/15/2021 11:15 AM
A prominent Indian journalist who left her job as a lead national news anchor for a teaching post at Harvard has discovered the offer was a hoax.
Nidhi Razdan revealed in a Twitter post on Friday that she had been the victim of a "very serious phishing attack", and that the job offer in fact never existed.
Razdan, who worked for media giant NDTV for 21 years, announced in June that she was leaving her high-profile position to join the Ivy League university as an Associate Professor of Journalism.
Some personal and professional news: after 21 years at NDTV, I am changing direction and moving on. Later this year, I start as an Associate Professor teaching journalism as part of Harvard University's Faculty of Arts and Sciences 1/n

— Nidhi Razdan (@Nidhi) June 13, 2020 @Nidhi
"I had been given to believe that I would be joining the University in September 2020," she wrote. "While I was making preparations to take up my new assignment, I was later told that due to the ongoing pandemic, my classes would commence in January 2021.
"Along with these delays, I began noticing a number of administrative anomalies in the process being described to me."
While at first she shrugged off the anomalies as just part of the "new normal" amid the pandemic, she said things began to get stranger.
I have been the victim of a very serious phishing attack. I'm putting this statement out to set the record straight about what I've been through. I will not be addressing this issue any further on social media. pic.twitter.com/bttnnlLjuh

— Nidhi Razdan (@Nidhi) January 15, 2021 @Nidhi
So she reached out to senior authorities at Harvard University "for clarity"; they asked her to send back some of the correspondence she had received.
"After hearing from the University, I have now learnt that I have been the victim of a sophisticated and coordinated phishing attack," she wrote. "I did not, in fact, receive an offer by Harvard University to join their faculty as an Associate Professor of Journalism."
"The perpetrators of this attack used clever forgeries and misrepresentations to obtain access to my personal data and communications and may have also gained access to my devices and my email/social media accounts."
Razdan said she has since alerted police, in the hopes they "identify, apprehend and prosecute the perpetrators of this abominable attack."
"I'm putting this statement out to set the record straight about what I've been through," she added. "I will not be addressing this issue any further on social media."
However, three hours later she did address it again — to thank followers for the messages of support.
I've been overwhelmed by the calls & messages of support including the DMs here. I apologise for not writing back immediately. I'm taking a well earned break from social media for a few days & will return refreshed and as good as new. In the mean time keep safe everyone.

— Nidhi Razdan (@Nidhi) January 15, 2021 @Nidhi
The University itself has not commented on the ordeal, but Joshua Benton, the former director of the Nieman Journalism Lab at Harvard, confirmed that the university doesn't even have a school of journalism, or a department of journalism, or any professors of journalism: