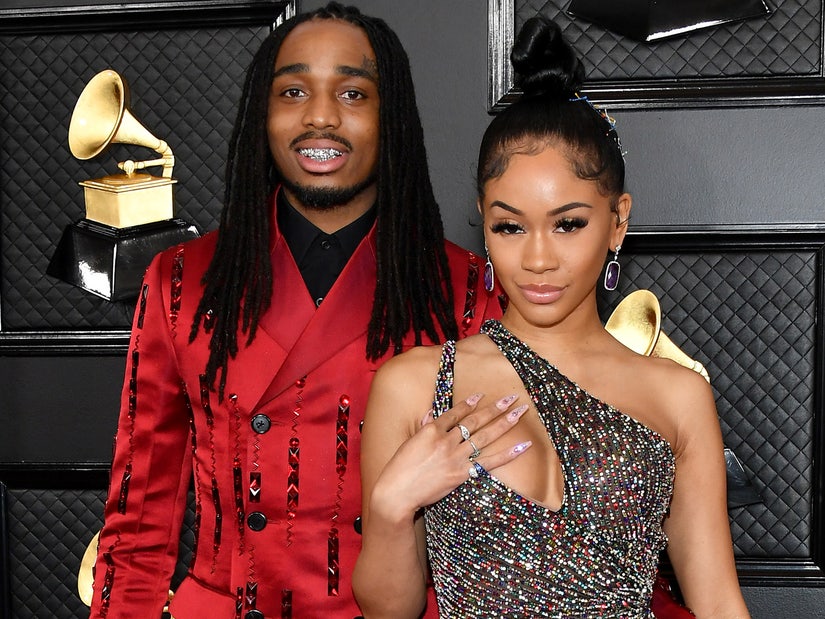 Getty
The singer revealed she was getting her hair done when she posted that viral breakup tweet.
Saweetie got candid about her viral breakup tweet that signaled the end of her relationship with Quavo.
During an interview with W Magazine, the "ICY GRL" rapper revealed she was getting her hair done for W's "Music" issue photo shoot when she posted the message that set the internet on fire.
"I was grateful to be doing the photo shoot," she explained. "I was like, I can deal with all this later."
Back in March, Saweetie announced the split by tweeting, "I'm single. I've endured too much betrayal and hurt behind the scenes for a false narrative to be circulating that degrades my character. Presents don't band aid scars and the love isn't real when the intimacy is given to other women."
Lynn Hirschberg, who interviewed Saweetie and was present for the photo shoot, described the singer as "quiet, self-contained" and not showing signs of "sadness or emotional distress" after sending the message.
"I've learned that the world doesn't stop for anybody," Saweetie told Hirschberg. "And it's for sure not going to stop for me just because I got my heart broke."
The California native also didn't appear fazed by all the commotion she started on social media.
"Work is what I love most," she added. "What separates the greats from the pack is endurance. And resilience. I could give my attention to something that could drain me or I could focus on what would empower me."
A week after her tweet, TMZ released security footage from an elevator of Saweetie and Quavo tussling over a suitcase before she slips and falls, while the Migos member does nothing to help her up.
The pair issued statements on the video, saying it was an "unfortunate accident" that happened a year ago and was not the cause of their breakup. Quavo also denied allegations of physical abuse.
Now Saweetie is focused on the future and the upcoming release of her debut album called "Pretty Bitch Music."
"The world is going to be shocked by my new music," she said. "From now on, I think they're going to be shocked by everything I do. Shocked in a good way. Shocked in a way that makes the world pay attention."