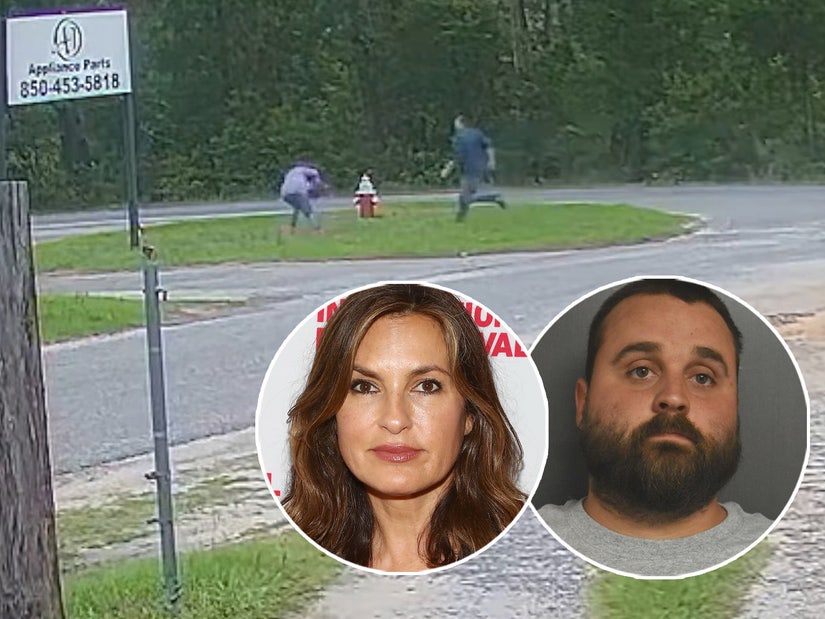 Escambia County Sheriff's Office/Getty
"You are one BRAVE, Strong and Smart young woman."
update 5/20/2021 11:29 AM
Alyssa Bonal is a fan of the SVU crew — and the feeling is certainly mutual.
Mariska Hargitay has praised the 11-year-old who used her Law & Order know-how to not only escape her abductor, but to help track him down afterwards.
"Alyssa, first and most important, I am so relieved and grateful to know that you are safe," the actress wrote, sharing her story on Instagram.
"And I am so honored to be part of your incredible story. You are one BRAVE, Strong and Smart young woman. I think the SVU squad might have to add slime to their crimefighting gear!"
"Take good care of yourself and each other," she signed off. "With all my love, your number one fan, Mariska."
"A crazy story, with an even crazier twist," she added with the link. "Watch the video and read more about the clue that helped cops track him down just hours later at the link in our bio."
Waiting for your permission to load the Instagram Media.
The 11-year-old Florida girl who thwarted a kidnapping attempt on Tuesday was already thinking of how to snare the suspect... thanks to SVU.
Alyssa Bonal purposely smeared the blue slime she was playing with all over her would-be abductor, knowing it would help track him down.
"Her first words were, 'Somebody tried to kidnap me. He grabbed me by my throat and he had a knife.'" her mother Amber Bonal told the Pensacola News Journal. "She said she was able to kick and she tripped him and freed herself."
"She said, 'Mom, I had to leave some sort of evidence behind, like on Law & Order SVU.' We've watched probably every episode on Hulu. She's a smart cookie, she thinks on her toes. She got that slime everywhere."
Indeed, at a press conference Tuesday, Escambia County Sheriff Chip Simmons confirmed the evidence against the suspect, 30-year-old Jared Paul Stanga, included telltale blue goo left on his arm.
A series of coincidences, both good and bad, set up the conclusion of the terrifying encounter on Tuesday.
Firstly, because of a bus driver shortage, around halfway through the school year the bus stop was moved from where it was near her driveway, to the busy corner where the attack happened.
While her mother would normally walk her there, on that morning they were already running a few minutes late, when she realized her 18-month-old Jazzlyn needed a diaper change — and told the little girl to walk ahead.
"We were running late. She usually leaves for the bus stop at 6:50, and it was 6:52," Amber said. "I told her to go ahead and I would be out there in a minute, I start changing the baby's diaper. I hadn't even finished changing the diaper before she ran back in the house. Her hair was all messed up, she had slime everywhere and I asked her what was going on. I thought maybe she had been hit by a car, but I never would have thought somebody would have tried to take her."
But in a good turn of fortune, Alyssa had the weekend before, for some reason, been discussing with a friend what to do in the event someone tries to kidnap you.
"Ironically, on Sunday, the neighbor's little girl was over at our house, and I don't know how or why it got brought up but I was telling them that if anyone ever tried to abduct you, you kick and scream and bite and yell," Amber said. "I don't care if they have a knife or a gun, you get away and you find the first open door, and she said that that was what was going through her head when the man grabbed her."
Two weeks earlier, Alyssa had told her mom and her school about the same man approaching her and trying to speak to her; while the principal insisted to the outlet he contacted Amber and left a voicemail, Amber says she doesn't recall the school ever contacting her.
"I don't know what I want out of the bus stop situation, but I just hope that they come up with a better solution than leaving children on the corner of a busy street alone," Amber said. "A lot of parents have to work and they're not always going to be able to be there. Something's got to change with the bus stops."
"If she would have been taken…" she added, breaking into tears, "If she would have been taken, I could have lost her forever."
Original story 5/19/2021 12:18 PM
A man has been arrested in Florida after police released terrifying video of an abduction attempt on an 11-year-old girl.
The attack happened at 7 AM on Tuesday morning, as the little girl was waiting at a bus stop at Old Corry Field Road and Perdido Street.
A home surveillance camera across the street captured the entire episode; it showed the girl, sitting in the grass, playing.
Waiting for your permission to load the Facebook Video.
A white SUV drives past her; the girl looks up and watches it drive by, before returning to the blue slime toy she was playing with.
But less than one minute later, the vehicle returns — and the driver jumps out and sprints straight at the girl, knife in hand. She tries to flee, but he is too fast.
He grabs her around the neck and begins hauling the terrified child back towards his car, but she struggles and squirms, causing him to fall and release her. Spooked, he flees back to his car empty-handed and speeds off, while the little girl runs in the opposite direction to raise the alarm.
At a press conference on Tuesday, a very relieved Escambia County Sheriff Chip Simmons announced they had their suspect: 30-year-old Jared Paul Stanga.
"We are here to announce we caught the animal who tried to kidnap an 11-year-old girl this morning," Sheriff Simmons announced.
"He grabbed her, picked her up, and tried to carry her into that van," he said, praising the little girl's bravery. "She fought, and she fought, and she fought, until finally she was able to break free from her would-be captor."
Among the list of evidence they were compiling, Sheriff Simmons said the suspect's arm was covered in a blue slimy substance when he was apprehended, matching the toy the child had been playing with.
Waiting for your permission to load the Facebook Video.
While the black bumper on his vehicle didn't match the chrome one seen in the video, the Sheriff said there was very obvious evidence it had just been freshly painted.
He was arrested and charged with attempted kidnapping of a child under 13, aggravated assault and battery.
According to the Sheriff, Stanga has "an extensive criminal history, including but not limited to, sexual offenses with a child."
More disconcerting still, the girl said that two weeks ago, the same white car approached her and the driver tried to speak with her; she reported that incident to her parents and school principal.
"I'm very proud of the efforts of Escambia County Sheriff's Office," he said, "but I cannot help to think this could have ended very differently had this 11-year-old victim not thought to fight, and to fight, and to just never give up. This could've ended terribly."
"It doesn't take a genius to work out what his intentions were. But they were not good."
The Sheriff insisted: "He will never be free to do this again."
The little girl meanwhile, he said was doing okay, with some scratches, and some mental trauma.
"My message to her is that she is my hero," he added.
Waiting for your permission to load the Facebook Post.