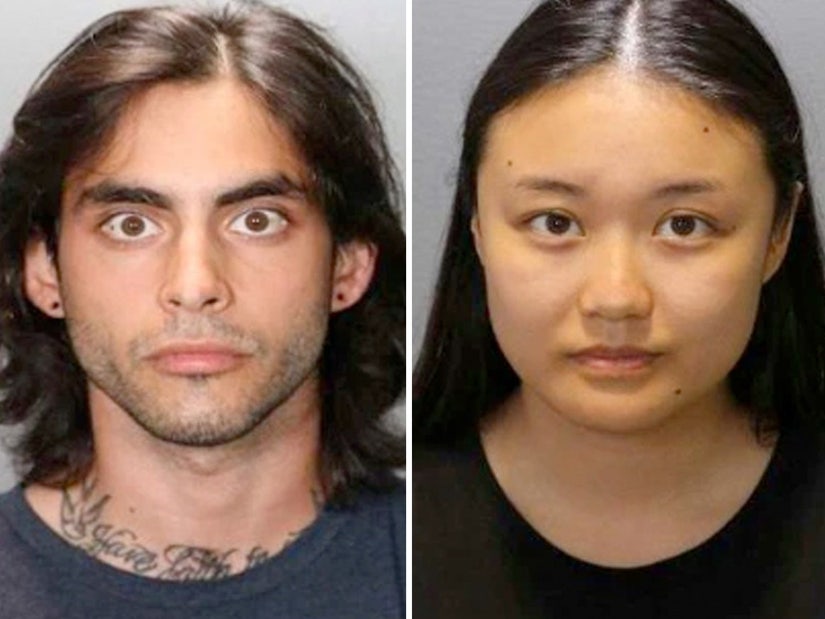 Orange County District Attorney
The boy was killed after his mom flipped another driver off on the freeway.
update 6/17/2021 12:40 PM
The couple accused in the murder of Aiden Leos were involved in another road rage incident later that week, prosecutors have claimed.
Days after the 6-year-old was shot dead in his car seat, Marcus Anthony Eriz pulled his gun on another driver, according to court documents.
In a motion to increase bail, seen by NBC, prosecutors laid out the chain of events: at around 8 AM on May 21, Eriz and girlfriend Wynne Lee were driving their Volkswagen Golf Sportwagen in the carpool lane when they cut off Aiden and his mom Joanna Cloonan in their Chevrolet Sonic.
Lee then cut into the fast lane and accelerated at an "extremely high rate of speed" to get in front of Cloonan, prosecutors said.
"Wynne Lee motioned to the victim vehicle a 'peace sign' with her hand and continued driving."
But a few miles further up the road, Cloonan was attempting to merge onto the Riverside Freeway when she passed the couple again; "still angry about being cutoff and she put up her middle finger at the two as she passed."
"She then heard a loud bang to the rear of her vehicle and heard her little boy in the backseat say, 'Ow.'"
By 8:39 AM, Aiden would be pronounced dead at Children's Hospital Orange County.
In interviews with police, Eriz admitted he "was angry after being 'flipped off' by Ms. Cloonan, so he grabbed his loaded Glock 17 9mm and racked a round," prosecutors said.
"He then rolled the passenger window down and took a shot at her vehicle. After shooting the victim, the defendants continued on to the 91 eastbound and on to work in the city of Highland."
The couple went on to work a full day before going home.
But later that same week, prosecutors claim the couple got involved in another "altercation on the freeway," pulling out a gun once again.
"As Wynne Lee was driving on the 91 eastbound on the way to work with defendant Eriz as her front passenger, a driver in a blue Tesla did something to make defendant Eriz angry, acting aggressively," prosecutors wrote.
"Defendant Eriz again took out his gun and brandished it to the driver of the Tesla. That driver told the defendants that he had called the police and then he drove away."
It was a co-worker of Eriz's that told him on May 28 that his car looked like the one police were looking for, prosecutors said; Eriz "claims that at that time, he looked on the internet and saw the story about Aiden Leos' death. He said he 'immediately' knew he was responsible for the boy's death. He then told Wynne Lee about his revelation."
Investigators say that same day, Eriz hid the car in a family member's garage and never drove it again, using a red truck to get to and from work instead. The couple both applied for new jobs.
Days later, they said Eriz shaved his "substantial beard" and "started to wear his long hair back in a tie."
Prosecutors described Eriz as an "extreme danger to the community" who has "shown that he cannot control his temper and he goes to extremes in the snap of a finger when he is angered."
They pointed out he has multiple firearms in his possession, including AR, a revolver, "and the Glock 17 that was used in this murder."
"He has various photos and videos on his social media that show him shooting different kinds of guns," prosecutors said. "He is also a skilled shooter as evidenced by those same videos. He admittedly and regularly carried his loaded Glock with him on his person and in Ms. Lee's vehicle while they drove to work."
Prosecutors claim Eriz poses a threat to the public, and that neither taking away his guns nor fitting him with a GPS tracker would deter him from future crimes.
They insist Lee is also a danger because she was aware her boyfriend carried a loaded gun in her vehicle; they point out that she never checked on Cloonan after the shooting, never called 911, or did "anything to follow up about what her passenger had done."
The pair will learn their final bail conditions on Friday when they are arraigned.
The couple accused in the road rage killing of Aiden Leos have been charged.
Marcus Anthony Eriz is charged with felony murder, and discharge of a gun at an occupied vehicle, county District Attorney Todd Spitzer said at a news conference Tuesday.
Wynne Lee meanwhile has only been charged with accessory after the fact, and concealing a firearm.
Prosecutors are not confident in a second murder charge, as investigators believe she was driving while Eriz fired the fatal shot.
"We would not file these charges if we could not prove them beyond a reasonable doubt," Spitzer said. "With respect to the charges against both, I absolutely am convinced they're rock solid."
Spitzer said that if Eriz is convicted of either or both charges, he will spend "a significant portion of his adult life in prison."
But if Lee is found guilty, she would only spend three years max behind bars for the accessory charge, and another year for the firearms offense.
With respect to the charges, prosecutors want to increase Eriz's bail to $2 million, but reduce Lee's to $500,000.
"In a civilized community, we should be able to drive our kid to school and not worry that they're going to be shot in the back," Orange County Supervisor Katrina Foley added at the conference.
The couple are due to be arraigned on June 18.
Waiting for your permission to load the Facebook Video.
Two people have been arrested: Marcus Anthony Eriz, 24, and his girlfriend Wynne Lee, 23.
California Highway Patrol confirmed on Sunday night the pair were taken into custody from their home in Costa Mesa.
They are expected to be charged with murder. Both are being held in county jail on $1million bail, and are scheduled to appear in court on Tuesday.
According to the LA Times, the one bullet retrieved from the crime scene was shot from a pistol of not-yet-determinable caliber; however they claim that on social media accounts belonging to Eriz — who is an auto detailer — he can be seen brandishing a weapon that was capable of firing the fatal shot.
Officers executed a search warrant on the home on Sunday night in search of further evidence.
Meanwhile, the GoFundMe for Aiden's family has surpassed $340k — $50k of which was earmarked as reward money.
We are confirming the arrest of the two suspects believed responsible for the shooting death of 6-year-old Aiden Leos. Marcus Anthony Eriz, 24, and Wynne Lee, 23, were arrested at their home in Costa Mesa.

— CHP Santa Ana (@CHPSantaAna) June 7, 2021 @CHPSantaAna
original story 5/24/2021 7:16 AM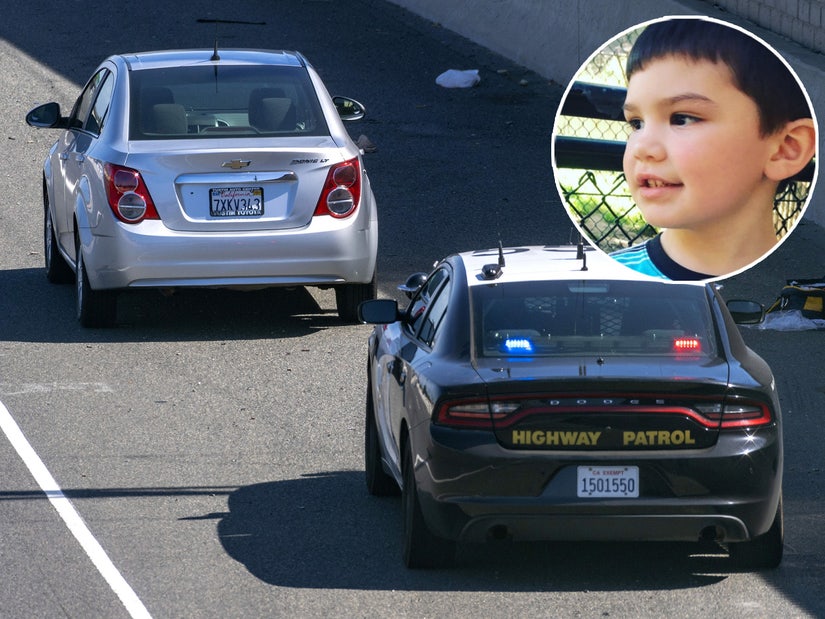 AP/GoFundMe
A 6-year-old boy has been shot dead in a road rage incident in California.
Aiden Leos died in his booster seat as his mom was driving him to kindergarten in Yorba Linda in Orange on Friday morning.
A distraught Joanna Cloonan told ABC News that she was driving northbound in the carpool lane on the 55 freeway when she was suddenly cut off by a white sedan, which she said had a female driver and male passenger.
According to witnesses, she flipped the car off in her rear view mirror.
"As I started to merge away from them, I heard a really loud noise," Cloonan tearfully recalled. "And my son said, 'Ow,' and I had to pull over. And he got shot."
A single bullet pierced the trunk of the car, and struck the child sitting in his car seat in the rear.
"I pulled over and I took him out of the car and I tried to put my hand on his wounds while calling 911. Because he was losing a lot of blood," she said.
His last word to his mother was "Mommy my tummy hurts."
Aiden was rushed by ambulance to Children's Hospital of Orange County, but was later pronounced dead.
He celebrated his sixth birthday just last week
"They took my son's life away," his mother said. "He was beautiful and he was kind and he was precious, and you killed him for no reason. And I want to find them and I want there to be justice to be served for my son."
"He meant the world to me, and it feels like my life is over. That was my baby. I've never, never thought pain like this could exist."
The boy's inconsolable big sister Alexis begged for help bringing his killers to justice.
"Please help us find the people that did this to my little brother," she sobbed. "He's only six and he was so sweet. He was a very loving boy so please help us find who did this to him."
A family is asking for the public's help in identifying the suspects who shot and killed 6-year-old Aiden. The little boy was with his mother, driving to school on the 55 freeway in Orange, when they were shot at during an apparent road rage incident. https://t.co/Sr1hYV5n88 pic.twitter.com/fVvfNkfZl6

— FOX 11 Los Angeles (@FOXLA) May 22, 2021 @FOXLA
Witnesses Reyes and Joanna Valdivia told the OC Register they had just dropped their own children to school when they saw Cloonan's car stopped on the freeway.
"My wife noticed a lady pulling her son out and dropping to the ground with her son in her arms," Reyes said.
"She was hysterical, screaming," Joanna added.
They said Cloonan appeared to be in shock; she said she had flipped off a car which had cut her off, but when she moved to the right, the car followed her and someone opened fire.
The northbound side of the 55 Freeway was shut down as teams of investigators combed the road for evidence.
The suspects are still at large. Police have appealed for anyone driving in the area at the time who may have dash cam or cellphone footage to check it for anything out of the ordinary.
The CHP insisted the incident was an "isolated road-rage behavior", and not related to the unsolved series of BB gun shootings on cars, mostly along the 91 Freeway in Riverside and Orange counties, that have terrorized drivers for the past couple of months.
A GoFundMe set up to help Aiden's family has so far raised over $184k. The family are putting $50k of it up as a reward for information on the killer.