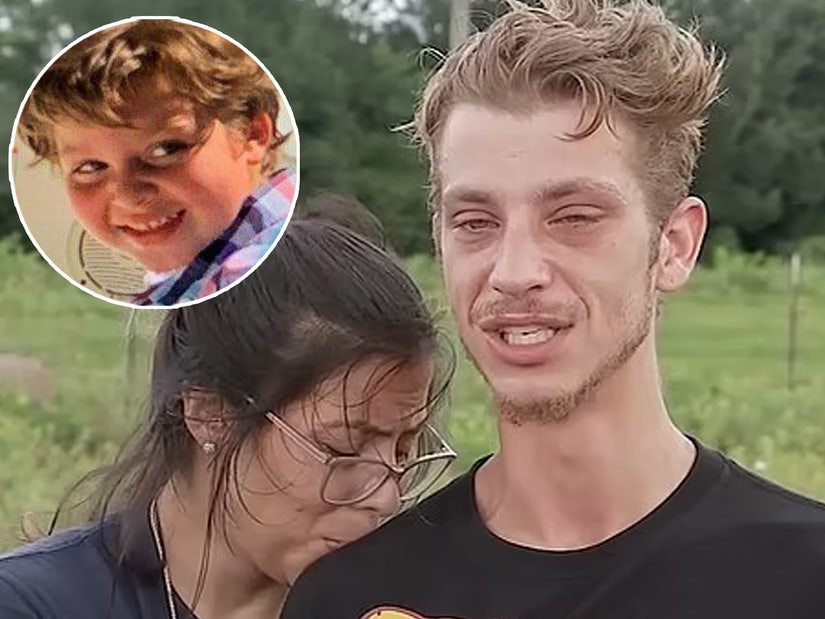 ABC13/Houston Police Department
A number of disturbing developments have emerged as Houston police continue to investigate the disappearance of 6-year-old Samuel Olson:
— Balboa's roommate claims he helped her hide the body:
Balboa's roommate Benjamin Rivera provided a chilling statement to police claiming he helped hide and transport the body she was found with in the motel room.
He said he received a frantic call from Balboa on May 10 claiming the boy had died; he said he arrived at the home to find him "unresponsive on the bed"; he said he helped her move the body to "a bathtub, where he remained for two days."
According to court papers, he told investigators that three days later "he purchased duct tape and a plastic tote at a local Wal-Mart"; they then wrapped the "corpse in plastic sheet, placed the corpse in a plastic tote, and placed the tote in Rivera's motor vehicle."
Afterwards they drove to a storage unit five miles away, where the container was left for more than two weeks, the statement says.
When police forced their way into the motel, they were immediately met with an odor described as "possible decomposing human remains." They found Balboa in the bathroom and demanded to know where the boy was; she allegedly replied he was "inside the box."
They found the "black tote with a yellow lid", zip-tied shut. Inside they found a child's body, wrapped in black plastic bags and "secured with duct tape", the documents state.
— The man who booked the motel room allegedly tipped off police:
According to the documents, the motel room was registered to a man named Dylan Walker, aged 27.
After interviewing him, he told police Balboa had called him telling him "she needed help because she was involved in an altercation."
He agreed to meet her at a Walmart parking lot in Cleveland, Texas from which they drove to a storage unit and "picked up a storage container which had a foul odor," he told police. They then went to the Best Western motel, where he checked her in.
At around 6 AM he said he "removed the storage container from the bed of his pickup"; the complaint states that surveillance footage shows him "drag the tote into room 106," before getting back in the truck and driving away.
He allegedly told police he was the one who left the anonymous tip off that led police to the motel room.
— She was allegedly attempting to flee the state with the remains:
According to a motion of bail obtained by a number of outlets, prosecutors claimed Balboa was a flight risk, as she was "on her way to Louisiana" with the body when she was intercepted.
— Balboa allegedly contacted another ex-boyfriend for help:
According to Alex Rizo, the estranged father of Balboa's children, she had suddenly reached out to him out of the blue for help.

"She just called me out of nowhere and said, 'Is the offer to come up there still open?'" he told ABC13. "I told her, 'No,' and that was it, and she stopped replying."
He claimed she called him on May 23 or 24, at which point police believe the boy was already dead.
"It's weird. It's confusing, as the mother of my children," he said. "I know she's had problems. She's had her issues. I know she's had a difficult life. I would have never have thought something of this magnitude would ever happen."
"All I've thought about since I've heard about it is my children and that poor little boy. To be dragged around in a bag and box as a freaking trophy, that kills me for that little boy. That kills me for that mother. That kills me for that father, if he had nothing to do with it. That kills me as a dad."
The couple were together for more than a decade, but split four years ago. They share two daughters, aged eight and six.
— Balboa previously lost custody of her own children:
Rizo's mother, the girls' grandmother, is currently in custody of Balboa's daughters.
According to KHOU11, in a letter to a judge asking for custody to be awarded to his mother, Rizo wrote: "I put myself in a position with that woman in which the only possible outcome was failure. Things had gotten so bad between Theresa and I and we couldn't get along, it became an onslaught of verbal and physical abuse between the both of us and towards each other."
Balboa never showed up to contest it.
Per the broadcaster, Balboa's social media appears to show she also had a son in 2009; court records reveal a warrant for non-payment of child support possibly tied to him.
— Samuel's father had a restraining order against her:
Following the alleged choking incident in November 2020, Dalton Olson had been granted a restraining order against Balboa. She was barred from having any direct contact with him or his family members.
— Neighbors claim they heard scratching on the walls:
Balboa's new neighbors told The Sun they heard "loud scratching through the wall at 3am" days before the boy's body was discovered.
"The second day we were here, it was probably about 3 or 4 o'clock in the morning, we heard loud scratching noises, really, really loud," Tiffany Schultz told the outlet.
"It lasted for a good ten or fifteen minutes, I was like, 'Baby, I'm scared.' He [her fiancé] was like, 'It's okay'."
She said her fiancé started banging on the wall to try to make it stop.
"I've heard loud scratching from animals before and it wasn't that, I don't believe they had animals," she said. "We didn't hear any other noises, it was strange."
She added: "My fiancé also saw a truck outside and is convinced he saw a bin in the back, which Samuel could have been in, it's creepy."
They moved into the apartment on May 11, the day after Balboa's alleged call to Rivera.
Dalton Olson has reacted to the news his girlfriend has been arrested in connection to the disappearance of his son.
"I don't know what's going on. I found out what happened last night," he told KPRC2 on Wednesday. "I can barely breathe."
"Why? He loved you so much. I do not understand what happened. Why did you, why did you do this?"
Theresa Balboa was charged with tampering with evidence after she was found in a motel with a child's body stuffed into a tote container. Further charges may follow should the remains be identified as missing 6-year-old Samuel Olson, as expected.
original story 6/2/2021 7:22 AM
A woman has been arrested for evidence tampering after the search for her missing stepson turned up a body stuffed into a tote container.
Following an anonymous tip on Tuesday night, Houston police descended on a motel in Jasper where they found the remains, believed to be that of missing six-year-old Samuel Olson.
Theresa Balboa, girlfriend of the boy's father Dalton Olson, was arrested at the scene.
Balboa was the one who first reported Samuel missing on May 27 — but investigators believe he may have disappeared well before that. The last time he was seen by anyone not connected to the case was on his last day of school on April 30, more than a month ago.
She told police that the boy's biological mother, Sarah Olson, had turned up at her house with a person dressed as a police officer, and demanded she hand him over.
Because she had no legal rights to the boy, she said she was forced to let him go with his mother and the officer, who both left in separate cars.
"She just pointed and said 'That's my son. She took him. Gimme my son back.' That was it," she told ABC13 in an interview Monday. "The rest of the conversation was between me and the officer... or what I was under the impression was a police officer" (from 6:16):
Olson denies this, and police have no record of sending an officer to the house. According to Houston Police Department Assistant Chief Heather Morris, investigators are confident Olson was at home on the day in question.
"Missing persons investigators discovered inconsistencies in Miss Balboa's statements and consulted the homicide division," Morris said at a press conference on Wednesday.
On Tuesday night she was taken into custody at the Best Western motel — more than 100 miles from where the boy went missing — on the evidence tampering charge. Additional charges will be presented "if appropriate", Morris said.
Waiting for your permission to load the Facebook Video.
The body will not be officially identified until after an autopsy. Samuel would have turned six on Saturday.
Police would not yet say how the boy died, nor how long ago; but it is believed the remains had been at the motel for some time.
Assistant Chief Heather Morris said Samuel's father is not a suspect in the case.
"I'm not going to say that the father is a person of interest... but he is definitely somebody that we can continue to talk to and get information from," she specified.
She also revealed that at the time of her arrest, Balboa was out on bond for "assault with intent to impede breath", for allegedly choking Dalton in a previous altercation.
Samuel's mother claimed she hadn't seen or had access to him since January 2020 — despite having primary custody — after her ex took him and never returned him.