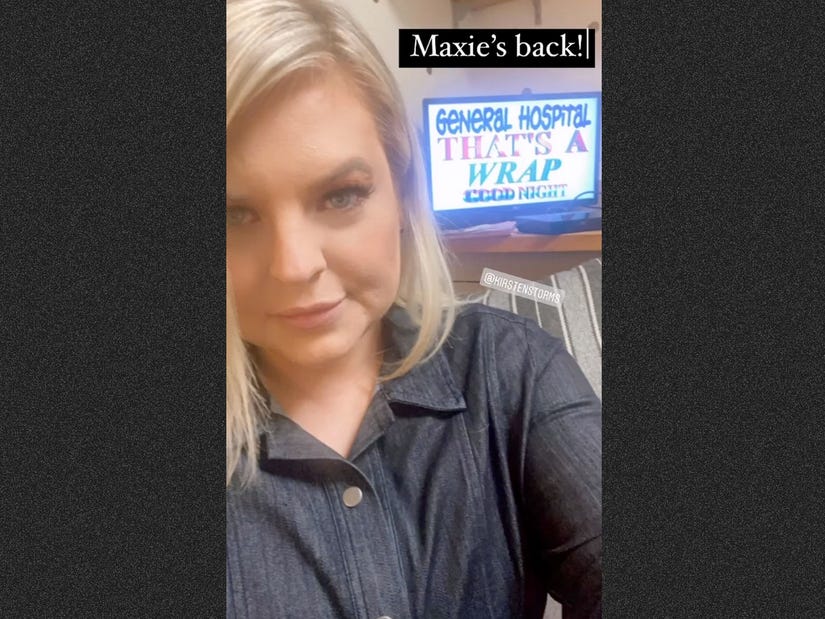 General Hospital/Instagram Story
Storms previously revealed she "had a very large cyst that had split into two."
update at 8:00am pt on July 30, 2021
After taking a leave of absence from "General Hospital" to recover from brain surgery back in June, Kirsten Storms returned to set this week.
The soap opera shared the first look at her backstage early Friday morning on their Instagram Story, with the caption "Maxie's back!" (above)
Her character, Maxie Jones, was last seen leaving Port Charles for Texas on the July 19 episode of the show, with her absence allowing Storms time to recover in real life.
Kirsten Storms gave an update on her recovery after she underwent brain surgery earlier this month.
On Tuesday, the "General Hospital" actress took to her Instagram Stories to let her fans know she is feeling an improvement in her health due to a "large cyst" being drained and removed from the back of her skull.
"There's a noticeable difference for me as far as the symptoms I was experiencing from the cyst and all the pressure in my head," she explained. "Those symptoms are gone. The constant pressure and headache I would have, which would affect me so much more than I realized now that it's not there. That is gone, and that is amazing."
The star also revealed she had her stitches removed, which she said was more painful than she expected.
"I guess I thought that because I was getting my stitches out my incision was mostly healed, and it wasn't going to feel like anything. That was wrong," she added. "Even now while I'm talking I can feel the tightness in the back of my head, and neck, is very, very tight and hard-feeling."
At the end of her video, Storms asked if any of her fans wanted to see the stitches on the back of her head. The answer was affirmative, as she shared a picture of them to her Instagram on Wednesday.
"The poll in my stories told me everyone wants to see the back of my head!" she captioned the post (below). "I thought you guys would be grossed out! Lol. Swipe to see a pic taken last week (warning - there was stuff coming out of it and that is totally normal.)"
Waiting for your permission to load the Instagram Media.
ORIGINAL STORY 6/5/21 1:30PM
The "General Hospital" actress, who was also known for her role in Disney Channel's "Zenon: Girl of the 21st Century," took to her Instagram Stories on Friday to let her fans know she is "on the mend" after the procedure.
"So I've not really spoken about this much or at all actually." she began. "Less than 48 hours ago I had brain surgery, hence the neck brace, it was on the lower portion of my brain."
"What they had to drain and remove was not cancer -- I want to clarify that right now before the internet goes crazy wild with rumors about this," the 37-year-old star continued. "I had a very large cyst that had split into two and the doctor said it was like so full the pressure was very noticeable when they opened up my skull, sounds so weird. So I will be on the mend for the next several weeks but I will be back at work once this is over with."
She also said she felt like "s---" and then apologized for her language. "But I feel like I've earned it today," she added with a laugh.
The video was captioned, "Sorry for the shock you guys."
Storms is best known for starring as Maxie Jones on the ABC soap opera "General Hospital" from 2005 to the present, with one year off in between. After she completed "Zenon" in 1999, she went to work as Isabella "Belle" Black on NBC's "Days of Our Lives" up until 2004.