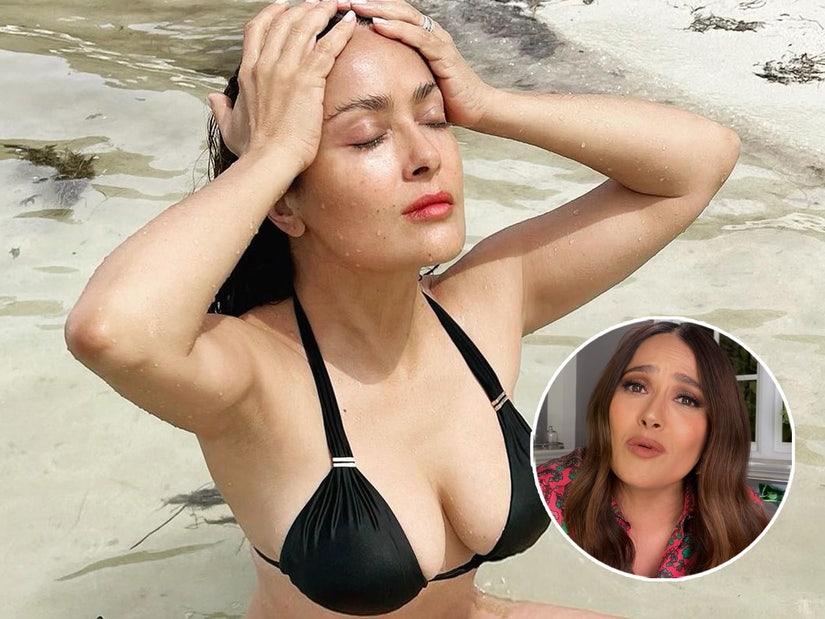 Instagram/Facebook Watch
"A lot of people say I had breast augmentation, I don't blame them."
Anyone who's been in the public eye for more than 25 years is going to look a little different as the years go by -- but Salma Hayek knows one area of her body has gone through an especially noticeable change.
During an appearance on the latest episode of "Red Table Talk," the 54-year-old actress opened up about going through menopause and the unexpected side effects its had on her body. Specifically, her chest.
Waiting for your permission to load the Facebook Video.
"I've been [menopausal] for a long time now. I think it was my mid-40s, I had to take a test and the questions were terrifying," she recalled. "They were asking me things like, 'Are your ears growing and there's hair coming out of them?' 'Are you growing a mustache and a beard?' 'Are you easily irritable?' 'Are you crying for no reason?' 'Are you gaining a lot of weight really fast that doesn't go away no matter what you do?' 'Are you shrinking?'
"And then they ask you, 'Is your vagina dry?' and I thought to myself, 'It doesn't matter, if you have hair coming out of your ears and nose and a mustache and a beard, and you're shrinking, and you're getting big, and you're in a bad mood all day but crying at the same time, nobody's coming near your vagina!' Makes no difference!" she exclaimed.
She then revealed the one thing they didn't ask her but should have.
"'Are your boobs growing?' Yes. The boobs grow, a lot," Hayek explained.
"For some women they get smaller, but there are some women that when you gain weight, your boobs grow," she continued. "Other women, when you have children and you breast feed your boobs grow and they don't go back down and in some cases, when you are in menopause, they grow again."
For Hayek, "it happened in every single step."
She noted that "a lot of people" have accused her of undergoing breast augmentation over the years -- with Hayek adding, "I don't blame them, my boobs were smaller."
"So was the rest of my body," she cracked. "But they just have kept growing. Many many sizes. And my back has been really suffering from it. Not a lot of people talk about this."
The "Hitman's Wife's Bodyguard" star said that she's also gone through periods of mood swings and noted that "the hot flashes are not fun" either.
When Jada Pinkett Smith joked that her 50th birthday might be the reason why she's been "crying all the time" lately, Hayek revealed something else that comes with age that could explain it instead.
"You know why you're crying all the time? You are only crying all the time because you have so much to be grateful for. And gratitude can move you to tears," she said. "As you grow older, you feel things deeper, we let ourselves be more sensitive because we don't feel as threatened. As you get stronger, I think you get the luxury of letting yourself feel everything."
Watch the full episode below:
Waiting for your permission to load the Facebook Video.