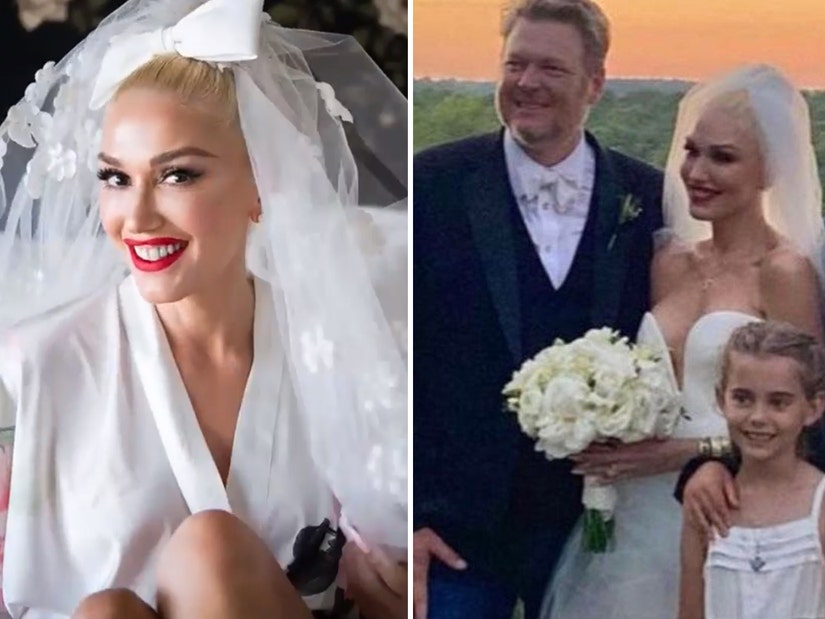 Instagram
See both dresses, their nods to her husband and kids, which costar officiated and who sang!
The two tied the knot over 4th of July weekend in Oklahoma, eight months after they got engaged in October 2020.
Page Six obtained photos on Sunday showing guests arriving to his ranch, where a small chapel appeared to have been built for the ceremony. On Monday, Gwen confirmed the nuptials herself by first sharing a video of her in her veil, captioning it with the wedding date, "July 3rd 2021."
She also shared a number photos from the wedding itself, showing her in both of her Vera Wang dresses -- one for the ceremony and another for the reception -- alongside her new husband, showing some leg in a golf cart after saying "I do."
Waiting for your permission to load the Instagram Media.
Waiting for your permission to load the Instagram Media.
For her special day, Stefani had two custom dresses from Vera Wang.
For the ceremony itself, she stunned in a long, white silk gown with a sweetheart neckline and tulle skirt and veil. On the veil, she had the names of Blake, herself and her children -- Kingston, Zuma and Apollo, who she shares with ex Gavin Rossdale -- embroidered on the edge.
When it came time for the reception, Stefani rocked a shorter skirt and veil, pairing the look with white cowboy boots. "You need a party dress when u get to marry @blakeshelton," Gwen captioned the photo of her second look. That dress also honored Blake and her kids, with hand-sewn lovebirds representing the couple and three baby birds representing her children.
Blake, meanwhile, wore a tuxedo jacket and white dress shirt, black vest, bow tie and blue jeans.
Waiting for your permission to load the Instagram Media.
Waiting for your permission to load the Instagram Media.
Waiting for your permission to load the Instagram Media.
Waiting for your permission to load the Instagram Media.
On Tuesday morning, "TODAY" shared additional photos from the wedding, as NBC -- home of "The Voice" -- got an exclusive look at the celebrations.
Per NBC, the couple's "Voice" costar Carson Daly actually officiated the ceremony, which had about 40 guests in attendance. "Here comes the bride…so honored to get to marry two of my favorite people on earth," Daly captioned some photos on his own IG. "May God bless you guys in this new chapter of your lives. We love you!"
The ceremony itself took place in a chapel Shelton built for Stefani on his ranch.
Appearing on "TODAY" Tuesday, Daly said he convinced the couple to write their own vows. "They were really reluctant to do that, but ... it's two of the best songwriters in the world, we want to hear your words," he explained.
"At the wedding, Gwen starts, and she wrote this, 'Since I was a little girl ...' And she crushes, not a dry eye in the church. It was so perfect," Daly continued. "I said to Blake when she was done, 'Top that, buddy.' And Blake starts by saying, 'Gwen's always giving me a hard time about not writing enough songs, so I wrote a song.'"
"Guitar comes in frame, stool, next thing you know, he wrote her a song, he sings her a song while he's crying that he wrote specifically for her," added Carson. "Not a dry eye in the house."
Daly said he hoped Shelton would record and release the song, titled "Reach the Star," but it's unclear if he will. The "Voice" host went on to say the wedding itself was "as elegant and refined and cool as Gwen is, and it was country and down-home and fun as Blake is."
TMZ reported the two applied for their marriage license on June 29 in Oklahoma. The two were required to say "I do" within 10 days of obtaining the license. The outlet also said at the time the couple were set to marry on Saturday, July 3.
This is the third marriage for Shelton, who was previously married to Kaynette Williams from 2003-2006 and Miranda Lambert from 2011-2015. It's the second marriage for Stefani, who was married to Gavin Rossdale from 2002-2016. The No Doubt and Bush rockers share three sons: Kingston, 15, Zuma, 12 and Apollo, 7.
Stefani and Shelton first met after Gwen joined Season 7 of "The Voice" in 2014, as they were both going through high-profile divorces. The two started dating shortly after that, before finally getting engaged in 2020.
The wedding was delayed because of the pandemic, though the two sparked rumors they had already tied the knot in mid-June, after she appeared to be wearing a diamond wedding band next to her engagement ring.
The sighting came after Gwen posted photos from what appeared to be her bridal shower on her Instagram Story.