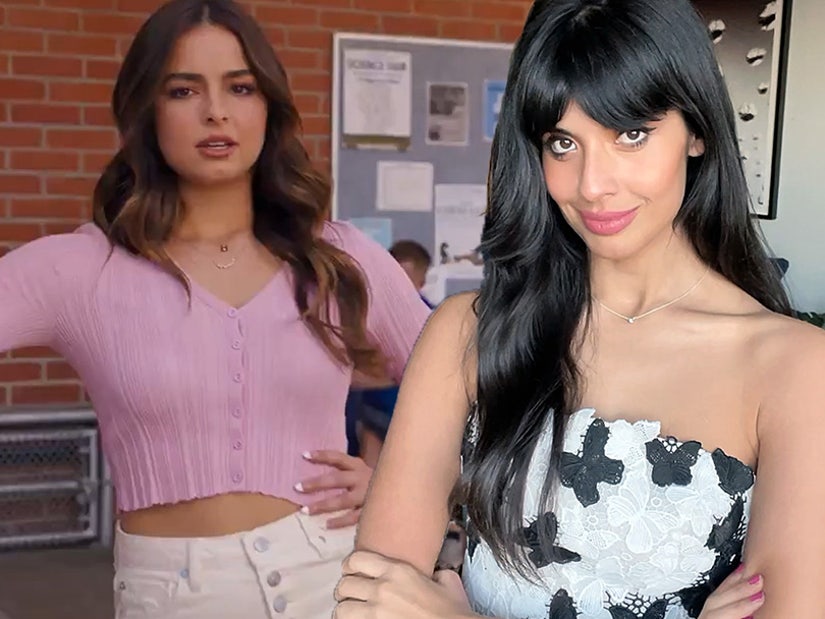 Netflix/Getty
Netflix dropped the first trailer for the TikTok star's acting debut in the gender-swapped "She's All That" remake with Addison Rae.
Jameela Jamil has never been shy about expressing exactly how she feels about all sorts of important issues, like body positivity, equality and representation. But this week she made headlines when she brought that same candor while sharing her thoughts on the trailer for Netflix's gender-swapped "She's All That" film, "He's All That."
Starring TikTok star Addison Rae, the movie finds her character making an emo high school boy over into the prom king -- and falling for him while she does. Shortly after the trailer dropped, Jamil weighed in and said it looked "objectively f---ing terrible," among other comments, before later clarifying her stance after she was accused of slamming the film.
"This looks objectively F---ing terrible. Which means *everyone* is going to watch it and it's going to be number 1," she first tweeted, sharing the teaser with her followers.
When one fan said they wouldn't be tuning into the film, Jamil disagreed.
"You'll succumb to the hate watching peer pressure. Just wait," she replied. "We ignore great art and publicize stuff like this with our hatred, and then it becomes number 1, and then studios green light more films just like it."
Another fan told Jamil that she wasn't all that great in her own acting debut, when she first started on "The Good Place." The actress was quick to agree with this sentiment, writing, "[100 percent] fair. I had never acted before and had no idea what I was doing. Thank GOD for Ted Danson."
With that, another fan said that as this was also Rae's first acting gig and Jamil had done no better in hers, Jamil should maybe lay off her. But Jamil quickly pointed out, "I didn't say anything about Addison. The film looks bad. Xx"
In response to a fan who agreed with her about the trailer, but also said they intended to "hate-watch it" because "there's too much nostalgia wrapped up in it," Jamil responded, "Me too." She also later tweeted, "Films were also generally better 10 years ago. Hollywood and relentless remakes getting chosen over amazing new scripts by young marginalized people is a huge shame. There were more daring new films 10 years ago."
Her comments got pickup overnight, with many outlets focusing on the "f---ing terrible" quote specifically. On Thursday morning, she went to social media to insist her critiques were simple "mindless tongue in cheek tweets" and weren't anything to be taken seriously.
"Man. You can't piss about, about anything without the headlines turning into a drama," she tweeted. "I don't care about the movie at all. It was just a tweet about how we will inevitably make it popular by hate watching it. Because that's what we always do."
"This is why everyone thinks I'm so serious and slamming/blasting and screaming/hysterical/crying all the f---ing time because tabloids turn my mindless tongue in cheek tweets into a story about how 'angry' I am all the time," she added. "It's so tedious and something we especially do to WOC."
In a lengthier post shared to her Instagram, she added, "Yesterday a trailer dropped for a new teen remake. I joked that it looks terrible but that we're all gonna watch it and make it number one. Because that's what we do. (See also: Tiger King.)"
"This got turned into a serious attack from me, as if I actually give a flying f--- about a teen rom com," she added. "I'm IN a cheesy teen rom com coming out later in the year which people will probably also bemoan. Who cares? These movies are not supposed to be Shakespeare."
She also said she felt the media honed in on these tweets to "overexpose me to discredit me and make me look hysterical about everything so that when I'm actually hysterical about human rights being taken away, it's easier to dismiss and blend in with other things."