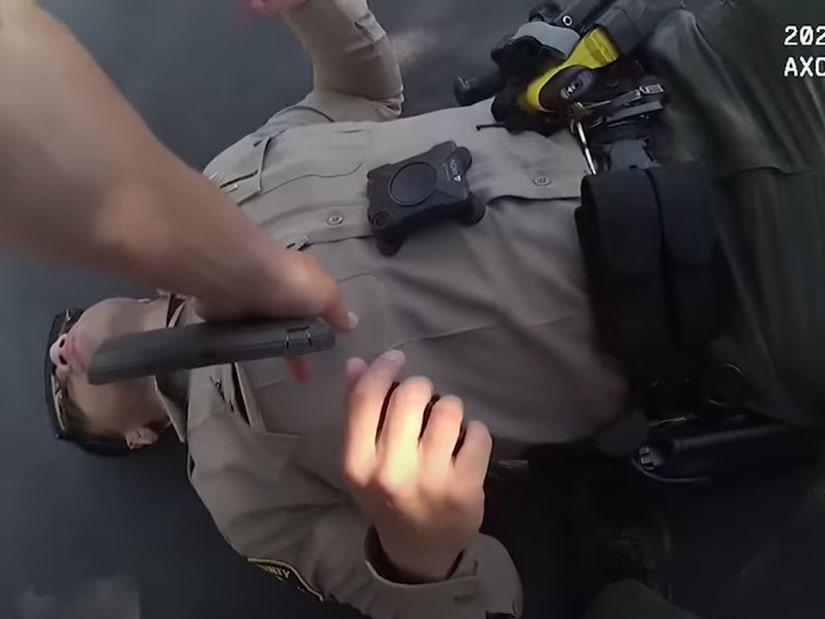 San Diego County Sheriff's Department
A group of almost 400 medical professionals had called BS on the video.
San Diego Sheriff's Department have responded to claims Deputy David Faiivae could not have overdosed by mere contact with fentanyl.
They released the full unedited body cam footage recorded by both officers that day, insisting it shows "Deputy Faiivae processing a white powdery substance that tested positive for Fentanyl and Fluorofentanyl."
"There have also been questions about a toxicology test," they added in a statement. "The hospital did not take a sample from Deputy Faiivae as part of his treatment."
Waiting for your permission to load Vimeo video.
Waiting for your permission to load Vimeo video.
In an interview with the San Diego Union-Tribune last week, Sheriff Bill Gore said he was "shocked" by the pushback from medical experts.
He said that it was he, and not a doctor, who concluded Deputy Faiivae had accidentally overdosed on fentanyl.
"I saw the video. Everybody that saw the video saw him seize up, go down, fall on his head," Gore said. "The drugs tested for fentanyl. It was classic signs of fentanyl overdose — that's why we called it that."
"We were not trying to deceive anybody, trying to hype the issues."
"I'm sorry, my mind didn't go to, oh our deputy fainted, our deputy had a panic attack. It just didn't go there," he added. "What was the other logical explanation— to my mind it was an overdose from the drug, from fentanyl."
He said the department has always operated under the assumption that inhalation or touching the drug could cause an overdose. "If we were misinformed so be it we are trying to correct (it)."
Ryan Marino, Medical Director of Toxicology & Addiction Medicine Bridge Clinic at the University Hospitals Cleveland Medical Center, and 380 of his peers sent a "Retraction Request for Dangerous Drug Misinformation" to a number of news outlets who published the story, claiming it was impossible to overdose from mere contact with fentanyl.
The letter claims the "myth" is dangerous misinformation that can "cause harm both to people who use opioids and to members of the law enforcement community."
It cited two medical studies that concluded "incidental dermal absorption is very unlikely to cause opioid toxicity," and "toxicity cannot occur from simply being in proximity to the drug."
The studies point out that while fentanyl can indeed be absorbed through the skin, not enough to OD, and certainly not rapidly.
The letter claims that thanks to the spread of such misinformation, belief in this myth was "nearly ubiquitous" among law enforcement officials.
The problem, it insists, is threefold: stigmatization of drug users; fear of helping anyone overdosing; and emotional trauma for first responders who believed they have been exposed.
"Based on our experience reading hundreds of similar news articles, we recognize that a reliance on reports from law enforcement officials, rather than medical experts in toxicology, often contributes to spread of incorrect information," it said. "We implore you to avoid this mistake in future drug reporting."
TooFab has reached out to the San Marcos Sheriff's Department for comment.
In 2017, the CDC published a National Institute for Occupational Safety and Health blog post entitled: Fentanyl Exposure Risks for Law Enforcement and Emergency Response Workers.
It claimed that fentanyl "can pose a potential hazard to law enforcement, emergency medical personnel, and firefighters who could come into contact with these drugs through the course of their work day."
"Exposure through the skin, inhalation, and ingestion are all possible routes of exposure. Inhalation exposures can quickly result in respiratory depression."
It pointed to the growing number of reports of law enforcement officers being exposed to fentanyl through skin absorption while on the job, adding that additional research was needed to better understand the possible routes of exposure.
Nevertheless, it recommended emergency workers and law enforcement "not eat, drink, or smoke in the area of the suspected fentanyl and should wash their hands and inspect clothing for contamination after performing any activity potentially involving fentanyl."
original story 8/6/2021 2:06 PM
Body cam footage captured the shocking moment a California Sheriff's Deputy almost dropped dead after coming in contact with fentanyl.
Deputy David Faiivae from the San Marcos Sheriff's Department was processing an arrest on July 3 and was searching the trunk of a car when he was exposed to the deadly opioid.
Were it not for the quick thinking of his Field Training Officer Corporal Scott, who immediately administered Naloxone, "Deputy Faiivae would not be alive today," the department said.
The video shows the two deputies, on their first radio call of the day, searching the car, when Faiivae found a white substance he suspected was drugs.
"It could be cocaine or fentalnyl," Scott can be heard telling him, before informing him a few moments later: "It tested positive for fentanyl. That stuff is no joke, it is super dangerous."
Recalling the incident, Scott said he told him "Hey dude — too close. You can't get that close to it."
But the warning comes too late: just seconds later, Faiivae takes a couple of steps back, freezes up — and collapses backward.
"I ran over to him, and I grabbed him... and he was ODing."
Immediately radioing for help, Scott runs to his patrol car and grabs the Naloxone, administering it in each nostril, while Faiivae stares at the sky, his eyes glazed over, completely unresponsive.
"Just breathe buddy, breathe, breathe," Scott tells him, ripping open his shirt and pulling off his bulletproof vest.
Struggling to inhale, Faiivae can be heard telling him "I'm sorry... I'm sorry."
"Don't be sorry, there's nothing to be sorry about," Crane assures him. "I got you okay, I'm not going to let you die. I'm not gonna let you die. I got you."
As the firefighters arrive and he is loaded onto the gurney, Scott said his partner's eyes rolled back in his head, and he started to OD again. "He was ODing the whole way to the hospital."
Recalling what could of happened afterwards, Faiive said: 'I remember just not feeling great, and then I fell back. I don't remember anything after that."
"It was in an instant, as though my lungs just locked up, I couldn't breathe. I was trying to gasp for breath but I couldn't breathe at all."
"I don't think people realize the severity of just how deadly it is."
Crane added: "It's an invisible killer. He would've died in that parking lot if he was alone."
The video was posted by San Diego Sheriff Bill Gore as a warning of the dangers of the drug, which he said was 50 times more potent than heroin.
"Fentanyl deaths in California have increased by 46 per cent in just the last year," he said. "Being exposed to just a few small grains of fentanyl could have deadly consequences."
"This drug is killing our communities."