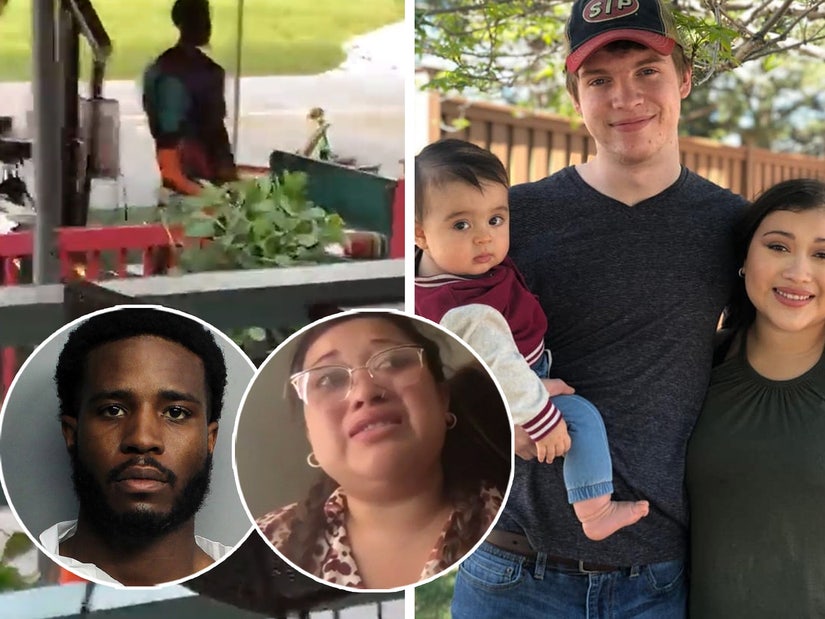 WSVN/AP/WPLG
Karina Olguin has described her husband's last moments as he shielded their one-year-old son from the gunman.
"I remember Dustin saying, 'Please, I have a son. He's just a boy.' And that's when it all happened," she told WPLG-TV in a tearful interview.
"Dustin was begging for his life... He was like, 'I have a son, please, he's only 1 year old.'"
"I was like, 'Dustin, the baby,' I yelled. Dustin got up, got Eli and took him to my grandma."
"He was right behind me," she said of the shooter. "I remember him leaving. It was fast."
The devastated widow asked that her husband be remembered "as a hero, as a courageous man, and as an amazing, loving father."
Dustin's distraught mother Lora added: "In memory of my son, I ask: Do something good like he would."
"He would smile at a stranger, give a hug to somebody. See the person in front of you. Really see them. Don't let this world desensitize you to what love is."
The only family member not crying in the heartbreaking interview was Karina's oblivious son, whose face lit up as he recognized his "Dada" in photos he held.
Video of the alleged gunman's first random target has emerged — the one who escaped with his life.
According to Miami Beach police, suspect Tamarius Blair Davis Jr — a UPS driver from Georgia — opened fire on another man before fatally turning the gun on the young father, Dustin Wakefield, sat dining outside a restaurant nearby.
The chilling video, obtained by the Miami Herald, shows the suspect openly walking with gun in hand outside the Winter Haven Hotel; he looks at the weapon for a moment, before pointing it at a long-haired male walking oblivious just feet in front of him, and fires.
The man flees, the bullet miraculously missing him. The next target, Wakefield, would not be so lucky.
The victim's uncle David told Daily Mail the suspect walked up to his nephew and said "it's time to die."
"The suspect pointed the gun at my nephew['s] son then Dustin replied back to him saying 'he's just a baby' and then Dustin stood in front of [his] son and then he was shot," he said. "You can't wrap your head around this type of evil."
David, who did not witness the shooting but was told the horrifying story by Dustin's mother, said he was not surprised his nephew died protecting his son, describing him as an "old soul with honor and pride."
When asked what he would say to the killer, he replied "I would say to him it's too bad you didn't have five minutes to sit down and talk to Dustin you would've walked away after that conversation [with a] friend for life."
"You took away Dustin's life. But Dustin's Spirit and light will shine bright for the rest of time," he added. "I hope Dustin's face and spirit never leaves your mind and soul."
Regarding the suspect's alleged confession he was "high on mushrooms", David said it was no excuse.
"The moment he took the drugs It was a conscious decision on his part that changed his life and Dustin's life forever in his own hands," he said. "We have to be accountable for our decisions that we make in life..."
Meanwhile, AP spoke to the father of the suspect, Tommy Davis, who told them his son had traveled to Miami Beach with some friends; he said his son has never been in trouble or had mental health issues. No arrest record for the younger Davis has been found.
"This is an unlikely thing," the father said. "We are trying to find out what happened. You can imagine we were shocked."
He said he didn't know whether his son would ingest mushrooms or other drugs.
"You think you know your kid, but you don't," he said. "It is possible someone gave him something. That is something we need to find out."
original story 8/25/2021 3:07 PM
A 21-year-old father was shot in front of his wife and one-year-old son while dining outside a Miami Beach café.
Dustin Wakefield, who was visiting with his family from Colorado, died after pleading with the gunman not to shoot the baby. Chilling witness video shows the alleged gunman, 22-year-old Tamarius Blair Davis Jr., dancing and laughing over the body of the victim he'd just shot:
"There was a guy sitting at a table with all his family and kids and everything," one witness told WSVN. "He was right there, and the guy went there and shot the guy a few times."
"He started dancing on top of the guy. I don't know why."
"What was so strange is the guy that was shooting, they said he was smiling and laughing the whole time that he was shooting the guy," a second witness said.
Wakefield was rushed to hospital, but was pronounced dead. He'd been shot multiple times, including once in the head.
According to Miami Beach Police, one officer was nearby and heard a gunshot just before 6:30 PM. He said he saw Davis chasing after another man; as the officer moved in, he said he saw Davis turn the gun on someone on the patio at La Ceveceria restaurant, before firing several shots toward the ground.
The victim's family told investigators he had pointed the gun at the infant first, but the father told him "He's just a baby" — his final words.
According to an arrest report, Davis was found in a nearby alleyway trying to open a locked door while holding the gun, which he dropped when ordered.
Another witness video shows him lying in the alley while officers approach with guns drawn, as he yells "I did it! I did it!"
According to the arrest report, Davis confessed to picking both targets at random; his first target managed to escape unharmed. Police said he also confessed to being high on mushrooms, which made him feel "empowered." Davis has since been charged second-degree murder, and attempted second-degree murder.
In his first court appearance on Wednesday, he asked a judge about his bond conditions. "Sir, you are being held with no bond," the judge replied. "You shot and killed somebody in cold blood."
Meanwhile, a GoFundMe has been set up to help the devastated young family.
"He's a proud dad," another witness told Local10. "When his son grows up and hears about this, he's going to forever love his dad — no matter if he's there or not."