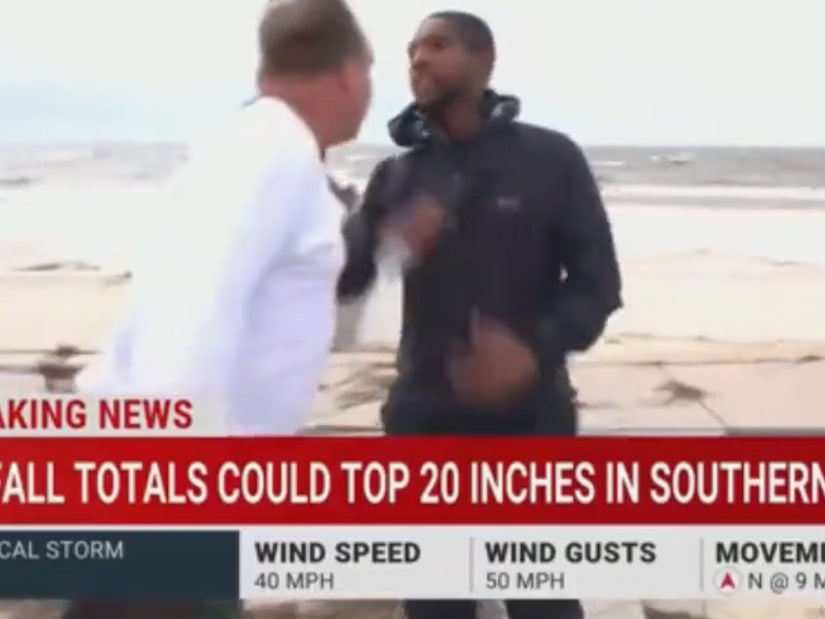 Twitter
"This violent fugitive was attempting to flee from his charges."
update at 1:30pm PT on September 2, 2021
After a warrant for his arrest was issued for Benjamin Eugene Dagley of Wooster, Ohio, Dagley was apprehended by the U.S. Marshals on Thursday, September 2.
"This afternoon, members of the US Marshals violent fugitive task force arrested Dagley in a shopping plaza on Greene Boulevard in Dayton, Ohio," said the Marshals in a statement. "Task force members received information that Dagley was still driving in his white truck bearing an Ohio license plate. Task force members located the truck in the parking lot and subsequently arrested him after watching him exit a store in the shopping plaza."
Added U.S. Marshal Pete Elliott: "Due to assistance provided by the Wayne County Sheriff's Office, our task force members were able to track this fugitive from Mississippi to his arrest location in Dayton. This violent fugitive was attempting to flee from his charges in Gulfport but the swift work of our task force members resulted in a timely arrest."
update at 6:50am PT on September 1, 2021
The Gulfport Police Department has identified the man who ran up to NBC News reporter Shaquille Brewster during a "scary" on-air confrontation as Benjamin Eugene Dagley of Wooster, Ohio. The man was IDed "with the assistance of the public," said GPD in a press release issued on August 31, 2021.
"Arrests warrants were issued for Dagley charging him with two counts of Simple Assault, one count of Disturbance of the Peace, and one count of Violation of Emergency Curfew," said the department.
GPD says Dagley is "no longer on the Mississippi Gulf Coast." In addition to a headshot of Dagley, the department also released a photo of his white pickup truck and asked for additional assistance locating him.
"A review of Dagley's criminal history led the Gulfport Police Department to contact the Cuyahoga County Adult Probation Department regarding a potential violation of probation," GPD continued. "Dagley is on probation for a previous charge in Cuyahoga County, Ohio. One of the conditions of Dagley's probation included restrictions on travel."
update at 7am PT on August 31, 2021
After the confrontation made headlines, Shaquille Brewster took to Instagram to thank viewers for their concern and support.
"Overwhelmed by the love and support today after what was definitely the wildest moment I've had on air," he wrote. "Our team joked about it afterwards, but it was without a doubt as scary for us as it was for you all watching."
"While that one report was interrupted, we were right back up in the next hour and will continue reporting as we are here to do," he concluded.
Among the comments was one from ABC's Kenneth Morton, who wrote, "Class act my friend. Thank you for your professionalism. Can't say I would have done the same."
Waiting for your permission to load the Instagram Media.
The winds of Hurricane Ida weren't the only thing NBC News reporter Shaquille Brewster had to contend with while doing a live shot in Gulfport, Mississippi on Monday.
After MSNBC anchor Craig Melvin tossed to Brewster on the beach, the reporter was talking about the aftermath of the storm when, out of nowhere, a man ran up and accosted him.
Brewster was reporting on how the mail delivery in town had starting to return to normal and noted that people were now out walking their dogs on the beach, when a white pickup truck pulled up behind him. A man then jumped out of the vehicle and came running toward both Brewster and the cameraman, shouting at them both.
While Shaq was a pro and moved so the man would be out of the view of the camera, the guy kept yelling at him to "report it accurately." Fed up with the annoying off-camera chatter, Brewster then decided to throw back to Melvin in studio -- before the man was seen charging toward the reporter and getting into this face.
"We're gonna check in with Shaq Brewster and make sure all is well," Melvin promised from the studio. "There's a lot of crazy out there, a lot of crazy. We'll make sure Shaq's okay."
A few minutes later, he followed through on that promise.
"You probably saw or heard a few moments ago, one of our correspondents was disrupted by some wacky guy during his live shot there in Mississippi," he told viewers. "Pleased to report that Shaquille Brewster is just fine. Shaq is okay."
Brewster confirmed that account on Twitter, writing, "Appreciate the concern guys. The team and I are all good!"
Melvin went on to call the man's behavior "beyond unacceptable and disgusting," saying Brewster was only "trying to do his job." He added, "Shaq is okay. This guy who nearly attacked him clearly is not."