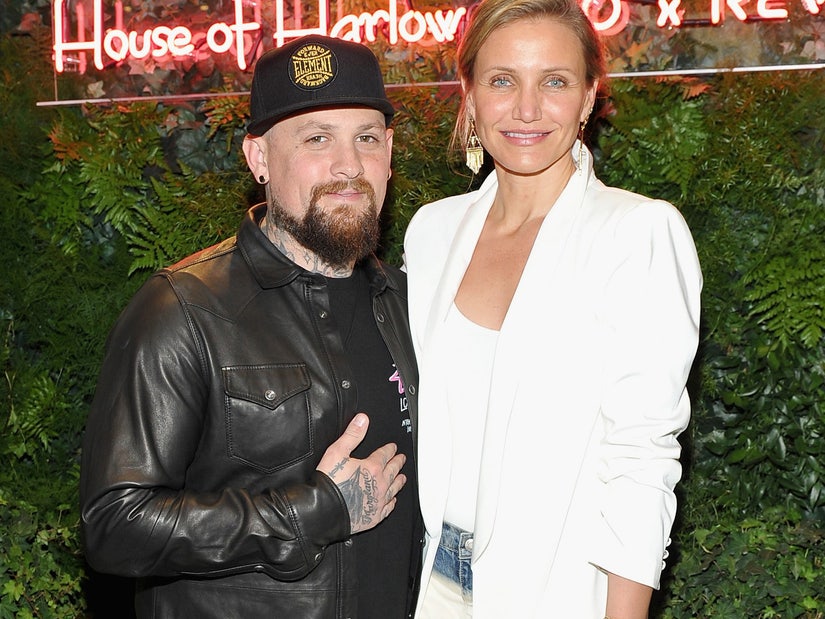 Getty
"We are so lucky to have you."
Taking to Instagram on Monday, the "Good Charlotte" singer posted a sweet tribute to his wife, sharing a photo of a beautiful painting.
"Happy Birthday to my Wife, you are beautiful in all ways, we are so lucky to have you ❤️🙏 ," Benji, 42, captioned the post. "What you do who you are day in and day out to the ones you love always true blue -- hard to put it all in a IG post but I love to have a reason to say it out loud I love you ❤️🙏🎉 @camerondiaz."
Benji's twin brother, Joel Madden, and older brother, Josh Madden, both commented on the post about their sister-in-law.
"❤️❤️❤️ the best @camerondiaz," wrote Joel, while Josh called Cameron the "brightest loveliest light."
Waiting for your permission to load the Instagram Media.
Benji and Cameron married in January 2015. They got married shortly after Diaz's longtime friend Nicole Richie -- who's married to Benji's brother Joel -- introduced them to each other. In an interview with InStyle in 2019, Cameron said that marrying Benji was "the best thing that ever happened" to her.
In December 2019, the two welcomed their first child together, a daughter named Raddix. The couple announced the exciting news in January 2020.
"Happy New Year from the Maddens! We are so happy, blessed and grateful to begin this new decade by announcing the birth of our daughter, Raddix Madden," read a note from the pair at the time. "She has instantly captured our hearts and completed our family."
"While we are overjoyed to share this news, we also feel a strong instinct to protect our little one's privacy," the post continued. "So we won't be posting pictures or sharing any more details, other than the fact that she is really really cute!! Some would even say RAD :)"
They closed out their announcement by saying, "From our family to all of yours, we're sending out love and best wishes for a Happy New Year and Happy New Decade!"
In April 2020, Cameron made a rare appearance on Instagram Live in which she discussed her life at home as a new mom amid coronavirus lockdown. The actress gushed over her husband and baby Raddix.
"Benj puts [Raddix] to bed, he's such an amazing father, I'm so lucky he's my baby's daddy. He's so incredible," she said during a chat with the CEO of Who What Wear, Katherine Power. "I love being a mother. It's the best, best, best part of my life. I'm so so so grateful and so happy, and it's the best thing ever, and I'm so lucky to get to do it with Benj and we're having the best time. It's so great. I'm just thrilled. I can't believe it."
During an appearance on Kevin Hart's "Hart to Heart" talk show last month, the "Mask" actress shared details about parenting with Benji.
"Everything starts and goes and stops and goes because it's all about [Raddix's] needs," Cameron said. "I cook all of her meals. I wake her up, my husband puts her to bed. We're a total tag-team."
Also during her chat with Hart, Cameron spoke about her decision to step away from acting in 2014, sharing that after she put a halt to that on-camera career, she found time for more important things she'd been neglecting.
"I met my husband, we started a family," she recalled. "All of those things I didn't have time for before and didn't have the space to make the right decisions for me at the time to bring that in."
"I feel whole," Cameron added. In addition to spending time with her family, she also released two books and recently started her own Avaline wine.