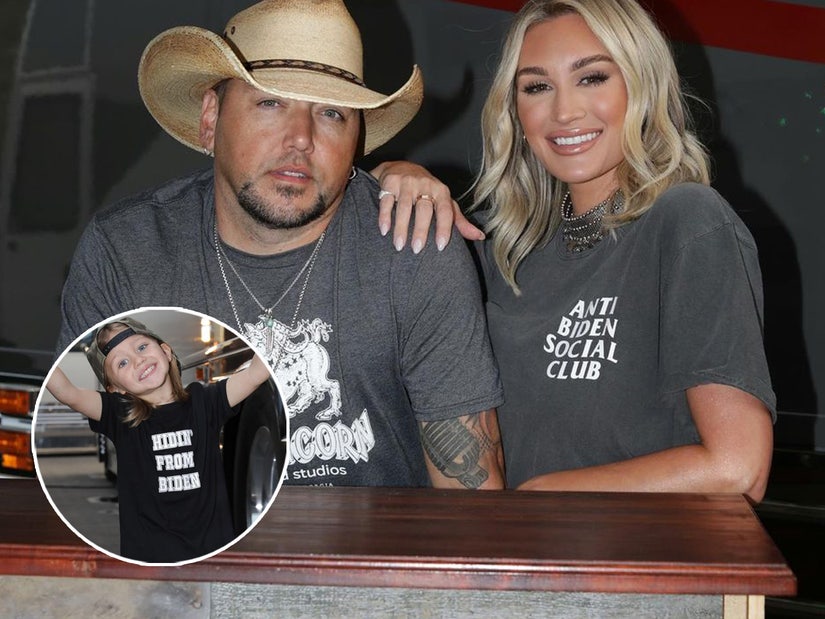 Instagram
Update 10/1/2021 12:50 PM
Jason Aldean is defending his decision to allow his children model an "anti-Biden" clothing line.
The country star had been quiet on the controversy, until he started jumping into his wife Brittany's IG comments. When one fan wrote, "Take notice Jason is not wearing the clothing or making any statement" and assumed he was "worried" about offending his fans, he replied, "Don't kid yourself. I think everybody knows where I stand. Nice try."
In another reply -- to someone who said, "If you thought Trump's path for America was any better, you're delusional!" per the Washington Post -- Aldean told the commenter to, "Watch ur mouth lady!"
"We will teach our kids what we think is right and what we think is best for their future," he added. "If you think what is happening right now is 'great' for the future of our kids and grandkids, u are delusional!"
"Definitely better than what we got now!" he went on. "Please tell me one thing that the current administration has done that is positive? Just 1!!!"
Aldean then took to his own Instagram, following up with a picture of himself silhouetted against the American flag:
Waiting for your permission to load the Instagram Media.
"I will never apologize for my beliefs or my love for my family and country. This is the greatest country in the world and I want to keep it that way," he wrote, adding the hashtag "#unapologetic."
The "Blame It On You" hitmaker had previously told Rolling Stone in 2016 that his voting record was something he normally steered clear of talking about because "Politics is a no-win."
Who his children would be encouraged to vote for, however, now seems to be a matter of public discourse.
Update 9/27/2021 12:37 PM
Jason Aldean's children are the face of the "UNVAXXED" collection.
The country singer's wife Brittany is using her Instagram account — and her kids — to hawk anti-Joe Biden and anti-vax merchandise.
The 33-year-old former "American Idol" contestant proudly posed with 3-year-old son Memphis and 2-year-old daughter Navy Rome, all rocking merch from the Daddy T.45 website — mom in an "Anti Biden Social Club" tee, the youngsters wearing matching "Hidin' From Biden" shirts — and tagging the company's Instagram page:
Waiting for your permission to load the Instagram Media.
Per the website, the clothing is part of "The UNVAXXED Collection," sold by Daddy T.45. The "T" being Trump, the website's banner is a photo of the former President, pointing a gun at the camera.
Shoppers there can also pick up "F--- Biden" sweatshirts, or a Supreme-style hoodie boasting "Unvaccinated" on the front.
You can also buy a "joke" Proof of Vaccination card, with "land of the free" on one side, and an extended middle finger on the other, for $4.99 ... although this particular item is sold out at the moment.
One of the pictures modeling the merch on the official site is Aldean's son:
Waiting for your permission to load the Instagram Media.
While Jason himself opted against wearing the clothing as he posed with his wife in one of the pictures, he did proudly proclaim "My boy!" in the comments beneath his son's pic.
It's not the first time Brittany has raised eyebrows with her political fashion statements, either: in November 2020, days after the presidential election, she posted a picture wearing a Trump shirt, with the caption "Still my President."
She parroted Trump questioning the results in several more posts, including one which asked: "same people counting the Corona cases aren't counting the mail-in ballots are they? What a damn shame":
Some posts she was even forced to take down: just hours after the Capitol insurrection on January 6, she posted a photo of two of the rioters, whom she claimed were "Antifa disguised as Trump supporters... shocker."
That was later proved false, and she bemoaned the fact she was ordered to delete it.
"Instagram wanted me to know that it was against their guidelines to post," she said shortly afterward in a straight-to-camera video, per Rolling Stone. "It's getting so ridiculous the filters you put on everyone that's against your narrative. It's unbelievable and it's ridiculous. It's just really sad what this world's coming to."
Despite receiving a lot of public backlash, Brittany claimed she gets plenty of private support via DMs
"I think you'd be surprised how many people do agree but aren't able to speak about their views," she responded to one follower during a Q&A session.
"I personally don't give a damn if people don't agree with me. I think it's important now more than ever to stand for what you believe, even if it goes against the grain," she added. "Do your research, and form your own opinion — speak out if you wish. But most importantly, don't bully people who feel differently than you."