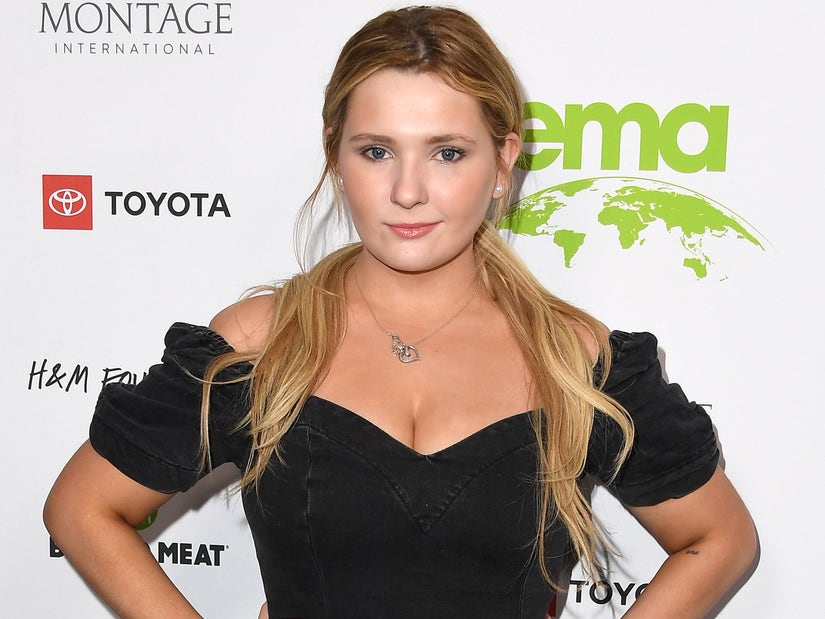 Getty
The actress' dad passed away in February after contracting Covid-19.
On Monday, the 25-year-old actress -- whose father, Michael Breslin, passed away last February after contracting Covid-19 -- took to Instagram to share a screenshot of an exchange she had with a troll in the comments section of a photo she posted of herself wearing a mask while on a rollercoaster.
After the commenter called Breslin a "pathetic loser" for wearing a face covering, the "Little Miss Sunshine" star slammed the user, noting that her father contracted Covid -- and ultimately died.
"Who's the pathetic loser wearing a mask?" the Instagram user wrote, to which Breslin replied, "That pathetic loser would be me, someone who lost their dad due to someone not wearing a mask and giving him Covid."
"You can kindly go f--- off now," she added.
On Tuesday, Breslin shared another post to Instagram showing more of the haters' comments. As shown in screenshots, a fan came to Breslin's defense against the troll.
"I'm pretty sure wearing a mask isn't going to save anyone's life lol. Clearly I know more than her if she thinks someone who wasn't wearing a mask killed her father when in reality he was weak," the user wrote, to which the fan hit back, saying "You don't know her and you didn't know him. If you want to not wear a mask and find out, be my guest. But you will NOT talk about him that way. Period. Actual human garbage. One day, when you lose someone, I hope people show you more grace than you quite frankly deserve."
The fan added, "Until then keep his name out of your f---ing mouth." In reply, the troll said, "I've never worn a mask during this whole thing 😂 never been sick once. Must be a miracle right? Oh and I'll say what I want if you don't like it don't read it and move on with your life."
In the post's caption, Breslin asked her fans if they could "report" the user, adding, "To say my dad died because he was 'weak' is something I will not tolerate." She also tagged the follower who defended her. Thanking them "for having [her] back."
Waiting for your permission to load the Instagram Media.
Meanwhile, the "Scream Queens" actress went on to post a photo of herself posing alongside friends. In the shot, Breslin and her pals weren't wearing masks. After a critic pointed this out, Breslin hit back -- and shared the exchange in another post.
"She's upset that people are not wearing their masks but yet here nobody is....what a hypocrite," the commenter wrote, to which Breslin replied, "We took ours off for one photo. Everyone present was vaccinated as well as being tested [beforehand]."
She then referenced her previous comments about the user who called her a "pathetic loser," writing, "I was calling someone out for telling me my father was 'weak' because he passed away from Covid and said I was a 'pathetic loser' for wearing my mask on a public ride with strangers. I wear my mask always around others Except for friends I know are vaccinated and have been tested beforehand."
In the caption of the screenshot, which she also shared on her Stories, Breslin expressed that the post will be her last for "a while because I do not need to further explain myself." She added, "See y'all on here in a few days for #Witchcraft EP updates," referencing her upcoming EP.
Waiting for your permission to load the Instagram Media.
Breslin's posts come a little over a week after she shared a statement in which she spoke about grieving during the holidays as she celebrated her first Christmas without her dad.
"Merry Christmas eve everyone! I'm not gonna lie. This one is a weird one for me. My first holiday season sans my dada," Breslin began in her message, which she posted on Instagram on Christmas Eve. "I love the holiday season and am so thankful I get to spend it with my mom, my brothers, my friends and my boyfriend… I'm truly blessed. But it's hard to know I can't call my daddy and wish him a merry Christmas or send him a gift certificate to a good steakhouse (lol)."
"Some days are harder than others ... grief is a tricky little monster," she continued. "I wish there was an expiration date to missing someone ... but I had almost 25 great years of having an awesome dad and I feel as though I know what he'd be saying right now. I think [it would] be somewhere along the lines of 'why ya crying kid? I'm fiiiiiiine. Don't worry about me! Love you, pretty.'"
The "Zombieland" star went on to share a message to others who may also be "missing someone" during the holiday season. "I see you, I hear you and you're not alone," she wrote, before concluding her post, "Nonetheless, I'm going to heavily cherish those who are here and hug them harder than ever," she added. "Merry christmas to all… and to all, a good night."
Waiting for your permission to load the Instagram Media.
In early February 2021, Breslin shared that her father had been placed on a ventilator after testing positive for Covid-19.
"Hi guys. Unfortunately, this post isn't one I ever thought I would have to make. I'm asking for prayers and positivity sent this way for my daddy, Michael who tested positive for COVID-19 and this morning had to be placed on a ventilator," she wrote at the time.
"We are continuing to stay positive and know he's under great care," she continued. "I'm extremely thankful for the nurses and doctors who are working hard to make sure he fights this virus."
"I have faith that things will turn around at any moment, but in the meantime, please continue to wear your masks and follow COVID protocol," she added.
Unfortunately, a few weeks later, the "Stillwater" actress revealed the sad news that her father had died. Breslin posted a heartbreaking tribute to her dad on Instagram, sharing a series of photos of her dad as well as shots of them together.
"Hard to write this. Harder than I thought.. I'm in shock and devastation," she captioned the post."At 6:32 PM EST, my sweet, perfect, amazing, heroic, wonderful dada passed away after my family and I said goodbye. It was COVID-19 that cut my sweet daddy's life too short. I appreciate more than you know, the love and support my family and I have received."
See her full tribute to her father, below.
Waiting for your permission to load the Instagram Media.