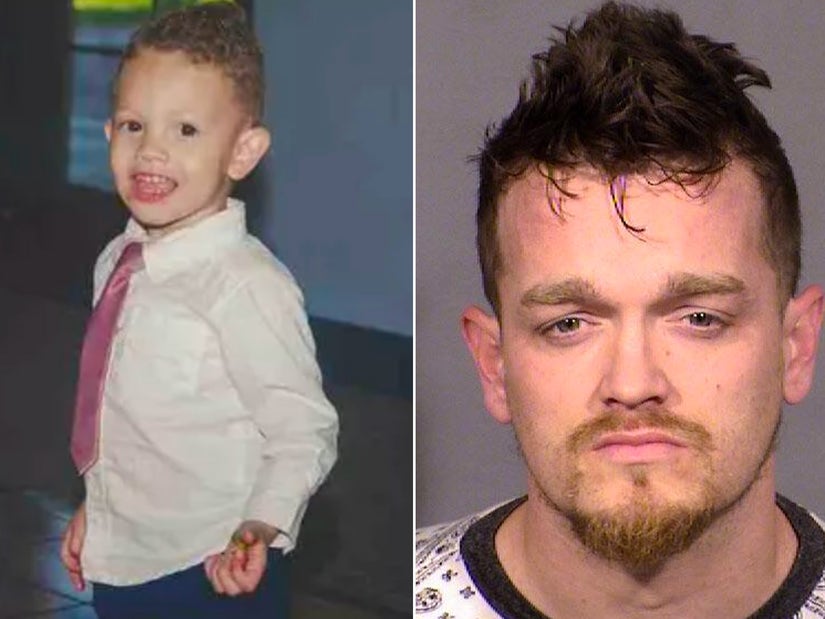 Twitter/Las Vegas Metropolitan Police Department
She was forced to hide the final S.O.S. in her daughter's sock.
update: 3/4/2022 9:37 AM pst
The Las Vegas mother whose son was found stuffed in the freezer of the home she was held captive in had been desperately plotting her escape for weeks, her lawyer has claimed.
The woman's lawyer Stephen Stubbs described her horrific ordeal to People, starting from the death of her beloved husband last year, to the moment she finally managed to flee his allegedly abusive replacement.
According to Stubbs, the mom had been very happily married to the father of her children, Eli Dominguez — until his sudden death from pneumonia in January 2021.
Struggling to raise their two kids alone and pay bills, one of her late husband's friends swooped in to offer support; that supposed friend — Brandon Toseland — would later be accused of murdering her young son.
By March, the widowed mom and her children had moved into his home — and it quickly went downhill. Relatives became worried after seeing how disrespectful Toseland was at a family gathering.
"He methodically and systematically just started exercising more and more control over her," Stubbs said. "So the family expressed concern, [and] then they kind of started withdrawing from family a little bit."
Toseland became more and more paranoid and possessive, the attorney claims, confiscating her phone and texting her family abusive messages from it, and quit her job.
He put locks on bedroom doorknobs, installed motion sensors in the home, and even watched her whenever she used the bathroom, the attorney said; She was forced to cook and clean, and was tied up with duct tape whenever she wasn't.
Whenever she was allowed ride in the car with him, she was handcuffed, he said.
It was during one of these captive car rides that she first spotted a sticky note pad and pen; thus began a weeks-long plan to seek help.
Taking whatever opportunities she could find, in the brief moments she was left alone, she would quickly write S.O.S. notes and hide them in her clothing — hoping Toseland would never see them — and slipping them under her mattress when she returned to the house.
"Help! I'm being held captive," one note read, per Stubbs. "Call my mom," said another. "He has a gun. Be careful."
"She thought of situations: 'What if I had a chance to give a note to a mailman, or a stranger or a pizza man," the attorney added.
That opportunity arose on February 20 when Toseland — for some unknown reason — made the unusual move of allowing the mother to sleep with her daughter.
Having observed him, the mom knew there was only one other place he wasn't searching besides under the mattress cover: her daughter's socks.
"That's when she coached her daughter about what to do and how important it was that [Toseland] didn't know about this and everything else," Stubbs said.
That Tuesday morning, as her daughter was getting ready to go to school, she told her: "Put this note in your sock, under your feet to hide in your shoe."
The seven-year-old did her part, and delivered the note to a teacher. Police were notified; they waited for the car to leave the home and pulled Toseland over for a traffic violation.
"That's when it was over," Stubbs said.
"She's heroic," he added. "For her to be in that situation and try to pay attention to the details and come up with a plan — this was done over weeks. And just looking for a flaw. And when she identified a flaw, she exploited it with the small acts of rebellion to take her power back, whatever little power she could take."
Toseland appeared in court Monday, charged with two counts of first-degree kidnapping and one count of open murder. No plea was entered. A bail hearing is set for April.
original story: 2/23/2022 3:54 PM pst
A little girl handed her teacher a chilling note in a Las Vegas school on Tuesday — which ultimately led to the discovery of her little brother's body stuffed in a freezer.
Just before 8:40 AM, LVMPD were notified that an elementary student had arrived with a note from her mother claiming she was being held against her will at a home on Saddle Brook Park Drive.
The mom had also written that she did not know the whereabouts of her son — and that she believed the child was possibly dead.
Officers immediately descended on the home where they found the mother, and arrested her boyfriend, 35-year-old Brandon Toseland.
The woman told detectives she was being abused by Toseland for months, and that she was not allowed to leave the house alone, or enter the garage. She also told officers she had not seen her 4-year-old son since December 11 of last year.
When officers entered the garage she had allegedly been forbidden from entering, they found the body of the little boy, hidden in the freezer.
They did not immediately reveal how the boy had died, but they believe he had been deceased since December. Prosecutors later confirmed the body had visible injuries.
Toseland was arrested and booked into the Clark County Detention Center on one count of Open Murder and two counts of Kidnapping.
He will remain in custody until his next court appearance on February 28, FOX5 reported.
The young victim's family identified him as Mason Dominguez in a GoFundMe.
"Mason Dominguez was just like any other 4 year old, happy, sweet, intelligent, very out-going! He's super loved by his aunts, uncles & cousins. His dad loved him so much, he made him super happy that he looked & acted just like him," his cousin Ariel wrote.
"Unfortunately, On February 22, 2022, My family had discovered our sweet Mason was murdered by people who, he thought he could trust."
According to Ariel, Mason's dad died last year — and the family are seeking help to buy a plot and bury him next to his father.
"When my uncle passed away a year ago, my family or I couldn't see Mason. We missed him & his sister very much but to know we won't ever see Mason again hurts the whole family 1000x more," the cousin wrote.
"We had always hoped we would be able to see him again, at least once... just to give him a hug? A kiss & tell him we love him ... To know Mason was loved, he will be living on through all his family members, friends, his dad & most importantly his big sister."