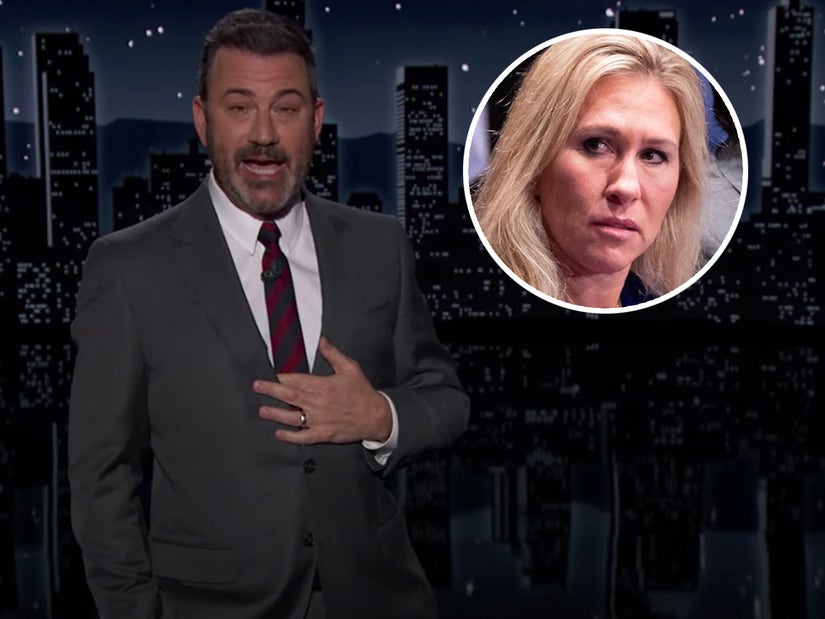 ABC/Getty
"I appear to have run afoul of probably the worst woman in American politics."
update 7:00am PT on 4/9/22
Kimmel kicked off his show on Thursday by addressing Marjorie Taylor Greene reporting a joke to the Capitol Police. "I have the weirdest life, I really do. Once again I find myself in the middle of a brouhaha," he said, "as I appear to have run afoul of probably the worst woman in American politics."
Referring to Greene as "Klan Mom," Kimmel broke down the beef again, saying MTG only responded to "get some political mileage" out of the situation. "This is what she does instead of working, she tweets," he continued, before addressing her tweeting that -- due to his joke -- she wondered, "how many new death threats will I get that are your fans?"
"Not only don't I condone death or any kind of threats against anyone, especially since I get dozens of them a week myself from the sickos that align with you," he continued. "Remember, she is the one who endorsed fringe conspiracy theories and repeatedly indicated support for executing prominent Democratic politicians."
"Now she's dialing 911 because she got made fun of," he added. "She's a snowflake and a sociopath at the same time – a snociopath."
He also mused that other Republicans might like having her around because she makes them look "normal" in comparison -- before threatening to take this feud to the Justice League to settle things. He then proceeded to write a letter to Batman, reporting a "super villain" who "like the Riddler," believes in coded messages and, like the Joker, "thinks she is funny" and, like the Penguin, is "5'3""
Kimmel also took a moment to hit back at tweets from Matt Gaetz, who also chimed in on the MTG mess. Earlier in the day, Gaetz tweeted, "Not only would Marjorie Taylor Greene's husband make quick work of you, but @RepMTG herself would make quick work of you! Kimmel would not last too long if he were interested in engaging in unprovoked, terrible violence against his Congresswoman."
"What are you suggesting, another threesome?" cracked Kimmel, before reading his Twitter response to Gaetz on air. "I wrote back, 'NOTE to @RepMattGaetz - stay indoors. It's Girl Scout cookie season."
Jimmy Kimmel could be in trouble with the law after he was reported... for telling a joke.
Georgia Representative Marjorie Taylor Greene announced on Twitter she had alerted Capitol Police to a "threat of violence against me."
The GOP Congresswoman shared a clip of Kimmel's allegedly menacing comments, which he made during his Tuesday night monologue.
"Marjorie Taylor Greene, this Klan mom, is especially upset with the three Republican senators who said they'll vote 'Yes' on Judge Ketanji Brown Jackson, who's nominated for the Supreme Court. She tweeted, 'Murkowski, Collins, and Romney are pro-pedophile. They just voted for KBJ," the host quoted her.
"Wow, where is Will Smith when you really need him?"
Of course, Jimmy didn't actually say what he needed Will for... but MTG certainly seemed to think he was referring to his slapping prowess.
"@ABC, this threat of violence against me by @jimmykimmel has been filed with the @CapitolPolice," she tweeted the following day.
Kimmel didn't seem too worried, mocking the Republican lawmaker in a tweeted reply:
"Officer? I would like to report a joke," he jibed.
On Thursday, Judge Jackson became Justice Jackson, making history as the first ever Black woman to sit on the highest court in the land.
During her confirmation hearing, she was relentlessly grilled by several Republican senators on her sentencing history, as they attempted to paint her as soft on crime.
While the Democrats had enough votes to confirm her — with Vice President Kamala Harris having the deciding vote in case of any ties in the evenly split Senate — the three Republican Senators Greene mentioned in her "disgusting" tweet (as Kimmel described it) broke ranks and voted with the Dems.