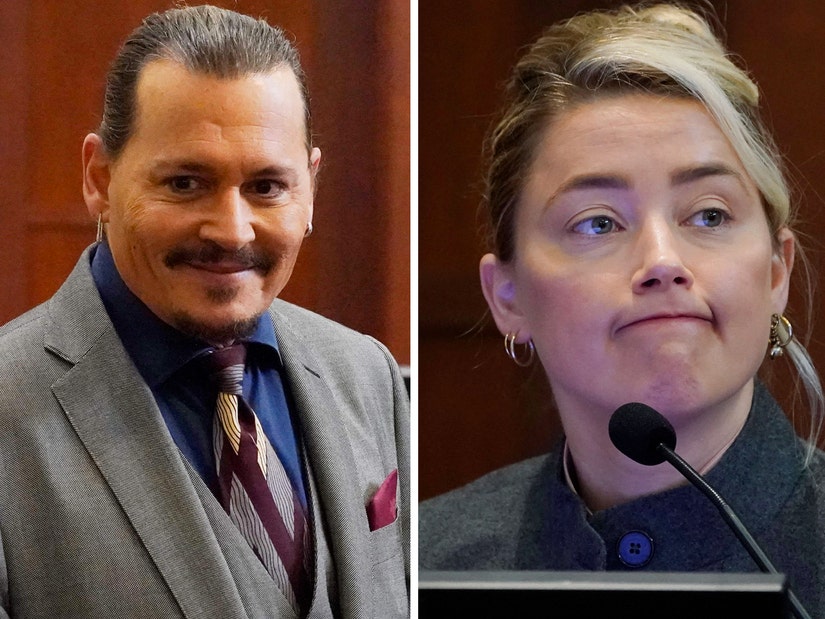 Getty
"He was obsessed with dog poop."
In her witness testimony on May 16, 2022, Heard disputed the account of Johnny Depp's chauffeur -- before detailing on the alleged dog poop incident led to a massive blowout with Depp that ended with the police being called. Depp's chauffeur previously testified that he overheard Heard and her sister talking about the "defecation" they had left on Depp's bed after an alleged fight the night before her 30th birthday. He claimed she simply called it "a horrible practical joke gone wrong."
On the stand, Heard said she and her friends did go to Coachella to celebrate her birthday, along with her dogs, Boo and Pistol. Amber said Boo, who was Depp's dog, "had eaten Johnny's weed when she was a puppy and had bowel control issues for her entire life." She said she didn't notice anything in the bed that morning, but also left the dogs alone in bed while they packed for the trip.
When asked about the "practical joke gone wrong" comment or whether she had committed a prank, Heard said, "Absolutely not." She added, "I don't think that's funny. I don't know what grown woman does. I was not in a pranking mood. My life was falling apart, I was at a crossroads in my life. I had just been attacked on my 30th birthday by my violent husband with whom I was desperately in love and knew I needed to leave."
"It was not a jovial time and I don't think that's funny, period, it's disgusting," she added.
She later testified that on May 21, 2022, the day after his mother died, Depp once again brought up the alleged feces prank. She was adamant "this didn't happen" and was shocked it was being raised again.
"Our marriage was over and falling apart in front of our eyes, we hadn't seen each other in a month and his mom had just died. I couldn't believe he wanted to talk about feces," she claimed. Heard said she then got iO Tillett Wright on the phone to tell Johnny his claims just weren't true.
"It just made Johnny madder, he got more upset and started screaming at iO, just started screaming at the top of your lungs, telling iO that he can have me and f--- off, just screaming at him,'" she claimed. "iO said something to me on speaker phone and reminded me I wasn't safe, iO said, 'Amber, get out of the house now, you're not safe. Get out of that house.'"
Heard said Depp heard iO's comment, grabbed the phone from her hand and "called IO every horrible name that you can say to a LGBTQIA person and any person, any human being ever." She said that, after that, he threw the phone at Heard's face and his her in the eye.
"He does that taunting thing, 'Oh, I hit you, yeah?' and he whacks me on top of my head, grabs me by my hair, yanks me up off the couch," she continued, saying that Raquel Pennington ran into their place from the neighboring apartment and got between them. Heard said Depp kept screaming at her, however, before he started "smashing" things around the apartment. She then left for the "safety" of the neighboring apartment, before someone called the police.
Heard said they took photos of her alleged injuries and apartment damage at that time as well, before some of those photos were shown to the court.
Texts from the next day were then shown to the jury, in which Depp exclaimed, "That was it. The last encounter forever .... I tried to make it work and you just turned more and more into a spoiled brat. All you wanted was to make me f---ing miserable. Well, I'm finally there. I'll never be able to understand how I fell in love with you."
"I was merely convenient for you. I hope our divorce goes as quickly as possible and that it as painless as possible," he wrote. " So sorry you were as unhappy with me as you were ... goodbye, Amber ... What the f--- was I thinking?? I wish you all you merit ... The Former Him."
Heard claimed they didn't have a discussion at all about divorce the evening prior -- adding Depp was "obsessed with dog poop."
On May 23, she filed for divorce and obtained a temporary restraining order. "I knew if I didn't I'd likely not literally survive," she said, "I was so scared it was going to end really badly for me. I didn't want to leave him, I loved him so much, I would have done anything, but I couldn't stay."
The last witness of the week in Johnny Depp's defamation trial against ex-wife Amber Heard was Starling Jenkins III, an executive chauffeur and security guard for the actor.
He first testified that he witnessed them argue in person twice, while driving them. "It would be initiated by her, she would try to engage with him, he would tell me to turn the music up," he claimed.
Much of his testimony revolved around the alleged altercation between the couple on April 21, 2016, which effectively marked the end of their relationship. Jenkins said that the next day, he was "informed by Amber that she got in a fight with Johnny" the previous night -- and "threw his personal property off the balcony, into the streets."
Of the materials supposedly tossed: his iPhone, wallet and credit cards.
Sterling said he tracked down the iPhone using the Find My Phone app, tracing it to Skid Row in Downtown Los Angeles, "about six miles" from where Depp and Heard were living. He said an "unhoused gentleman" had found it and taken it there.
"I approached him about the phone, he was honest, returned it, I gave him a reward for it," said Sterling, revealing the reward consisted of "$420, chicken tacos, chips, apples, Fiji Water."
After bringing the phone back to the couple's apartment, he accompanied Heard to Coachella, where she planned to celebrate her birthday with her friends and sister. Once there, Sterling claimed the two "had a conversation pertaining to the surprise she left on bosses bed prior to leaving the apartment ... the defecation."
He added that she simply called it "a horrible practical joke gone wrong."
In case you somehow missed it, Depp testified last week that he planned to return to their place to collect his belongings while Heard was at Coachella -- but was told by one of his security guards that it wasn't a good time to do so. "He showed me a photograph on his telephone of ... it was a photograph of our bed, and on my side of the bed, was human fecal matter," said Depp, who also claimed Heard later "blamed it on the dogs."
Heard, however, denied any such event occurred when it was also brought up in the UK libel case. In 2020, her rep called the story "completely untrue," adding, "As the evidence in court showed, Mr Depp discussed committing such a prank for years beforehand and it plays to his lavatorial sense of humor. Mr Depp's team is trying to grab headlines."
Jenkins was further asked about Heard's behavior at Coachella, testifying that "she had no worries" and was "there to whoop it up" for her birthday. He also claimed she "got sick at the venue" after "eating magic mushrooms and drinking white wine on an empty stomach."
Under cross examination, Heard's lawyer pointed out that Jenkins wasn't around for any of the incidents of abuse of which Heard has accused Depp. He also seemed to suggest it was Heard's sister, who was pregnant at the time, who was sick at Coachella -- though Jenkins said he could tell them apart.
Depp is seeking $50 million in damages after Heard claimed she was a survivor of domestic abuse in an op-ed in the Washington Post in 2018. While she didn't name Depp in the piece, his lawyers argue it was implied to be about him and negatively affected his career. She countersued Depp for $100 million.
The actor has already lost an earlier lawsuit he took in the UK over the same article that appeared in The Sun.