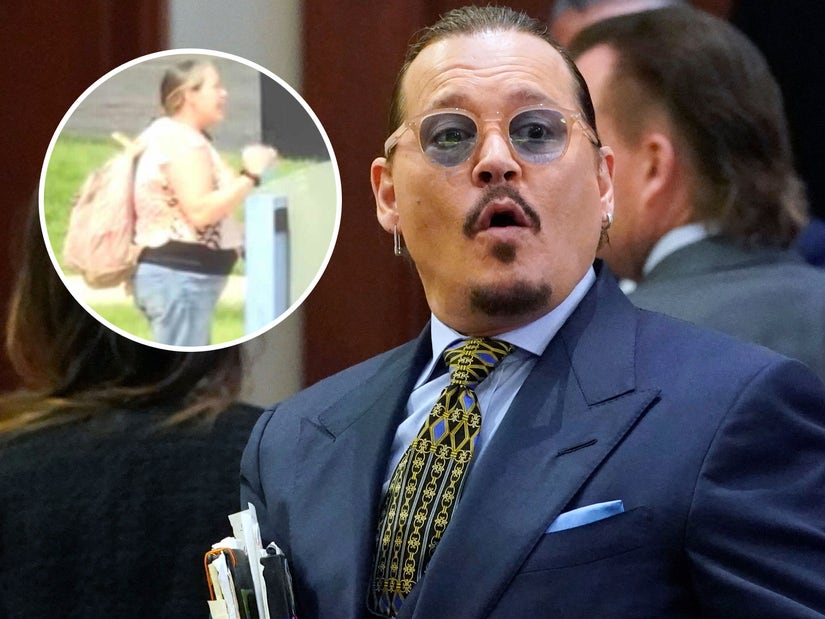 Getty/YouTube/Law&Crime
She brought the baby, too.
Johnny Depp secretly fathered a lovechild, according to one random woman at his defamation trial against Amber Heard on Monday -- which she later admitted "was a joke."
The court was interrupted when the mother watching from the gallery stood up — with a baby in her arms — and announced that Depp was the father.
The bizarre incident occurred during the morning break, when the cameras were switched off, so it was not broadcast.
But Law & Crime's Angenette Levy watched it happen first hand, describing it as "crazy".
"All of a sudden, this woman... she stands up at the back of the courtroom with her baby, and she says 'Johnny I love you, our souls are connected.'"
Depp turned and waved to the woman, but — according to the woman herself — she wasn't just some random fan.
"She held up the baby and said: 'This baby is yours."
Deputies in the courtroom made a beeline for the unannounced witness.
"The deputy was like 'You're outta here,'" Levy reported.
The woman was removed from the court, and had her access wristband clipped off.
"It was pretty wild," Levy said. "It was a moment."
Law & Crime's flabbergasted anchor was full of questions, but only had time for the most pressing before court resumed.
"Was she waiting with the baby at 1AM to get into the courtroom? If so, that's a bigger issue."
The woman, meanwhile, was casually standing with her baby stroller in the background outside the courtroom the whole time.
After later tracking her down, the woman told Law & Crime that she had discussed the plan with her husband, and that "they thought it was a joke, and thought it would be funny."
"Just FYI everybody," Levy clarified, "Johnny Depp does not have a third baby out there that was at the courthouse today."
The baby, she confirmed, had no comment.