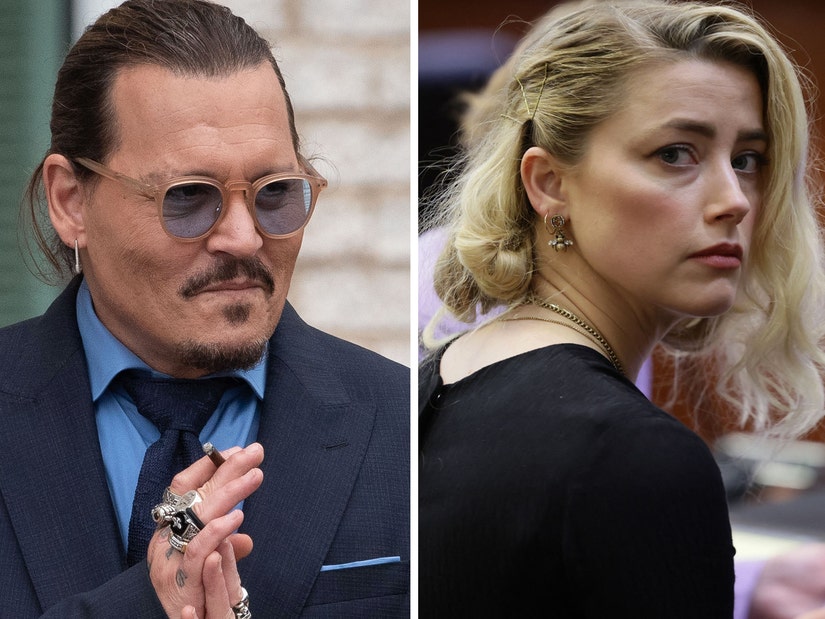 Getty
Heard won $2 million from her countersuit, but is on the hook for more than $8 million to Depp.
After six weeks of testimony and wall-to-wall media coverage, a verdict has been reached in Johnny Depp and Amber Heard's dueling defamation trial -- and a jury totally sided with Depp.
The jury ruled unanimously in favor of the actor, saying that Heard made her allegations "with actual malice." They also awarded $10 million dollars to Johnny Depp in compensatory damages, plus $5 million in punitive damages. Since there's a cap on punitive damages in Virginia, she'll only have to pay $350,000 of that $5 million.
Heard did score a minor victory herself, with the jury deciding statements made by Depp's lawyer Adam Waldman were defamatory -- and awarded her $2 million in compensatory damages.
Heard was in the courtroom as the decision was read, while Depp -- who popped up at a few concerts in the UK over the past week -- did not show. Both actors released statements to the press after the verdict, before celebrities started to chime in on social media.
"The disappointment I feel today is beyond words. I'm heartbroken that the mountain of evidence still was not enough to stand up to the disproportionate power, influence, and sway of my ex-husband," Heard said. "I'm even more disappointed with what this verdict means for other women. It is a setback. It sets back the clock to a time when a woman who spoke up and spoke out could be publicly shamed and humiliated. It sets back the idea that violence against women is to be taken seriously."
"I believe Johnny's attorneys succeeded in getting the jury to overlook the key issue of Freedom of Speech and ignore evidence that was so conclusive that we won in the UK," she continued. "I'm sad I lost this case. But I am sadder still that I seem to have lost a right I thought I had as an American – to speak freely and openly."
Waiting for your permission to load the Instagram Media.
Depp released a statement as well, saying that after six years of fighting, "the jury gave me my life back. I am truly humbled."
"My decision to pursue this case, knowing very well the height of the legal hurdles that I would be facing and the inevitable, worldwide spectacle into my life, was only made after considerable thought," he continued. "Speaking the truth was something that I owed my children and to all those who have remained steadfast in their support of me. I feel at peace knowing I have finally accomplished that."
He concluded, "The best is yet to come and a new chapter has finally begun."
Among the thousands of comments on Depp's post was one from Ryan Adams -- who has been accused of misconduct and emotional abuse -- who wrote, "❤️🙌🔥." Both Naomi Campbell and Harry Joswey left a trio of red heart emojis in the comments as well, while Aerosmith's Joe Perry -- who also performs in The Hollywood Vampires with Depp -- wrote, "👍🏻👍🏻👍🏻💙💙💙👍🏻👍🏻👍🏻"
The post was also liked by Jeannie Mai, Gemma Chan, Chase Stokes, Riley Keough, "Midnight Mass" star Rahul Kohli, Ricki Lake, Nikki Bella, "Gossip Girl" star Eli Brown, "Teen Mom 2" star Briana DeJesus and celebrity spawn including Brandon Thomas Lee, Atiana de la Hoya and both of Tom Cruise and Nicole Kidman's kids, Connor and Isabella. Harry Jowsey also left a trio of red heart emojis.
Other celebrities celebrating the actor's win included Ashley Benson -- who shared a photo of Depp waving to Instagram with the caption, "YESSSSS 🖤🖤🖤🖤🖤🖤" -- and "The Walking Dead" alum Laurie Holden, who tweeted, "Today justice was served. The verdict of the jury sent a message to the world that abuse has no gender and that facts actually do matter. #TruthWins."
Joe Perry also posted his own Instagram, sharing a photo of him with Depp along with the caption, "Proud and happy for Johnnys huge win today. We never doubted anything, we always knew the truth, and that the truth would prevail… Congratulations on getting your life back today !!!!!!!!!!!!!!!!!!!!!!!!!!!!!!"
Waiting for your permission to load the Instagram Media.
Tyrese Gibson relished in Depp's win as well, posting a celebratory meme with a lengthy caption reading, "Finally the system delivers on false, claims and accusations ... There are REAL VICTIMS out here ... I repeat REAL VICTIMS ... But then there are the victimizers who PLAY VICTIM and think that because we are famous we won't stand UP for ourselves." Saying that he's been "through some real s---" himself over the years, he added that it's "not easy to walk in any room knowing that everyone 'thinks' of you differently because of false claims and bulls---."
He added that he has "nothing against" Amber, before saying one should "always speak UP and speak OUT and do whatever it takes to CLEAR YOUR NAME." He concluded the post writing, "Suddenly I have a new found respect for justice."
Though she didn't name Heard or Depp, Amy Schumer also seemingly reacted on her own page, sharing a quote from Gloria Steinem. "Any woman who chooses to behave like a full human being should be warned that the armies of the status quo will treat her as something of a dirty joke ... She will need her sisterhood," it read.
Appearing on Piers Morgan's talk show, Sharon Osbourne reacted with shock, saying, "Wow, it wasn't what I was expecting. I mean, I wanted Johnny to win but I didn't expect him to."
The official Twitter page for the GOP's House Committee on the Judiciary also appeared to revel in Depp's victory, tweeting:
Republican and conservative pundits also wasted no time commenting on the verdict -- with Meghan McCain calling it the death knell of the #MeToo movement. "#MeToo is dead. Helluva job @ACLU," she tweeted, while Dana Loesch added, "Amber Heard just destroyed 'believe all women.'" Ann Coulter agreed, writing, "And thus ends the '#MeToo' movement."
Founder Tarana Burke pushed back Thursday at the #MeToo death watch. "The 'me too' movement isn't dead, this system is dead," Burke said in a statement. She then offered examples of the movement's critics saying "the movement works" when verdicts go the way they want, and "it's dead" when they don't.
"This movement is very much ALIVE," she wrote. "You all want to play ping pong and have your way with the hashtag because it doesn't mean anything to you so you try to kill it every few months. But it means something to millions and millions of folks. It means freedom. It means community. It means safety. It means power. You can't kill us. We are beyond the hashtag. We are a movement."
Following closing arguments on Friday, May 27, the jury -- consisting of five men and two women -- had been in deliberations, entering their third day on Wednesday.
Depp was seeking $50 million in damages after Heard claimed she was a survivor of domestic abuse in an op-ed in the Washington Post in 2018. While she didn't name Depp in the piece, his lawyers argue it was implied to be about him and negatively affected his career.
After failing to get the case thrown out, she countersued Depp for $100 million.
Throughout the six week trial, both Heard and Depp testified about the alleged abuse they suffered at the hands of the other.
In his final appearance on the stand last week, Depp called Heard's allegations "insane" -- before saying her claims were "Horrible. Ridiculous. Humiliating. Ludicrous. Painful. Savage. Unimaginably brutal. Cruel. And all false. All false."
"No human being is perfect, certainly not, none of us. But I have never in my life committed sexual battery, physical abuse, all these outlandish, outrageous stories of me committing these things and living with it for six years and waiting to be able to bring the truth out," he added. "So this is not easy for any of us. I know that. But no matter what happens, I did get here and I did tell the truth and I have spoken up for what I have been carrying on my back, reluctantly, for six years."
Heard, meanwhile, said she simply wants Depp "to leave me alone."
"The harassment and the humiliation, the campaign against me that's echoed every single day on social media, and now in front of cameras in the showroom — every single day I have to relive the trauma," she said last Thursday. "Perhaps it's easy to forget I'm a human being."
"Johnny has taken enough of my voice," she added. "I have the right to tell my story."