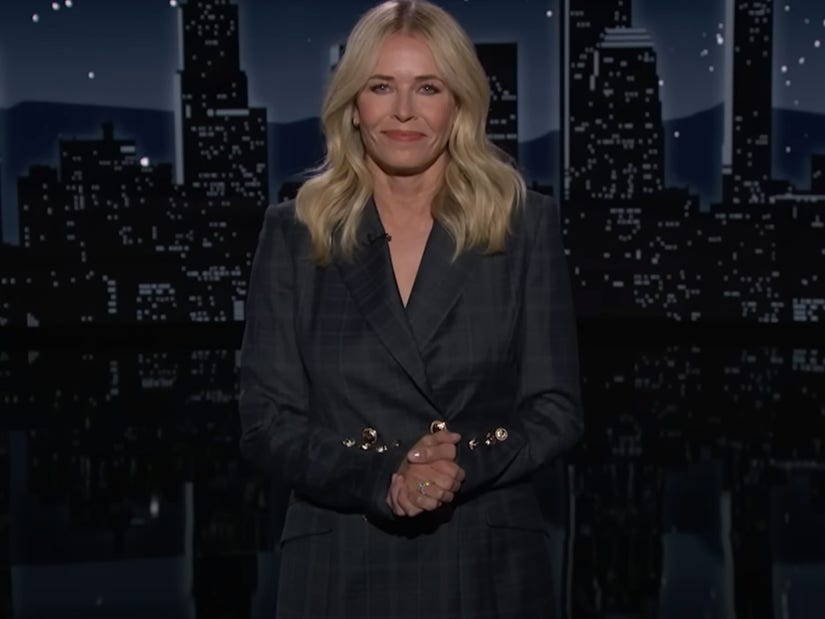 YouTube / Jimmy Kimmel Live
The school, however, has denied the allegations.
While guest-hosting "Jimmy Kimmel Live!" on Monday, Handler, 47, addressed the news of the Supreme Court's decision, and revealed that she had three abortions when she was in high school.
On Tuesday, the "Life Will Be the Death of Me" author -- who is filling in for Jimmy Kimmel all week -- then claimed that her high school, Livingston High School in New Jersey, won't induct her into its hall of fame due to her comments about her abortions, which she has openly discussed in the past.
"Last night, I mentioned that I had three abortions in high school," Handler said during Tuesday night's monologue. "Do you know what men on the internet had to say about that? I don't because I don't give an f---."
"But my old high school does," she continued. "I recently found out that my high school in New Jersey, Livingston High School, is refusing to induct me into their alumni hall of fame. Jason Alexander and Chris Christie made it, but not me."
"Apparently, the school is upset about how much I talk about my abortions, so I've decided to start a grassroots campaign," Handler added, before encouraging viewers to "donate to Planned Parenthood, and then march, and then vote, but after you're done with that, go online and tweet a message to the school district for my alma mater @LivSchools."
"Let them know how you feel about this gross injustice and use the hashtag #Hall4Handler," she said. "Have fun with it. Make me proud. Livingston High, the hall is in your court."
In a statement to New York Post on Wednesday, Livingston Public Schools officials denied Handler's allegations, claiming that the school hasn't nominated or inducted alumni for "several years."
"Ms. Handler's statements regarding Livingston Public Schools refusing to induct her into Livingston High School's Hall of Fame are false. Ms. Handler's representatives reached out to the district earlier this year expressing her wish to be included in the LHS Hall of Fame," the statement began. "Clearly, this is very important to her. Since it has been several years since anyone has been inducted into the alumni Hall of Fame, the district immediately looked into the possibility of meeting her request, and communicated directly with her representatives the process for moving forward. We are saddened that Ms. Handler would use her platform to amplify a political message at the expense of our school community."
Officials added, "Ms. Handler's representatives emailed the district in February requesting information on how she could be included in the LHS Hall of Fame, which is managed by the Livingston Education Foundation (LEF)."
The statement went on to note that "due to the pandemic, the has not fully functioned as an organization for several years and has new leadership," before offering further details about the organization's apparent communication with spokespersons for Handler.
"Following several email exchanges with Ms. Handler's staff in February/March about how the district could honor her and extended conversations with LEF leaders, the district clearly communicated to her staff that she would be considered by the LEF the next time candidates are reviewed," the officials said. "The LEF has expressed that it is looking forward to bringing the Hall of Fame event back as soon as they are able. At that time, it can formally nominate and induct new LHS alumni."
They added, "The district has reached back out to Ms. Handler's representatives to find out if they can shed some light on the basis for Ms. Handler's false statements. They have not yet responded to our emails."