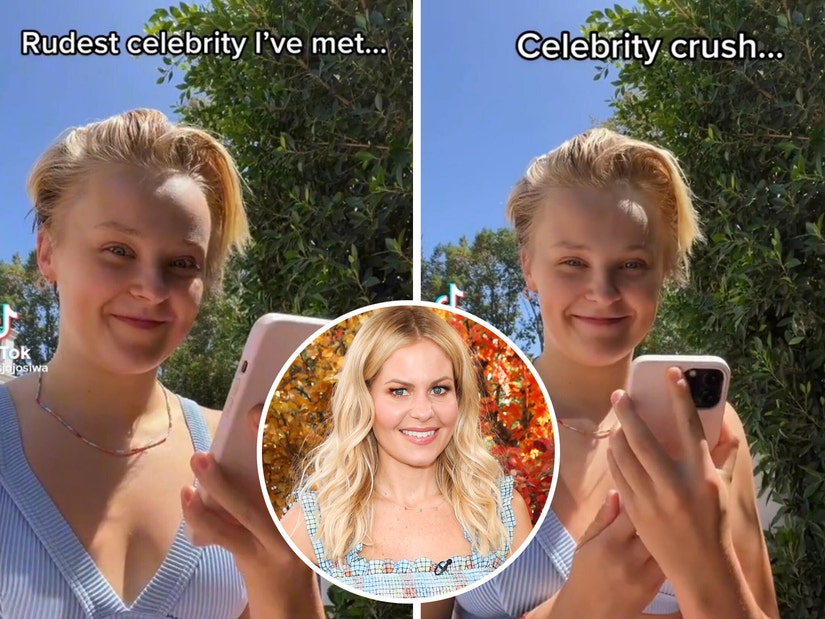 TikTok / Getty
JoJo's latest comments come after Bure's daughter told her to "Grow up."
update at 6:20am PT 7/29/22
The online feud between Candace Cameron Bure and JoJo Siwa continues -- thanks to a new video in which Siwa offers up even more context on what made it sting so much getting snubbed by the "Fuller House" actress, after asking for a photo at an after-party for the show's premiere.
"We did speak on the phone. She shared that in her thing," Siwa said in video obtained by Page Six, "but she didn't share all the details of the meeting. "It was one of those memories that little 11-year-old me was stuck with."
She confirmed the alleged snub went down at the "Fuller House" premiere after-party, adding, "I was okay with that, but then when I turned around and looked back, she was taking pictures with other kids. And that's what made me really, really upset."
"It's just one of those memories that whenever you're little, somebody says something to you, and you just never forget it as long as you live — I think we've all had that moment — and I feel like this was that moment for me."
She added that she and Bure did have a 10-minute conversation on the phone, in which the actress allegedly apologized. "We talked, it was cool, it was nice," Siwa added.
"Respectfully, someone saying 'no' to taking a photo with you is not a 'rough experience,'" said Natasha, 23. "This generation is so sensitive and has no backbone. There are bigger issues in this world than this. Grow up."
update 8:57 pm july 27 2022
In a new video obtained by Page Six, JoJo Siwa shared her side of the story that led to her calling Candace Cameron Bure the "rudest" celebrity she'd ever met -- and she never meant for any of this to become a thing.
"I had a rough experience when I was little," JoJo said in the clip. "I was 11, and I was a big, big fan, and I wanted to take a picture with her, and it wasn't a good time for her."
JoJo emphasized that her "bad experience" with Candace does not mean the "Fuller House" star "is an awful human being."
"I think it just was an inconvenient time for her, and little 11-year-old me was just so pumped up and so excited, but that doesn't mean she's the worst human ever," JoJo explained. "It just, you know, it was a rough experience for me."
After talking on the phone with the teen, Candace shared a video to Instagram explaining exactly what happened and why Siwa had targeted her in the now viral TikTok video.
It all came down a red carpet encounter from years ago. Watch the video below to see the "Fuller House" star's rundown of what happened.
Waiting for your permission to load the Instagram Media.
update: 7:30am july 26 2022
Candace Cameron Bure shared a bible verse to her Instagram Stories on Monday after fans speculated she was the one JoJo Siwa named as the rudest celebrity the young star had met.
Siwa engaged in a social media trend where one of the questions you are asked is who is the rudest celebrity you've ever met. In the video, the 19-year-old flashed a pic of the "Fuller House" star.
The verse Bure shared was "Trust The Lord always" from Isaiah 26:4, which in full reads "Trust in the Lord always, for the Lord God is the eternal Rock."
It is unknown why Bure shared the quote.
Reps for the actress did not return multiple media outlets requests for comment. Siwa has not confirmed who she was naming in the video.
original story: July 25 2022
The 19-year-old took to TikTok to take part in a trend where she revealed the rudest celebrity she had encountered, her celebrity crush, the coolest celeb, the nicest celebrity she's ever met and the one that did her "dirty."
JoJo appeared to be sitting poolside in a blue bikini and captioned the short video, "Pool day = exposed hahahha."
While Siwa flashed each celebrity on the screen for a split second, eagle-eyed fans were able to decipher the stars via screenshots.
The "Boomerang" singer appeared to flash a photo of Candace Cameron Bure for the "Rudest Celebrity I Met." However, some fans wondered if the picture was actually the "Fuller House" star or another celebrity.
"I don't think #1 is Candance [sic] Cameron. I really think it's Ashley (Brynns Mom) from Dance Moms," one user commented while another replied, "If you slow down the video it's candance [sic] forsure."
JoJo labeled Zendaya as her "Celebrity Crush," Miley Cyrus as the "Nicest Celebrity I've Met," Elton John as the "Coolest Celebrity I've Met" and SpongeBob SquarePants as the "Celebrity Who Did Me Dirty."
With SpongeBob SquarePants being a fictional cartoon character, fans have speculated that the iconic sponge could represent the tumultuous working relationship she has had with Nickelodeon over the years.
The pop star, who has been vocal about her support for the LGBTQ community since coming out in January 2021, claimed that she hadn't been invited to the network's 2022 Kids' Choice Awards in April.
"I'm not sure why, but I just didn't get an invite," she revealed in an Instagram video at the time and noted that the award show had played her songs despite not sending an invitation.
This wasn't the first time Siwa had been vocal about her rollercoaster relationship with the network. She previously called out Nickelodeon to accuse the channel of keeping her from performing her original songs she recorded for the "J Team" movie on her fall tour.
"These are MY songs, MY voice, MY writing. Does this seem fair???" she asked in a series of since-deleted tweets. "Working for a company as a real human being treated as only a brand is fun until it's not."