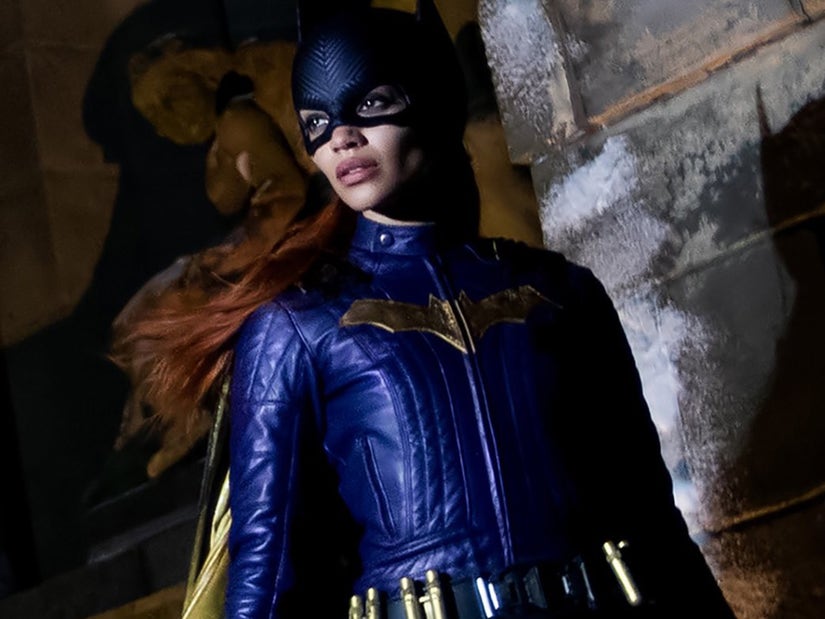 DC
Grace's reaction comes after the film's directors expressed how they were "saddened and shocked" by the unexpected news.
update at 8:55pm on august 3, 2022
On Wednesday evening, Leslie Grace took to Instagram to address the surprise decision to not release the hotly-anticipated "Batgirl" film on any platform, and it's clear she's focusing on the positives.
"Querida familia! I am proud of the love, hard work and intention all of our incredible cast and tireless crew put into this film over 7 months in Scotland," she wrote alongside a series of production stills and short videos. "I feel blessed to have worked among absolute greats and forged relationships for a lifetime in the process!"
She went on to thank Batgirl fans for their "love and belief" and for allowing her to "take on the cape and become, as Babs said best, 'my own damn hero!'"
She signed off with the tag "Batgirl for life!" With the fate of the DC Extended Universe uncertain at this time, it's impossible to say if she'll get the chance to appear on any screen as Batgirl.
Waiting for your permission to load the Instagram Media.
update at 10:35am on August 3, 2022
Directing duo Adil El Arbi and Bilall Fallah have released their first statement after WB decided to cancel any and all release plans for their "Batgirl" film starring Leslie Grace.
"We are saddened and shocked by the news. We still can't believe it," they shared on Wednesday. "As directors, it is critical that our work be shown to audiences, and while the film was far from finished, we wish that fans all over the world would have had the opportunity to see and embrace the final film themselves. Maybe one day they will insha'Allah."
"Our amazing cast and crew did a tremendous job and worked so hard to bring Batgirl to life. We are forever grateful to have been part of that team," they continued. "It was a dream to work with such fantastic actors like Michael Keaton, JK Simmons, Brendan Fraser, Jacob Scipio, Corey Johnson, Rebecca Front and especially to the great Leslie Grace, who portrayed Batgirl with so much passion, dedication and humanity."
They concluded, "In any case, as huge fans of Batman since we were little kids, it was a privilege and an honor to have been a part of the DCEU, even if it was for a brief moment. Batgirl for life."
In the comments, El Arbi -- who is in Morocco after getting married -- added, "and now I'm gonna try to enjoy my honeymoon with my own superhero."
While Grace hasn't officially reacted to the news just yet, on Wednesday morning she did post a video of a man singing Taylor Swift's "Shake It Off" on her Instagram Story -- commenting "vibes" on the footage.
Some of the cast and crew of the also-canceled animated "Scoob! Holiday Haunt" reacted on social media to their own bad news.
"I'm very sorry to share this sad news. I LOVED working on this, and just did another session as Young Shaggy last week and the film looked just about complete," said Iain Armitage. "It was such a joy and so many people worked so hard."
Director at Warner Animation Group Michael Kurinsky added, "Iain is an amazing Shaggy. I really want you all to see it. We need a Christmas miracle."
"The movie is practically finished and turned out beautifully. I am beyond heartbroken," wrote producer Tony Cervone, who directed the first "Scoob!" movie.
"Batgirl" is no longer getting released by Warner Bros., period.
The shocking news dropped Tuesday, with multiple outlets confirming with sources that the studio has completely shelved the film -- and will not be releasing it on HBO Max or theatrically ... ever. WB has not officially commented on the reports.
The movie, which has already been filmed, would have featured "In the Heights" star Leslie Grace in the titular role, with Michael Keaton returning as Batman and J.K. Simmons reprising his role as Commissioner Gordon, Barbara Gordon's father. Brendan Fraser was also cast as the movie's villain, Firefly -- with "Bad Boys for Life" filmmakers Adil El Arbi and Bilall Fallah directing.
According to Variety, the decision wasn't due to the quality of the film, but its scale, which the studio apparently didn't feel was up to par with its theatrical releases. Of course, "Batgirl" was always intended to debut on HBO Max and budgeted as such. At $90 million -- due in part to COVID delays -- it only cost a fraction of DC's theatrical blockbusters.
The Wrap, meanwhile, said the movie "simply did not work" -- but the studio is "actively planning" to work with both its directors and star on other projects "soon."
The switcheroo is reportedly due to the regime change at Warner Bros. Discovery, which has pivoted away from making films for the streamer while prioritizing theatrical releases. Per The Hollywood Reporter, an animated prequel to "Scoob!", "Scoob! Holiday Haunt" has also been shelved.
TooFab reached out to Grace for comment.
Keaton will also reprise his role as Batman in the upcoming "Flash" movie starring Ezra Miller. That one's due out in 2023.
Up next for WB is "Black Adam" with Dwayne "The Rock" Johnson on October 21, 2022, followed by "Shazam! Fury of the Gods" on December 21, 2022. They'll be followed by "Aquaman and the Lost Kingdom" in March 2023, before "The Flash" in June. "Blue Beetle," which was initially up as an HBO Max feature before getting a theatrical release, is set for an August 2023 release.