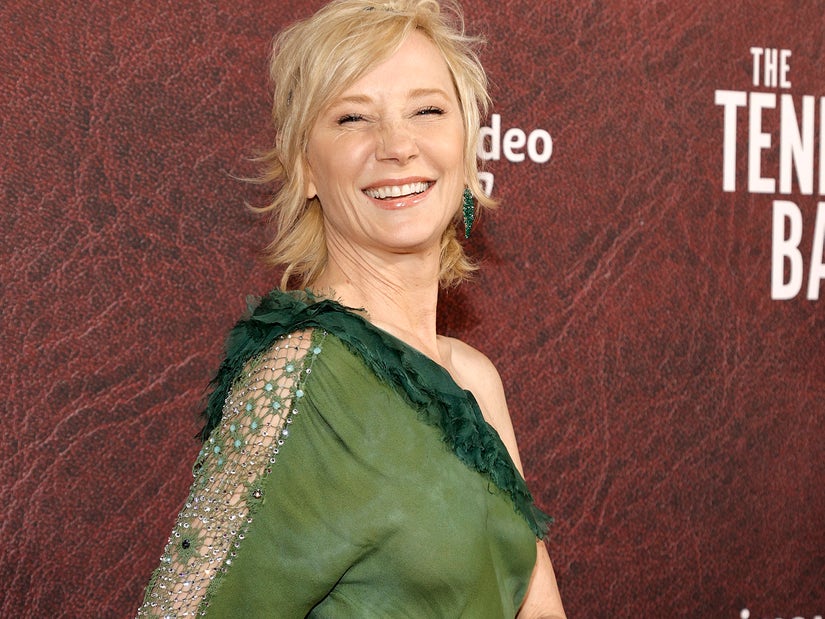 Getty
Heche has been in a coma since she was involved in a fiery car crash on Friday, August 5.
After spending nearly a week in a coma, Anne Heche is not expected to survive, per TMZ. She's been unconscious since shortly after a fiery car crash on Friday, August 5.
On Thursday night, "family and friends of Anne Heche" released a statement detailing the heartbreaking prognosis. "We want to thank everyone for their kind wishes and prayers for Anne's recovery and thank the dedicated staff and wonderful nurses that cared for Anne at the Grossman Burn Center at West Hills hospital," read the statement.
"Unfortunately, due to her accident, Anne Heche suffered a severe anoxic brain injury and remains in a coma, in critical condition. She is not expected to survive," the statement continues. "It has long been her choice to donate her organs and she is being kept on life support to determine if any are viable."
"Anne had a huge heart and touched everyone she met with her generous spirit. More than her extraordinary talent, she saw spreading kindness and joy as her life's work --especially moving the needle for acceptance of who you love," concluded the family and friend's statement. "She will be remembered for her courageous honesty and dearly missed for her light."
TMZ was first with the story, revealing that Heche was driving at a high speed when she "struck a house, burst into flames and came to rest 30 feet inside the two-story home," per the Los Angeles Fire Department. The crash set part of the structure on fire.
After obtaining a blood sample, authorities determined that the actress was "under the influence of cocaine," per TMZ, and possibly fentanyl as well. The outlet notes that fentanyl is sometimes used for pain management in hospitals, so further testing will need to occur to determine if it was in her system at the time of the accident.
Following the news that Heche isn't expected to survive the accident, stars have taken to social media to express their sadness.
Rosanna Arquette tweeted that she was "very upset" over the news, adding, "Yes she would have been arrested for driving under the influence and putting lives in danger. She still is a great artist and struggled with addiction it's terribly sad for her children and for her friends."
Rosie O'Donnell -- who recently admitted that she feels bad for making jokes about Heche in the past -- posted a TikTok that featured a tweet about the status of Heche's health. The comedian captioned the video, "just so heartbreaking..."
Others in Hollywood have begun to share their thoughts on the sad news as well. See more reactions in the social media posts, below.
I'm very upset and sad that Anne Heche is not expected to live.And yes she would have been arrested for driving under the influence and putting lives in danger .she still is a great artist and struggled with addiction it's terribly sad for her children and for her friends. ✌🏼

— ✌🏼rosanna arquette (@RoArquette) August 12, 2022 @RoArquette
I feel grave concern for Anne Heche at this moment/ I have a prayer in my heart for all those afflicted with struggles that bring so much destruction and pain.

Wishing it were different for her and her loved ones. But I feel inky dark. Sad.

— Kiersten Warren (@KierstenWarren) August 11, 2022 @KierstenWarren
This is so tragic. I'm seeing many nasty comments. To those people, just understand that people you know struggling with addiction are listening. You're telling them they can never talk to you about their struggles or turn to you for help. https://t.co/Tp3Jb2BlBm

— Jeffrey Reddick 🌈👻 (@JeffreyaReddick) August 12, 2022 @JeffreyaReddick
sad hearing about actress Anne Heche's car accident and just now, that she is not expected to survive because of her injuries. I first made portraits with her in 2010 at her home, for the show "Hung." She was an incredible collaborator, loved the rose! for #latimes pic.twitter.com/MGQWShTvU8

— Jay L. Clendenin / onto the next... (@jaylclendenin) August 12, 2022 @jaylclendenin