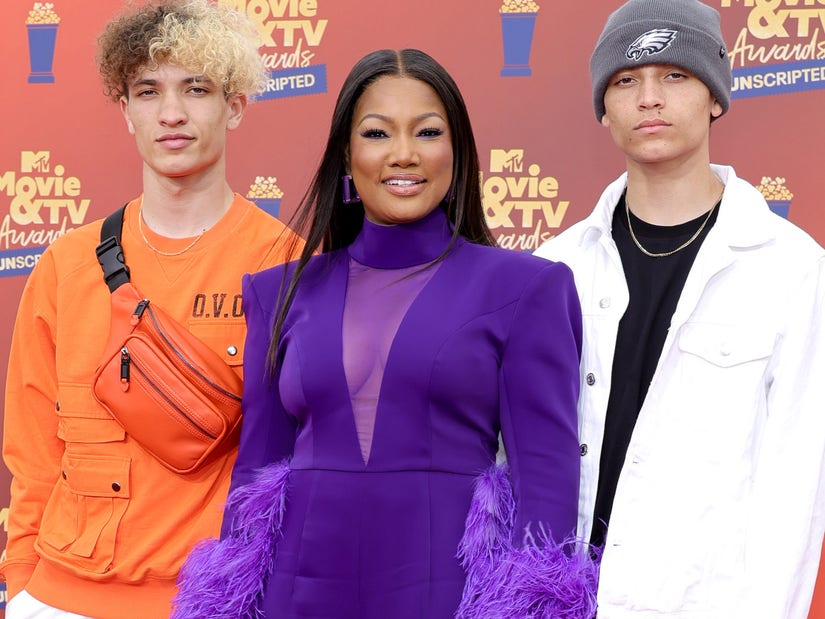 Getty
"I just want to be a normal kid," Jax himself pleaded earlier in the day.
update at 6:35am PT August 25, 2022
Bravo as a whole has now spoken out against the horrific social media comments from RHOBH fans on the Instagram page of Garcelle Beavais' 14-year-old son Jax.
"We are shocked and appalled at the social comments directed at Garcelle's son," the network said in a statement on Wednesday.
"We urge our viewers and social followers alike to refrain from targeting our cast and their families with harmful rhetoric," the statement concluded. "Thank you for your support," Garcelle wrote in the comments, while stars including Cynthia Bailey and Katie Maloney cosigned on the statement.
Waiting for your permission to load the Instagram Media.
Garcelle's costars all shared the statement to their respective Instagram pages as well -- as did Lisa Rinna's husband, Harry Hamlin, who added more in his comment.
"Important! RHOBH is a TV show. All cast members know it's a TV show and it's main purpose is to entertain the audience," he wrote. "Attacking the cast or their children is inappropriate. Please enjoy the show and leave the participants alone. The negatives editorializing can be very dangerous and we all hope it will stop. Love please!"
Rinna shared his sentiment as well, adding, "I love how Harry spoke about this. I agree with everything and what I said in my statement yesterday holds true here it's a tv show treat it like wrestling love us love to hate us but please stop attacking the kids they are off limits."
update at 9:35am PT August 24, 2022
On Wednesday, after Garcelle's son Jax made headlines for being the subject of hateful social media comments from RHOBH viewers on his Instagram page, the 14-year-old released a statement about his situation, shared to his mom's public account.
"Well I'd like to start off by saying that I am still a kid and wish to not be viewed as a fully matured adult, because I am not one," he wrote. "It is currently my first week of high school and instead of enjoying it like most kids at my school, I have to deal with being attacked on social media."
"I did not sign up for this show, nor do I have anything to do with the show's drama. I just want to be a normal kid," he continued. "The purpose of my Instagram account is not for publicity nor the public's gaze, but to be seen by my peers as just another kid. I really wanted to avoid going private, but I just have to at this point."
"The constant support from everyone makes it much more tolerable. However, middle aged women spamming me with racist and crude comments about my family is not what I expected my first week of high school"
He ended his post by thanking everyone for their support and positive comments, adding, "It truly means a lot to me."
On Monday, the teenager shared a sampling of the horrible comments some so-called fans have been leaving on his most recent photo to his Instagram Story -- writing, "im a f---ing 14 year old leave me alone please."
A large number of the vile messages revolve around Jax's older brother Oliver's battle with addiction -- which Garcelle has been open about in the past -- while telling Garcelle to stop expressing concern over Erika Jayne's drinking on the show. Other comments call Beauvais a "D-list actress," blame her for getting "The Real" canceled and generally slam her while defending the other women on the series.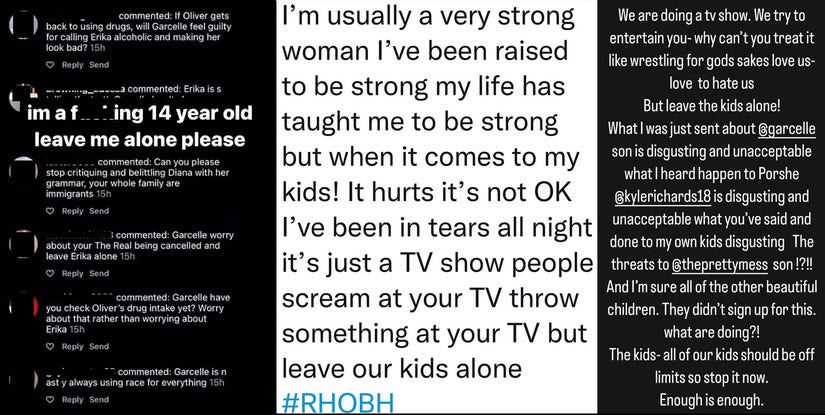 Jax, Garcelle Beauvais and Lisa Rinna's Instagram Posts, Resptively
Following Jax's post last night, Garcelle took to Instagram this morning to speak out against the attacks to his page.
"I'm usually a very strong woman. I've been raised to be strong. My life has taught me to be strong. But when it comes to my kids, it hurts and it's not OK," she wrote. "I've been in tears all night. It's just a TV show people. Scream at your TV, throw something at your TV, but leave our kids alone."
She captioned the post, "This has to stop!! They're just kids!!!!"
Lisa Rinna, meanwhile, shared her own statement to her IG Story after being alerted to the controversy.
"We are doing a TV show. We try to entertain you -- why can't you treat it like wrestling for gods sakes love us - love to hate us But leave the kids alone!" she wrote. "What I was just sent about [Garcelle's] son is disgusting and unacceptable. What I heard happen to [Kyle Richards' daughter Portia] is disgusting and unacceptable. What you've said and done to my own kids disgusting."
"The threats to [Erika Jayne's] son!?!! And I'm sure all of the other beautiful children. They didn't sign up for this. What are doing?!" she continued. "The kids - all of our kids should be off limits so stop it now. Enough it enough."
Kyle's daughter Portia, who is also just 14, came under attack in July too, following an episode of RHOBH where a drunk Erika told Jax to "Get the f--- out of here!" at his own mother's birthday party. After the event, Kyle was seen saying, "I mean it's not funny but it is funny" of Erika's outburst -- before later clarifying that she was laughing at Erika's behavior, but "NOT about disrespecting someone's child."
Portia eventually turned off commenting on her Instagram posts when fans reportedly started leaving hateful messages about Kyle after that episode. At the time, Rinna and RHONY stars Dorinda Medley and Leah McSweeney all defended her from the attacks, once again reiterating that kids should be off limits.
Waiting for your permission to load the Instagram Media.