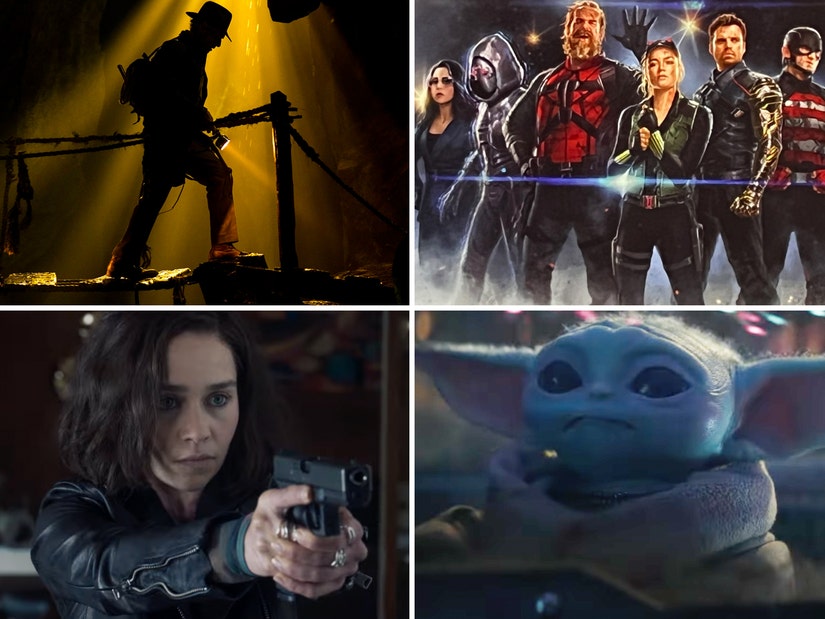 Lucasfilm/Marvel Studios
Harrison Ford got emotional after Indiana Jones footage, there were trailers for The Mandalorian, Ant-Man and The Marvels, a Thunderbolts lineup reveal and so much more!
While Marvel impressed at Comic-Con with footage from projects including "Black Panther: Wakanda Forever," "Ant-Man and the Wasp: Quantumania," "Guardians of the Galaxy Vol. 3," "Secret Invasion" and big title reveals for the upcoming Avengers films, Kevin Feige still held onto some big reveals for D23 Expo, Disney's fan convention.
Marvel was joined by Lucasfilm and 20th Century Studios for the nearly 3-hour panel, which kicked off with a few "Star Wars" reveals.
Lucasfilm President Kathleen Kennedy first took to the stage to talk about the upcoming slate ... while rocking a Stormtrooper top.
The series shows how the titular character -- played by Diego Luna -- becomes the rebel we see in the film. Luna compared the scope of the series as being like "a gigantic film" and he can't wait to get to work on Season 2. They also dropped the final trailer for the show (above) before its September 21 release. The first three episodes will drop at that time.
The cast and crew of "Willow," including Warwick Davis in the title role, also hit the stage to talk about their upcoming Disney+ sequel series as well. The group teased the "epic" fight scenes in the show before also announcing that Christian Slater Is also part of the cast -- saying it was an "absolute dream come true" to be part of the project.
They also dropped a new trailer, in which Willow is recruited on another epic journey (above). The show premieres in November.
After a trailer for "Tales of the Jedi" (above), Jon Favreau came out, fist bringing "Spider-Man" director Jon Watts on stage to talk about "Skeleton Crew" -- a Disney+ show about "a group of kids who get lost in the Star Wars Galaxy," set in the New Republic.
They released the first glimpse of Jude Law in costume as well, with the kids seen behind him, just out of focus (below).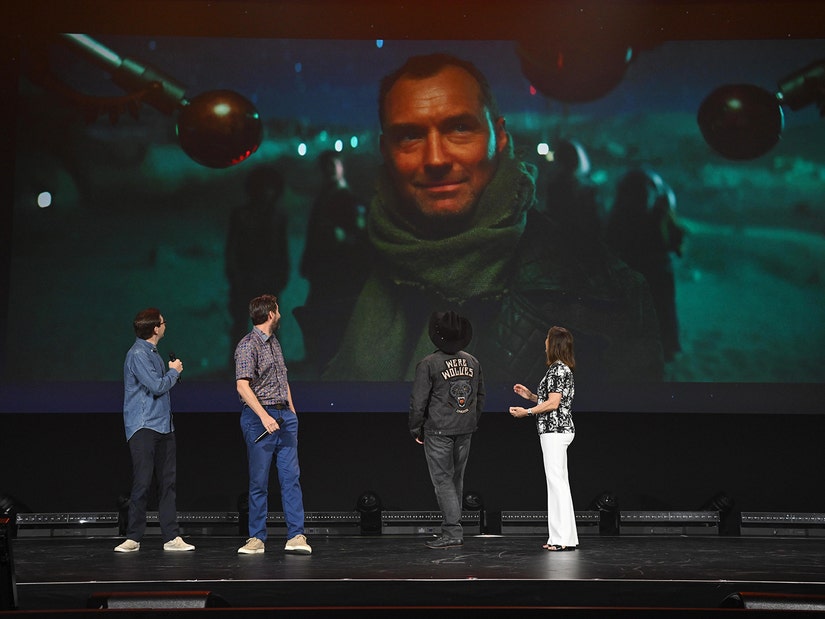 The Walt Disney Company
Briefly teasing "The Mandalorian" Season 3, the cast -- including Pedro Pascal, Katee Sackhoff and Giancarlo Esposito -- and Director/EP Rick Famuyiwa came out to major cheers from the crowd, as some of them all met in person for the first time. They all said to remain patient and added fans will, of course, "love it" when the season finally drops.
Talking about her character, Amy Sedaris had everyone cracking up as she talked about improvising on set -- and constantly getting the note that "Oh, Amy, they wouldn't say that in space." Sackhoff -- who plays Bo-Katan -- simply said the new season is "crazy," adding she wasn't allowed to reveal anything else. The group also brought a new teaser (below) -- showing Mando and Grogu going on a new adventure together. The season won't drop til 2023.
The Lucasfilm portion of the panel ended with director James Mangold stepping out to talk about the fifth Indiana Jones film, with Harrison Ford back in the titular role. The first trailer for the film was shown, proving he's still got it, as he punched Nazis, whip-in-hand, alongside Phoebe Waller-Bridge in his infamous fedora.
Taking the stage, Ford was emotional as he thanked the crowd for all the support. "I'm very proud to say this one is fantastic," he said, calling it "a movie that will kick your ass." He also made it clear he's done after this, adding, "I'm delighted to be here again ... maybe for the ... not maybe, this is it. I will not fall down for you again!"
Marvel was up next, with Kevin Feige hitting the stage and kicked them off by having a damn musical number, "I Could Do This All Day" from the fictional "Rogers: The Musical" from "Hawkeye." He then got serious, getting to the good stuff.
"Black Panther: Wakanda Forever" was up first, with director Ryan Coogler coming straight from the cutting room to express his gratitude to fans. He then played some footage that won't be shared online just yet, a clip which highlighted how the powers that be around the world are now out for Vibranium, thinking they can take the precious metal from Wakanda now that its superhero has dead. The Dora Milaje, however, make it very clear that won't be an easy task.
A new teaser was also shown, showing the battle between Wakanda, Namor and his followers, as well as new glimpses of Ironheart in action. While the identity of the new Black Panther was still kept under wraps in the footage, Coogler teased a huge role for Letitia Wright's Shuri in the film.
Wright added, "I'm most excited for you guys seeing the beautiful story Mr. Ryan Coogler put his heart and soul into and how the Wakanda family has expanded. I'm so excited about how impactful this story will be for you guys to experience ... I'm excited for my bro to look down on us and smile."
Coogler then talked about producing "Ironheart," before bringing a scene from the show for the audience only. Sorry, but again, the footage won't be shown online just yet. But it looked great -- with glimpses of Riri's suit and her desire to make something "Iconic." Anthony Ramos was also in the house to tease his role as The Hood -- after footage showed just how buff he got for the part. "He's a complex guy and Parker kicks ass," he added.
Feige then turned to the first film of Phase 5, "Ant-Man and The Wasp: Quantumania," bringing out Paul Rudd, Evangeline Lilly and Jonathan Majors ... who all bantered about who was really the Sexiest Man Alive on stage. "This is unlike anything you've seen, certainly from Ant-Man and The Wasp," teased Rudd, adding, "This thing is bananas."
They then showed a new trailer for the film, again, just for attendees. A lot of the footage was similar to what was shown at Comic-Con, though with more of a focus on Cassie Lang -- whose interest in the Quantum Realm accidentally brings the entire Ant-family into it. There, they come face-to-face with Bill Murray, MODOK and Kang the Conqueror. Kang, it seems, needs Scott to put his theft skills to use to steal back something which was stolen from him. When Ant-Man declines the offer, Kang shows how truly powerful he is.
Feige then dropped the first trailer for "Werewolf By Night," Disney+'s new Halloween special starring Gael Garcia Bernal dropping next month (above).
The first official trailer was also dropped for "Secret Invasion" (below) showing Nick Fury (Samuel L. Jackson) facing off against an army of undercover Skrulls. The show also stars Don Cheadle, Cobie Smulders, Emilia Clarke, Olivia Colman and Ben Mendelshon.
Cheadle briefly teased "Armor Wars" too, saying it's about what happens when their tech gets into the wrong hands.
Tom Hiddleston and the cast of "Loki" -- including cast newcomer Ke Huy Quan -- were also in the house, confirming they're filming now. Hiddleston said that the new episodes will find Loki back at the TVA, but nobody there has any idea who he is. He and Feige made sure to note that the show will tie heavily into The Multiverse Saga. They also showed some footage for the crowd, who ate it up. In it, Loki warns the TVA of the dangers of Kang.
Footage from "Echo," a spinoff from "Hawkeye," was shown as well, diving into the character's Indigenous background and highlighting how she's able to use her hearing loss as a superpower. Vincent D'Onofrio's Kingpin -- missing an eye -- will also return.
D'Onofrio stayed on stage to confirm he's also back for "Daredevil: Born Again," as Charlie Cox also came out to join him and Feige. They had nothing to share, as the show hasn't started filming yet, but there was some footage of Daredevil from "She-Hulk," highlighting a lighter vibe than the previous Netflix series.
Sadly, there was no cast announcement for "Fantastic Four," though it was confirmed that Matt Shakman ("WandaVision") is directing.
The cast of "Captain America: New World Order" then showed up, with a cast including Anthony Mackie, Danny Ramirez and Carl Lumbly (all returning from "Falcon and The Winter Soldier"), as well as Tim Blake Nelson as The Leader ... reprising his role 14 years after appearing in "The Incredible Hulk." It was also announce that Shira Haas has joined the cast as Sabra, though she wasn't there in person.
Feige then confirmed the Thunderbolts lineup -- announcing that the cast will include Julia Louis-Dreyfus as Valentina Allegra de Fontaine, David Harbour as The Red Guardian, Hannah John-Kamen from "Ant-Man and The Wasp" as Ghost, Wyatt Russell as U.S. Agent, Olga Kurylenko as Taskmater, Florence Pugh as Yelena and Sebastian Stan as Bucky Barnes.
The Marvel portion ended with "The Marvels" -- which unites Brie Larson as Captain Marvel, Iman Vellani as Ms. Marvel and Teyonah Parris as Monica Rambeau. All three were beyond excited to be together on stage alongside director Nia DaCosta, with Larson saying she was thrilled to be part of a team in the film.
The footage shared to the crowd was both hilarious and action-packed, showing how the three women are all bonded -- and sometimes swap places -- thanks to their light-based powers. The three are seen fighting together and forming a team, whether Captain Marvel or Photon want to call it that or not. Kamala's family makes an appearance, as does Goose the Cat and Zawe Ashton's menacing Ael-Dan.
Sadly, that won't be shared online just yet either.
The panel ended with a new glimpse at "Avatar: The Way of Water," with 3-D glasses handed out to the entire audience. The clips shown really highlighted the water scenes, which were absolutely dazzling as Jake Sulley and Neytiri's children swam around a number of fish and learned how to ride underwater creatures. We also saw the return of Stephen Lang's Quaritch, this time in Avatar-form, as he held some of the children hostage -- or at least tried to until Neytiri saved the day. Overall, the footage was gorgeous and, of course, looked incredible in 3-D.