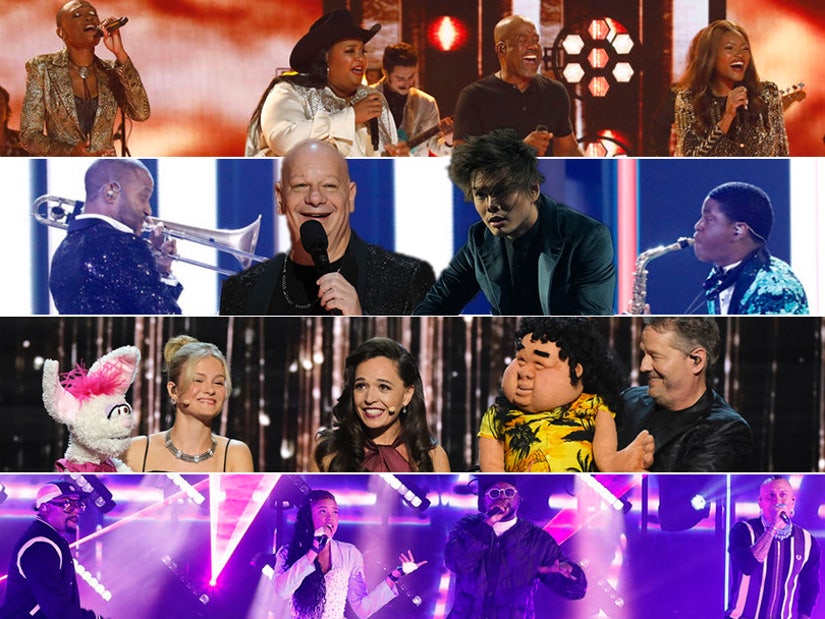 NBC
RoastMaster General Jeff Ross joins Black Eyed Peas, Darius Rucker, Jon Pardi, Trombone Shorty and "AGT" alums Shin Lim, Darci Lyne, Terry Fator and Light Balance.
After a night of mostly great performances -- and a couple huge disappointments -- it all came down to America's vote to crown the Season 17 winner of "America's Got Talent."
To help pad the two-hour show to reveal one winner, the night was filled with encore performances from all of the finalists, alongside some of their heroes and past "AGT" contestants.
It's always fun to see the contestants during the finale because so many of the nerves of competition are gone, elevating many of them to the more relaxed performers they can be when there isn't a million dollars on the line anymore.
Black Eyed Peas, Jon Pardi, Darius Rucker and Trombone Shorty were among the celebrity guest stars, while Jeff Ross swung by to help this season's comedians deliver a genuinely brilliant and brutal roast of one Simon Cowell.
"AGT" alums that came back to the stage that made them included past winners Terry Fator, Darci Lynne, and Shin Lim, while Light Balance, who came in third behind Darci, were joined by Terry Crews for a fun opening number.
As for the results themselves, we'll just say there were plenty of surprises along the way. One of our least-favorite acts of Tuesday night made it all the way into America's Top 5, with the other four slots scattered throughout our rankings. We knew we had no idea how America would vote, and boy were we right.
So who won it all? You know you're going to have to climb through all this filler first to find out -- but don't worry, there's some really fun stuff along the way to the biggest result of the season.
The group helped kick off the show with a performance that started on the roof and then made its way into the theater alongside Terry Crews before taking the main stage. No one in the past 20 years has been quite as successful at capturing the mindless fun of a good time than BEP, and this was more of the same. There were no dynamic or exciting moments about any of the four, or the performance itself, but at least it was an upbeat start to a long night of filler acts.
Considering this group is all about creating fun light visuals while moving to upbeat dance music, why not just have Black Eyed Peas lead right into this performance and they can just dance to some of BEP's biggest dance bops. As for their performance itself, it was very much the same type of thing we've seen from them before. Honestly, it felt kind of lazy, compared to what it could have been, though it was fun seeing Terry revealed as one of them at the end.
Nicolas Ribs & Yu Hojin (w/ Shin Lim)
Henry Winkler introduced this segment as a super-fan of the show and a fan of magic, featuring this season's two magic finalists and the 2018 winner. This was a fun piece with each of them showcasing their particular brand of magic -- though again, Nicolas' felt just a little one-not for us. It was nice seeing Shin return with his wild hairdo and incredible sleight of hand. It's great that magic has a place to continue to grow and thrive on a major television show.
Drake Milligan (w/ Jon Pardi) & Chapel Hart (w/ Darius Rucker)
We're not sure we expected this but Drake actually sounded more solid and in tune (and less giggly) than Jon did on Jon's own "Last Night Lonely." His voice had more depth and richness to it and just sounded more like an authentic country music superstar. It made for a rather jarring viewing experience, but it's a huge kudos to Drake and testament to his talent that he was able to shine so brightly on a cover with the original artist.
We definitely dug the ladies taking on Shania Twain, which was even more fun when Darius came out and joined them. His tone actually fit well with their harmonies and the track had a whole new energy with the male/female back-and-forth throughout. Even better -- though unfortunately one night too late -- the women sounded stronger and more in tune here than they did during Tuesday's performance finale. We really think they're going to at least get their shot in the industry after an impressive run -- and even better songwriting.
Mike E. Winfield, Don McMillan, Mr. Pants, Lace Larabee & Metaphysic (w/ Jeff Ross)
What a great premise, with Mike emceeing an "AGT" Roast of SImon Cowell. Don was great, bringing out another Powerpoint presentation to break down Simon's dislikes (very funny) and his one like (even funnier). Mr. Pants had a brief segment, but still managed to get in a few quick jabs before turning it over to Lace, who absolutely skewered him with the strongest material of the entire Roast. And, of course, no one does a roast like Jeff Ross, who even came up with a joke Mr. Pants should have had. Then, to top it all off, they brought out Metaphysic's digital Simon Cowell to heap praise on … himself. It was just perfect.
Celia Muñoz (w/ Darci Lynne & Terry Fator)
This was a very cute segment that started with Celia wishing she could meet Darci, so Darci came out singing with her, and then Terry Fator came out and all three ventriloquist sang "Over the Rainbow." It was a relatively short segment, but a very sweet one to see two champs and Celia, who is again pushing the envelope of this format like Darci did when she added singing, shining side by side by side.
The modern-day queen of Halloween, Heidi Klum, was excited to welcome Terry Crews and her fellow judges to Halloween Horror Nights at Universal Studios. At least, that's how it was set up. What it really was was everyone but Heidi making their way through a fairly okay haunted house and getting scared with a Heidi fake-out at the end disconnected from everything. Considering how amazing she is at this holiday, we have to say this was a huge letdown.
Apparently, neither of these acts really had time to come up with something new or truly together, so we saw an opening sequence from Kristy we'd already seen and we saw the Mayyas do the light ball thing again and then an ending pose? Seriously, this was it for their final results showcase? Did no one warn them this was coming? This just felt like something thrown together at the last minute to fill some time.
Avery Dixon (w/ Trombone Shorty)
What a refreshing and exciting showcase of the big band sound. You couldn't have picked a better counterpart for Avery than Troy Andrews aka Trombone Shorty. The instruments were great complements, and they performed beautifully together. And what a thrill it had to be for Avery to get to perform alongside a legend in instrumentation. It was just wall to wall excitement and incredible music. Even better for Avery, he was invited to join Troy on tour.
And we thought the deepfake technology on display by Metaphysic was compelling, the Proto Hologram technology utilized by "AGT" to bring home to the contestants was nothing short of breathtaking. Beaming in from South Korea, Spain and all around the world, it genuinely looked like these friends and family were in the room. They even brought in Tanya Tucker to surprise Chapel Hart. How long before Howie Mandel just uses this tech to judge so he doesn't have to be in the same room with all those ... germs! According to Proto themselves, Howie is "the company's landlord," so it sounds like he's already got the hookup!
Sara James (w/ Black Eyed Peas)
"Let's Get It Started" is definitely an odd choice of BEP songs for Sara James to join the boys of the group on. Yes, she can slide into that Fergie slot now occupied by J Rey Soul. This track heavily emphasized the other guys with only a few moments for Sara to try and shine. The guys already opened the show, so couldn't they have gone with a song to put a bigger spotlight on their special guest than themselves?
We struggled with a Top 5 even as we thought so many of the acts were so close together. And America has been really unpredictable this season, putting through acts both traditional and wholly unique -- which did make for a more diverse and interesting finale. It also made it so much harder to predict.
Our Top 5 acts, in order, were Kristy Sellars, Metaphysic, Celia Muñoz, Mike E. Winfield and Avery Dixon. We could easily see that as America's Top 5, but that leaves out equally great acts like our numbers six and seven, Mayyas and Drake Milligan.
Then there are those sentimental favorites who made up our Bottom 4 (Yu Hojin, Sara James, Chapel Hart & Nicolas Ribs). They may not have had their best outings during the finale, but America tends to take into consideration their entire journey and their story from start to finish. Plus, these are singers and magicians and both of those acts tend to do well.
In other words, we basically threw in the towel and had zero confidence in any of our picks or predictions when it came to trying to guess what America would do. We still believe Kristy and Metaphysic are the most unique and Vegas-ready acts, though an argument could also be made for Mayyas and Mike E. Winfield. But what did you think?
Drake Milligan was called up first alongside Mike E. Winfield. We had Mike in our Top 5, but Drake got that sweet spot final performance of the night. Mike has been more consistently great, but Drake has already had two number one hits, so we weren't surprised -- disappointed, but not surprised -- that Drake Milligan took that first spot.
Nicolas Ribs and Metaphysic were up next, which certainly felt pretty obvious. Nicolas' magic just gets a little repetitive after a few moments, while Metaphysic got better and better with each round, achieving real magic of their own on Tuesday. We were thrilled to see Metaphysic rise into the Top 5.
Celia Muñoz squared off against Kristy Sellars, which was a huge disappointment as we had both of these acts in our Top 3 after Tuesday's performance. Losing either one of them is a travesty, but of the two, we did have Kristy as our top act of the night -- so figured it would probably be Celia, as "AGT" fans love ventriloquists. Turns out we were wrong, though, as Kristy Sellars took that next spot.
Mayyas and Yu Hojin were the next acts to find out their fates, which is another one that felt like a no-brainer. We had them sixth and eighth, respectively, but Mayyas have been having a moment all season and Yu did not bring his best material to Tuesday's finale. It was no surprise that Mayyas took the fourth slot.
That left three acts and one slot. In our personal rankings, we had Avery Dixon in our Top 5, while Sara James and Chapel Hart were ninth and tenth respectively. America loves kid singers, and Chapel Hart were one of the biggest stories out of the auditions. But we really felt that Avery was riding a whole other kind of wave that would endear him to America. Plus, he's a kid sax player, which is almost a kid singer.
So is that what America did? As Terry pointed out, all three of these acts are also Golden Buzzers, making it feel even tighter. In a huge upset, from our perspective, Chapel Hart stole that spot, proving that overall story and journey mean more than individual performance. They were not great Tuesday night, but they have the potential to be really great. Two country acts in the Top 5 is certainly an unexpected result. Could they be the Top 2 acts?
Now that we knew our Top 5, it was time to start ranking them. Based on our rankings after Tuesday's show, America's Top 5 should be (in reverse order) Chapel Hart, Drake Milligan, Mayyas and Metaphysic as runner-up, with Kristy Sellars winning it all. But we absolutely did not expect that to happen. In fact, we kind of had a feeling Kristy might take fifth -- but that's not what happened. Instead, it was Chapel Hart, aligning with our own overall rankings.
Honestly, we still think this is an act that has a shot at a real bright future in country music. The momentum is on their side, they've got some great tracks and some big superstars of the industry in their corner. This is their time. You don't have to win this show to win, so we'll be rooting for them!
So were we on a roll? Would Drake Milligan follow Chapel Hart out the door? Almost certainly not. We predicted that America would go ahead and make him the winner -- which isn't a great choice, with many online questioning if the fix was in. He got that slot at the end of the show, which is a facet of producers believing it's a great act to end on. But it also tends to mean those acts do very well in the votes, so is it self-fulfilling prophecy or the act would have done it anyway?
This time, it was Metaphysic saying goodbye, which again felt like a bit of a surprise. As we saw in the teaser package for the "AGT" Vegas show, you don't have to win this show to get an invite to that show, and we have a feeling "AGT" fans will see this act there. If not there, surely they're going to find a venue for what they do because it can be every tribute act at once!
Honestly, we'd have liked to see Drake Milligan go out at this point because both Mayyas and Kristy Sellars have acts that could really light up a theater in Las Vegas, while Drake is just another singer. Plus, he doesn't need this as Nashville is already pushing his songs to number one. He's ready right now to go there, so why would he want to tie himself down to a Vegas show?
But does America give us what we want? Actually, they do, so all the conspiracy theorists can quit it out now with their belief that this show was rigged in Drake Milligan's favor. He did do very well, but he's been doing well since his first appearance because people just like what he does. Now, he can go off and kickstart his career to the next level doing just that. The conspiracy theorists can enjoy the looks of shock on Simon, Howie and Sofia's faces after the announcement of his third place finish, though, as "proof" that something went wrong with the master plan.
It was down to Mayyas and Kristy Sellars. We had Kristy at the top of our leader board because what she does is so absolutely innovative, but it's also hard to deny the momentum behind Mayyas and what they represent for their country and women around the world. In truth, either act is worthy of this opportunity to rise to Vegas, but we had a feeling this was Mayyas' year.
Truthfully, either is a huge statement for women and representation. Already, Kristy has redefined stereotypes about pole dancing, elevating it to the artform it was always capable of being. And even a second place finish should afford her opportunities to take her talent and creativity to stages around the world. In the end, that's how it wound up, too, with Kristy Sellars coming just short -- but with nothing to be upset about.
Mayyas claimed the top prize, giving huge bragging rights to Sofia Vergara, as she's the one who hit her Golden Buzzer for them. These dancers from Lebanon are speaking out for women around the world with what they do, and what they do is genuinely powerful and visually arresting. Hopefully, with a full spot in Vegas, they'll continue to expand their picture-making and push themselves into even more creativity and emotional expression.
In fact, there was some potential when Mayyas joined with Kristy earlier in the night. It wasn't fully realized here, but maybe as runner-up, Kristy can be invited to Vegas anyway to feature in their performance to see how her visual and multimedia creativity can help enhance their artistry. Honestly, we hope to see both acts get the chance to shine bright!